After months of constant eruptions, the Kilauea volcano in Hawaii has become relatively quiet, but the United States Geological Survey (USGS) warned residents to stay vigilant—because a new series of eruptions could occur at a moment's notice.
On Monday, the USGS released a status report that explained there was still a pause in activity on the Lower East Rift Zone (LERZ). However, a lull in volcanic activity isn't uncommon and the USGS cautioned people against becoming complacent during the break in eruptions. Volcanos can go through quiet periods and then return with "renewed vigor days or weeks later," according to the USGS.
"Resumption of the activity on the LERZ could occur at any time, and residents should remain informed and heed Hawaii County Civil Defense messages and warnings," a status report said.
As of Monday, the only "red" lava visible was oozing into the ocean between Kapoho Bay and the Ahalanui area coastline.
Along with the pause in volcanic activity, sulfur dioxide (SO2) emissions were at low levels at the summit and the LERZ, making it the lowest SO2 emissions from Kilauea in over a decade. Although sulfur levels were low, the USGS explained in the report that winds blew the plumes toward populated areas and many people reported smelling sulfur.
Kilauea began erupting in May and has caused immense destruction in the months since. An estimated 700 structures have been destroyed, including Hawaii County Mayor Harry Kim's home and a school, according to The Weather Channel, while thousands of people have been forced to evacuate.
"It's hard knowing we can never go home but we will move on and we have our memories of a special place," resident Larry Obermann wrote on Facebook.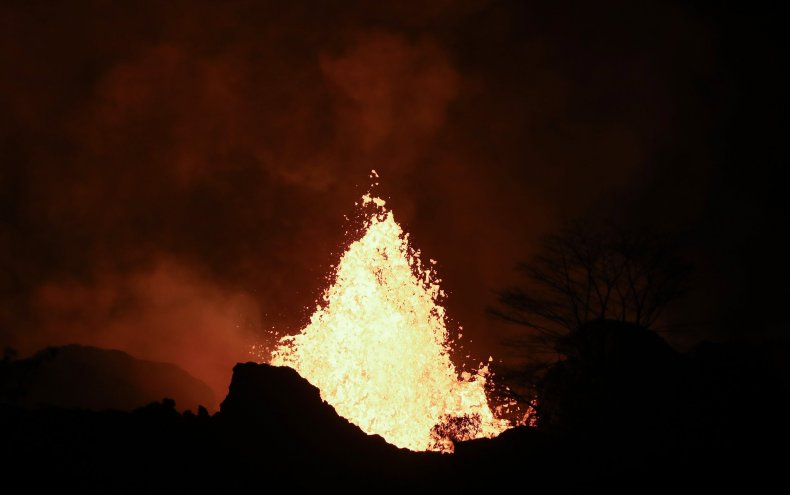 Along with the damage that the eruptions have caused to human habitats, the mass amount of lava that has flowed into the ocean has harmed marine wildlife as well. Lava from Kilauea's eruptions has also added 700 acres of new land along Hawaii's coastline.
"There was no place like Kapoho in all of Hawaii. That entire habitat is gone now," ocean expert John Burns told Express. Burns added that marine wildlife and coral in the area are so damaged that it's basically like starting from "day one."
Kilauea erupting isn't the only card Hawaii's recently been dealt from the natural disaster deck, either. On August 2, a brush fire on the island of Hawaii reached about 3,000 acres, causing possible respiratory problems for residents. On Thursday, Hawaii also experienced an earthquake, which registered at a magnitude of 4.3. No tsunami occurred as a result of the earthquake, although some residents felt the shaking.
Hawaiian Volcanic Observatory scientist Tina Neal said in a press release obtained by The Weather Channel that despite the pause in activity, it could be weeks or months before the organization is comfortable declaring the eruptions to be over.