Kīlauea Volcano: Watch Incredible Footage of Lava Lake Overflow in Hawaii
Eruptions are continuing at Hawaii's Kīlauea volcano after the lava lake at the summit overflowed on Wednesday, spilling onto the floor of the Halemaʻumaʻu Crater, according to the U.S. Geological Survey (USGS).
Since April 21, the lava lake has overflowed on several occasions—the first significant overflows since May 2015 (although a small one did occur in October 2016). In addition, an overflow on Monday was the largest spill since the vent containing the lava lake at the top of Kilauea, known as the Overlook Crater, opened up 10 years ago, the Honolulu Star-Advertiser reported.
The incredible footage above shows an overview of the lake from the Halema'uma'u Crater rim, as well as some of the lava spattering from Sunday, April 22.
On Tuesday, the USGS's Hawaiian Volcano Observatory issued a notice regarding high levels of lava in the lake, which were approaching the rim of the Overlook Crater. This is likely being caused by an increased build-up of magma inside the volcano, something that has occurred numerous times during other ongoing eruptions on Kīlauea's East Rift Zone.
"However, the exact cause of increased magma within the shallow storage system at Kīlauea's summit is not known," the USGS said in a statement. "Possible causes include (1) increased magma supply from deeper sources within the volcano, (2) a constriction or blockage in the conduit that carries magma from the summit storage system to the East Rift Zone, or (3) some combination of both."
According to the USGS, as long as the summit magma reservoir remains pressurized, high lava levels on the lake are expected to continue, with occasional overflows.
"Rockfalls into the summit lava lake accompanied by explosions and ejection of molten spatter and rock debris may occur and gas emissions will continue to be elevated," the USGS said. "Ongoing spattering from sources on the surface of the lake will continue to produce fine ash."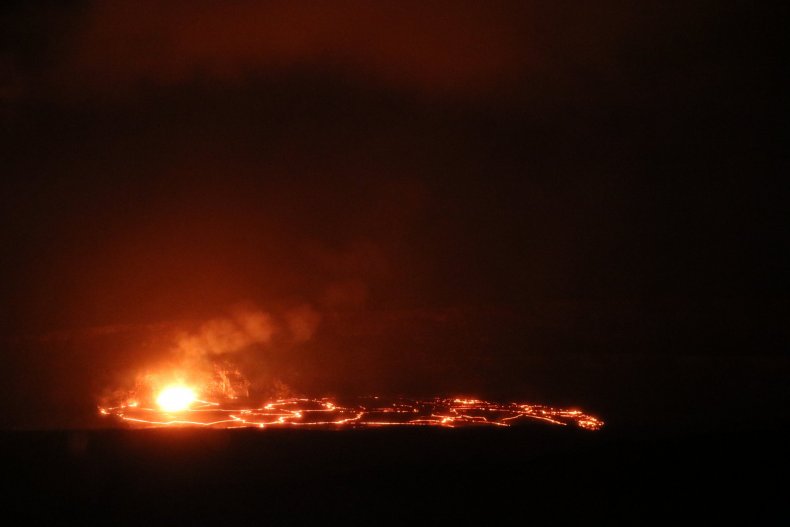 Because of this, the area around Halemaʻumaʻu remains closed to the public. USGS scientists will continue to monitor for any further signs of unrest.
The Halemaʻumaʻu Crater, which contains the lava lake, forms part of the much larger summit caldera of Kīlauea. A caldera is a large volcanic crater that forms following an eruption in which the volcano summit collapses. Halemaʻumaʻu is roughly circular, measuring some 2,530 feet by 900 feet. In Hawaiian mythology, it is home to Pele, the goddess of fire and volcanoes.
Kīlauea—which rises 4,190 feet above Hawaii's Big Island, making up around 14% of its total area—is one of the world's most active volcanoes. It has been erupting on a continuous basis since 1983.