Moving on from childhood fame is difficult for many child actors, but with Nat Wolff's performance in Dan Krauss's new film The Kill Team, it's pretty safe to say Wolff is no longer just a child star, in fact, he's a legit star. The film, which also stars Alexander Skarsgård, is inspired by the true story of Private Adam Winfield, a veteran of the Afghan war who became a whistleblower of the murderous actions of his platoon, only to have his revelations fall on deaf years.
"There's never been a more important time to tell the truth, and to be respectful of the people who put their necks out there," Wolff told Newsweek on a recent visit to Newsweek Conversations.
"I think this film is a case study in whistleblower intimidation," Krauss, who directed a 2013 documentary film about Winfield's story also called The Kill Team, told Newsweek. "This just shows you how difficult it is. We all imagine the person we would like to be if challenged with defending our values, but the reality with being heroic and being that courageous, especially when the price is potentially your life or your livelihood or your family, makes that decision incredibly hard."
The new film is a fictionalized version of Winfield's story.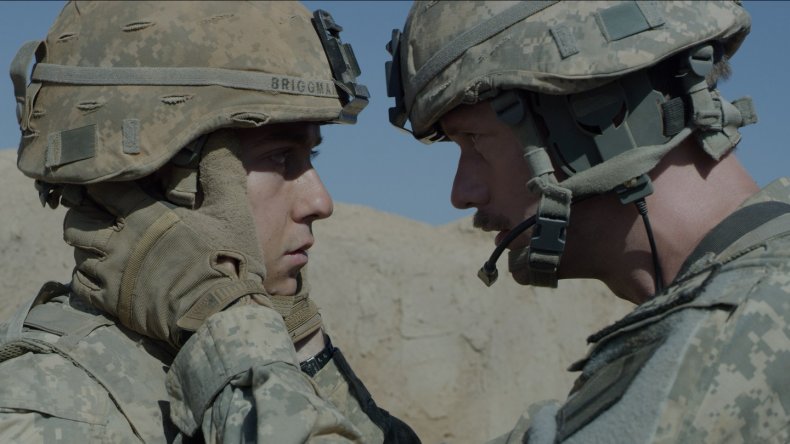 For Wolff, who found childhood fame with the Nickelodeon show The Naked Brothers Band and more teen-oriented films like Paper Towns and The Fault in Our Stars, when he first heard about the project, he was eager to take on the part based on Winfield.
"I had seen the documentary and had no idea it was being made into a narrative. I was just really horrified by it and thought it was an amazingly intimate documentary. And then Isaac Klausner, who produced Paper Towns—a movie I did—said, 'Do you want to do something totally different?'"
But Wolff had a good two years getting into character while the film was being developed, which helped Wolff's performance.
"There was a long period where it was gestating and turning into a real thing, because movies take a long time to become real," Wolff said. "So in the process, Alexander Skarsgård got involved and the script kept getting tweaked and changed a bit... it was like two and a half years from when I signed on to when we made it. Which meant I had been sitting with this story for a long time and it had been somewhere in my unconscious mind."
For Krauss, he was eager to take the content of the documentary film and use it as a basis for telling a more personal and narrative story.
"I was excited at the opportunity to tell the story from a first-person, present-tense point of view," Krauss said. "Because the documentary, by necessity and by definition, was retrospective...here was an opportunity to tell the story in a way that was immediate, visceral, holding the audiences head underwater for 87 minutes and asking them to face the kind of choices that Adam Winfield, and some of the other guys, made in the true story. I was excited about the opportunity to create an experience that was more immediate and did everything the documentary couldn't do. Right? It placed us there when the documentary couldn't be there."
The Kill Team opened October 25 in theaters and on-demand.