'Kill Trump With His Own Weapon': Protesters March Against President Ahead of Davos Visit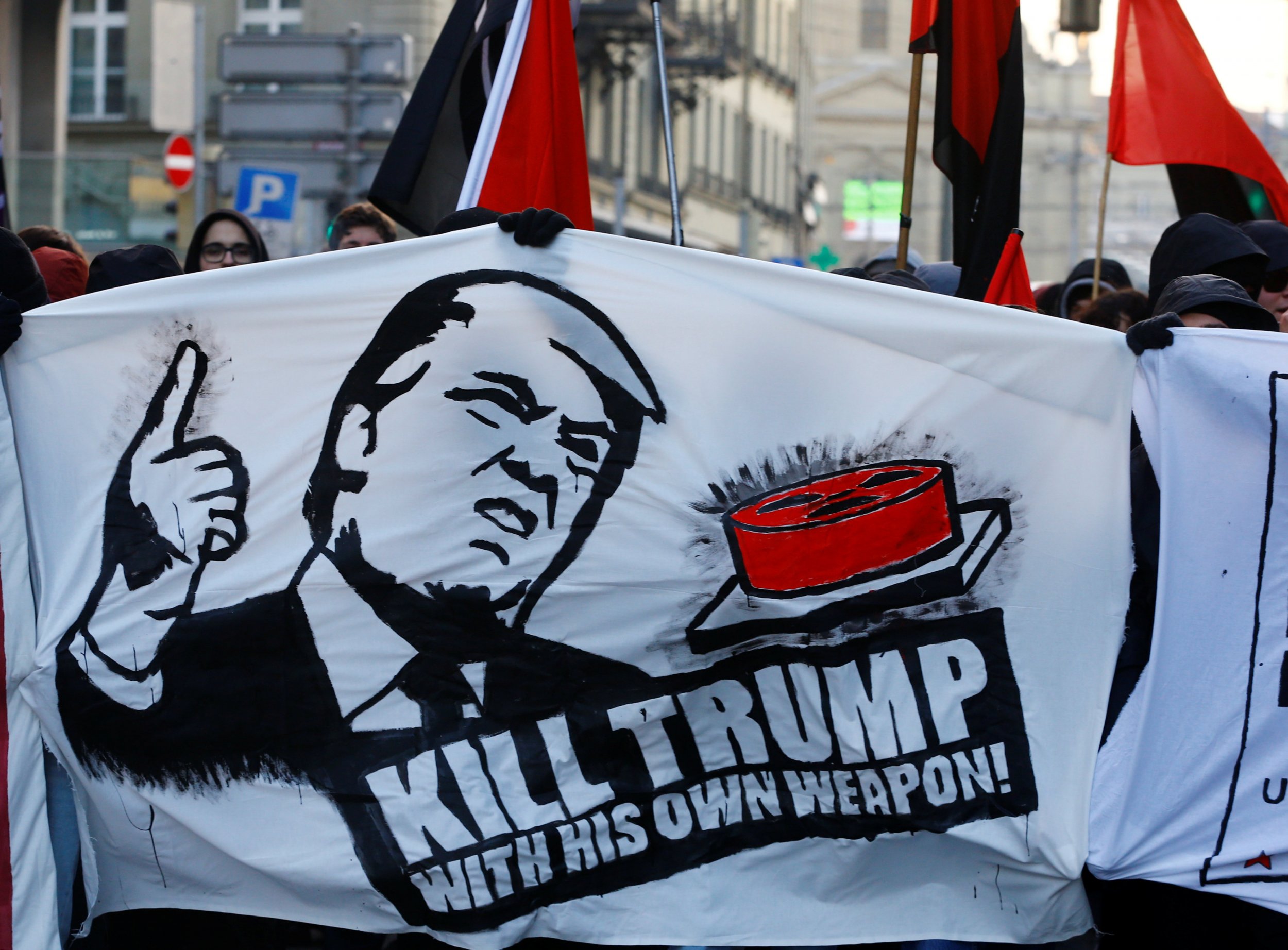 A group of anti-globalization demonstrators marched through the streets of Switzerland's capital city of Bern on Saturday, with one of their banners reading "Kill Trump with his own weapon" and depicting the president next to a red button.
The demonstration saw about 500 participants peacefully marching through Bern's center, Reuters reported. They lit red flares and held signs—some reading "No future for capitalism," "Eat the rich" and "Fight WEF, Fight Trump, Fight capitalism." They were protesting not just President Donald Trump but more generally the World Economic Forum (WEF), the annual gathering of political and business leaders in the Swiss mountain town of Davos, set for January 23-26.
The 48th summit's theme this year is "Creating a shared future in a fractured world." Trump's attendance at the global summit was announced earlier this week, marking the first visit by a sitting U.S. president to the forum since Bill Clinton's in 2000. The announcement was met with some surprise, as the WEF in Davos is often seen as the meeting of the globalist elite promoting trade agreements Trump has opposed with his "America First" policy, the BBC noted.
It is precisely that policy that Trump is seeking to push from Davos's stage. "The president will attend, and he welcomes the opportunity to go there and advance his America First agenda with world leaders. And he is very much looking forward to being part of that process," White House press secretary Sarah Sanders told reporters at a briefing last week.
Swiss President Alain Berset welcomed Trump's visit, but the delight was not shared across the country's political spectrum, with a left-wing group launching a petition titled "Trump not welcome! World first!" to stop the visit from taking place. It has received nearly 14,000 signatures so far.
The summit is usually heavily guarded by security forces, and a no-fly zone is in place. The security contingent this year includes up to 5,000 soldiers, if necessary, along with about 1,000 police officers, Reuters reported.
Details of the president's trip, such as how long he'll stay and where he'll sleep, remain undisclosed, although Trump is expected to be accompanied by an entourage including Treasury Secretary Steve Mnuchin, Secretary of State Rex Tillerson and son-in-law Jared Kushner, according to Bloomberg.