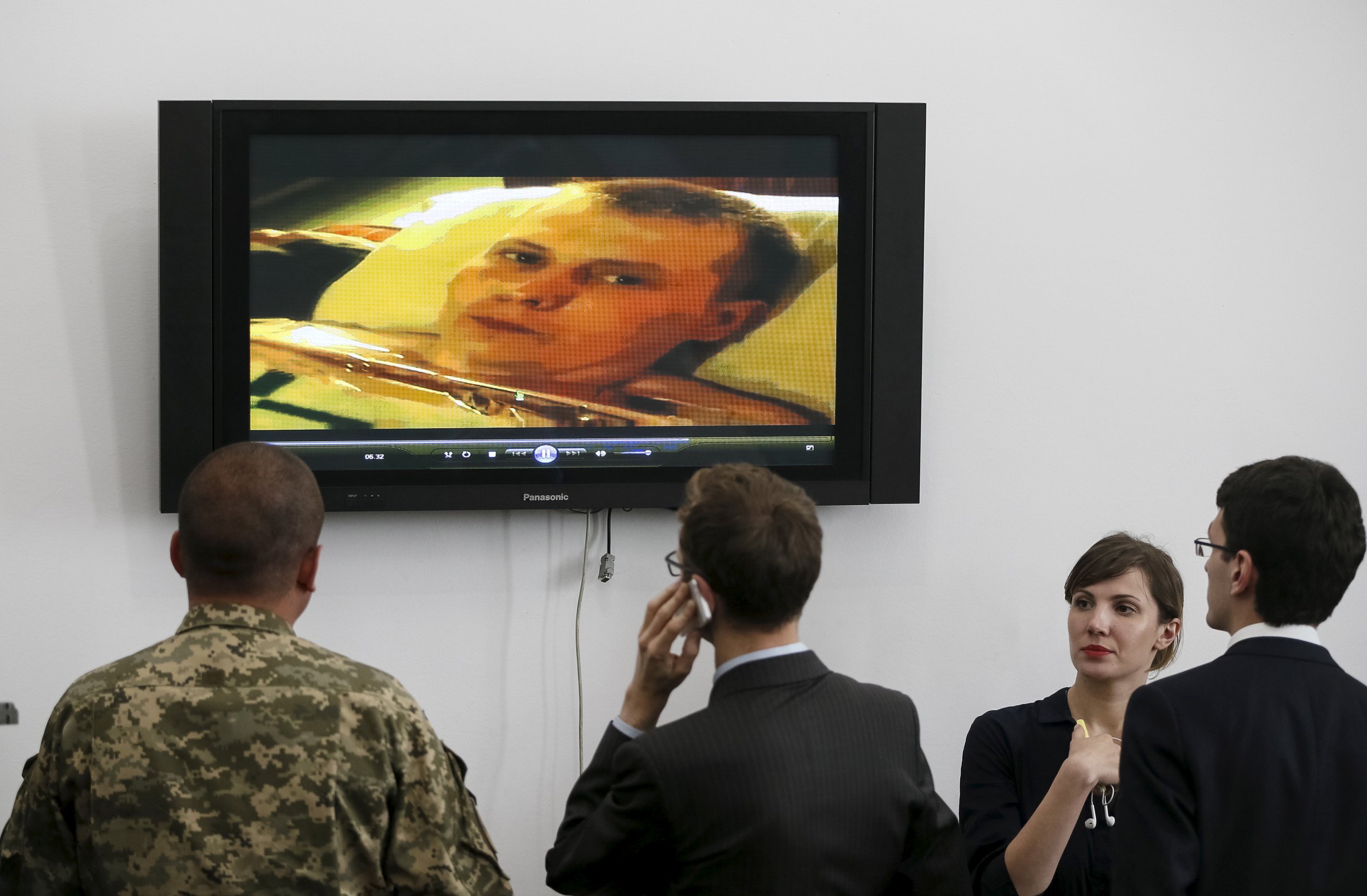 Sergeant Leonid Kichatkin of the Russian 76th Airborne Division and Russian soldier Anton Tumanov died in August 2014 while fighting in eastern Ukraine. Their deaths amply demonstrate that Russian President Vladimir Putin's claim that there are no Russian troops in Ukraine is false.
Russia is sending soldiers across the border to reinforce Russian-backed separatist forces in Ukraine. Once in eastern Ukraine, these soldiers are no longer considered Russian; they are told to refer to themselves as local defense forces, aiding the separatists with additional manpower and equipment.
Russian authorities went to great lengths to cover up Kichatkin's death. Kichatkin lived with his wife, Oksana, and children in Pskov, Russia, where he was stationed. In late July 2014, Ukraine was close to defeating the separatist forces as it retook territory, but the separatists were suddenly reinvigorated. Kichatkin's unit was ordered into Ukraine, and it quickly stopped the Ukrainian counteroffensive.
Between August 15 and 17, 2014, dozens of 76th Airborne soldiers stopped contacting their loved ones. That was around the time of a number of mysterious events surrounding this division, including reports of a fierce battle involving the paratroopers near the Ukrainian town of Georgievka and Putin commending them for the "successful completion of military missions."
Kichatkin's wife announced his death on his VKontakte page on August 22, 2014. Despite the official claim that all of the Pskov paratroopers were alive, secret funerals were held for them starting two days later. Kichatkin's took place on August 25.
A number of journalists and a member of the Pskov regional assembly attended the funeral, where more than one hundred mourners paid their respects. According to his headstone, Kichatkin died on August 19.
From here the story gets complicated. Reporters from Novaya Gazeta spoke with Oksana Kichatkina and a man claiming to be Kichatkin on August 24. Oksana claimed that her husband was alive and even passed the phone to the man who said that his VKontakte page had been "hacked." Echo of Moscow had a similar conversation.
Since Kichatkin's funeral, which his father and uncle attended, there have been no indications that he's alive. On August 26, reporters from independent news outlets visited Kichatkin's grave and were chased away by a group of young men, who also threw rocks at them and slashed their tires. Kichatkin's grave can still be found in Pskov, but following the journalists' inquiries the nameplate was removed.
Like Kichatkin, Tumanov died while fighting in eastern Ukraine, under direct orders of his commanders in the Russian military. He was killed on August 13, 2014, in Snezhnoe, Ukraine, after crossing the border two days earlier.
Before he joined the Russian military, 20-year-old Tumanov frequently voiced his concerns about the poor economy in his hometown of Kozmodemyansk, some 400 miles east of Moscow. He saw no alternative to joining the army, knowing that he would likely be sent to eastern Ukraine. Tumanov was a member of the Russian 18th Motorized Brigade, Unit 27777.
On August 11, 2014, at a training camp near the border, Tumanov's commanders ordered him and his unit to turn in their phones, take identifying features off their uniforms, mask the unique markers on military equipment and cross into Ukraine. He entered Ukraine with more than a thousand others and a large column of military equipment.
Tumanov documented his unit's presence in Snezhnoe, Ukraine, on August 13—the same place where, 27 days earlier, the Buk missile system that downed Malaysia Airlines Flight MH17 was spotted hours before the crash.
Numerous eyewitnesses from August 13 report seeing a convoy moving through Snezhnoe, specifically noting a BTR-80 armored personnel carrier and men with white bands on their arms and legs. Tumanov and his fellow soldiers were photographed with white bands and a BTR-80a in Snezhnoe.
Hours after the photograph was taken, social media reports and videos described how the Khimmash factory was hit by an artillery strike from the Ukrainian military. Tumanov was killed in the strike. Rolan Romazanov, a soldier from Unit 27777 who survived the attack, told Reuters, "[Anton Tumanov] died on the operating table."
Tumanov is buried in Kozmodemyansk, Russia. According to the official documentation of his death, Tumanov died "carrying out responsibilities of military service at a point of temporary deployment."
His mother, Yelena Tumanova, told The Telegraph that she doesn't understand what her son died for. "Why couldn't we let people in Ukraine sort things out for themselves? And seeing as our powers sent Anton there, why can't they admit it and tell us exactly what happened to him."
Tumanov's story, like many others, ends there: unresolved questions over the circumstances of his death, a grieving family and a homeward journey from eastern Ukraine in a coffin.
Melinda Haring is editor of Ukraine Alert. This story is adapted from the Atlantic Council's report "Hiding in Plain Sight: Putin's War in Ukraine" and first appeared on the Atlantic Council site.