Killer Mike: NRA Interview Promotes Pro-gun Stance Amid 'March For Our Lives'
As "March for our Lives" gained traction nationwide, the National Rifle Association (NRA) published an interview with U.S. rapper and activist Michael Render—better known as "Killer Mike"—in which he staunchly defended gun ownership.
Speaking to host Colion Noir—real name Collins Iyare Idehen Jr— on NRATV, the Bernie Sanders-supporting Run the Jewels founder said that celebrities throw support behind anti-gun marches because "they are told what to do" and claimed that if his children took part in a school walkout they would be asked to leave home.
He said: "I have worked as a tireless advocate for children and disenfranchised women in my community and I've also worked with gun groups like Georgians Against Gun Violence that are not the most pro-Second Amendment [organizations], but I said, 'If there's a table to be sat at, the gun owner needs to be there.'
"I told my kids on the school walkout, 'I love you, [but] if you walk out that school, walk out my house,'" he added. "We are a gun-owning family...we are a family where we'll fish and hunt, but we are not a family that jumps on every single thing that an ally of ours does because some stuff we just don't agree with."
In 2015, Render tweeted following the Charleston church shooting that he wished "those folks in that church had been armed," making no qualms about his pro-gun stance. Responding at the time to criticism of the tweet claiming guns do not solve violence, he added: "I know no one attacks NRA meetings. Wonder why?"
It is believed that roughly 800,000 supporters of tighter gun laws took to the streets across America this weekend, a response to the February shooting at Stoneman Douglas High School in Parkland, Florida, in which 17 people were killed.
The rally was orchestrated and promoted by survivors of the attack and had the support of celebrities including Kim Kardashian, Will Smith and Lady Gaga. Former U.S. president Barack Obama also tweeted support, writing: "You're leading us forward. Nothing can stand in the way of millions of voices calling for change."
In the NRA interview, however, Render said that he believes children need to face challenges in order to grow stronger in the future. Discussing anti-bullying, he said: "Your child needs to get punched in the face so he can learn to punch someone back." He added: "We are raising a generation of kids where everyone gets a trophy but in real life everyone don't get a trophy."
Facing criticism on Twitter for taking part in the NRATV segment, he responded: "I care that blacks stay ready to defend if need be. That's my only point."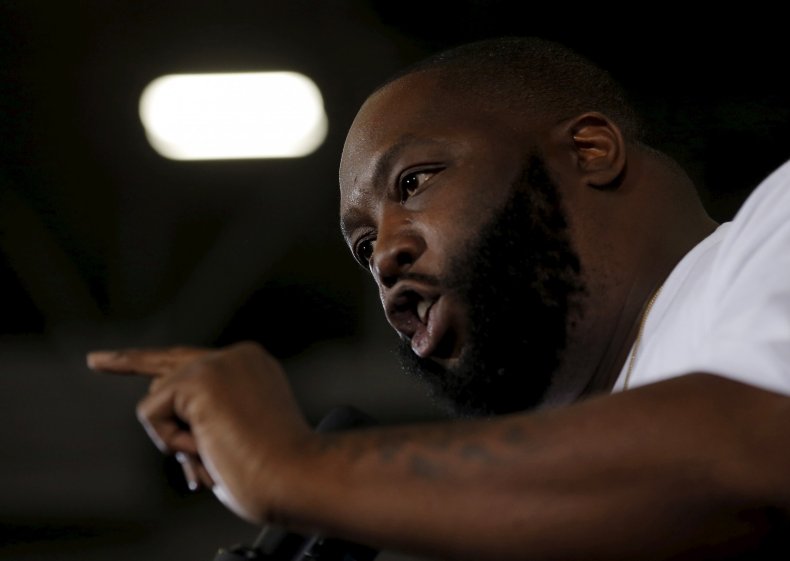 The same day, the NRA wrote on Facebook: "Gun-hating billionaires and Hollywood elites are manipulating and exploiting children as part of their plan to DESTROY the Second Amendment and strip us of our right to defend ourselves and our loved ones." NRA host Noir, adddressing the Parkland survivors, said in a video posted to YouTube that "no one would know your names" if their friends had not died.