Killers on the Road: The FBI's Highway Map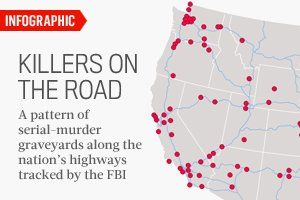 In 2003, Terri Turner, an analyst in the Oklahoma State Bureau of Investigation, received word that a naked female body, bound with duct tape, had been found alongside an on-ramp to Interstate 40. The dead woman had company: within months Turner was investigating six other slayings, all truck-stop prostitutes whose corpses were dumped along I-40 in four different states.
The case challenged conventional thinking about serial killers, which had long held that they preferred to operate in one specific geographic spot. When the FBI got wind of Turner's work, its analysts began to examine their own database, to determine whether there were similar patterns of highway killings in other parts of the country. There were. The map above is a result of that effort, called the Highway Serial Killings Initiative—a national matrix of more than 500 murder victims found along or near highways. The information, drawn from the FBI's national database of violent crimes, uses data from local law-enforcement agencies and provides it to sleuths looking for clues. The bureau credits the program with at least 10 arrests, and more than two dozen murder mysteries solved. Some 275 suspects have been identified—almost all of them long-haul truckdrivers. The FBI is quick to point out that the public shouldn't infer that all truckers are dangerous. Still, the job's mobility, lack of supervision, and access to victims in remote locations all apparently fuel the ultimate road rage.