'Killing Eve' Episode 1 Recap: An Addictive Ride From the Very First Scene
Killing Eve opens in a Vienna ice cream parlor, a retro-chic vibe that wouldn't be out of place in a Wes Anderson movie. There's a little girl there, staring unabashedly at Villanelle (Julie Comer) while she eats. As Villanelle meets her gaze, discreetly wiping the smallest of blood spatters off her watch, we can't help but wonder: what's she thinking?
If only I'd had a little girl of my own, instead of becoming the sort of badass who accumulates blood spatters on my expensive Swiss watch while gallivanting all over Europe…
The simple pleasures of ice cream! The innocence of youth! Alas, mine is gone, gone forever, for I am a hardened killer instead of the tender-hearted woman I long to be!
It's enormously to Killing Eve's credit that we quickly learn Villanelle is thinking nothing of the sort. She smiles before standing to leave, with the slightly pained manner of those obliged to acknowledge unfamiliar children demanding attention, then ever-so-lightly swats the ice cream dish straight into the girl's chest as she exits. And with that, before a word of dialogue has been uttered, Killing Eve gives us a villain worth watching.
Villanelle is one of several outstanding, nuanced female characters in Killing Eve. It's a refreshing change for a genre that's most often for the boys, with women typically relegated to the role of spy's love interest, villain's love interest, or possibly both. Comer needs only a few silent moments to establish herself as the kind of fascinating monster James Bond films have overwhelmingly lacked in recent decades. Her good-guy counterpart Eve Polastri (Sandra Oh), an American MI5 agent, makes an equally riveting first impression, if rather rumpled and hemmed in by contrast. The tenor of Eve's day-to-day— long, exhausting days, a sweet if dull husband — owes more to the bureaucratic drear of Smiley-era John LeCarré (think Tinker, Tailor, Soldier, Spy) than the sexy glitz of Fleming. Eve's London is drab and cluttered, while life on the continent with Villanelle is all first-class trains, sunshine and champagne.
Eve and her boss are dragged into work on a Saturday morning for a briefing about a new assassin on the loose. The morning after a night on the town, she's late, irritable and hung over, gnawing rodentially on a croissant despite the disdainful scowls from everyone she's kept waiting. It might endear her to the audience, but it's probably not an ideal first impression to make on the take-charge MI6 power player leading the meeting.
"Oh lord, it's Carolyn Martens. MI6 Russia desk. I'd nail a cousin to work with that woman," Eve's assistant Elena says admiringly. "Stone-cold badass." Suffice to say, writer and showrunner Phoebe Waller-Bridge's (Fleabag) impeccable ear for banter is abundant throughout the premiere, particularly in Eve's interactions with her coworkers.
Martens has come to discuss the murder of a Russian politician in Vienna. His Polish-speaking girlfriend, currently in London, is the only surviving witness. Eve and her boss, Bill (David Haig, The Thick of It), are tasked with protecting her. Eve asks if there's CCTV footage of the murder, believing the crime could have been carried out by a woman, but her theories are largely dismissed.
Meanwhile in Paris, all is beautiful, sunny and decidedly hangover-free. Villanelle's swapped her auburn locks for a buttery blonde coiffure, and smilingly goads an old lady in her building struggling with a heavy load. ("Asshole!" the biddy repeatedly shouts, completely accurately.) So we've already established Villanelle enjoys being cruel to children and the elderly, which will become something of a theme in the episode. Some time later, her employer approaches her with her next assignment, and she's off to Tuscany.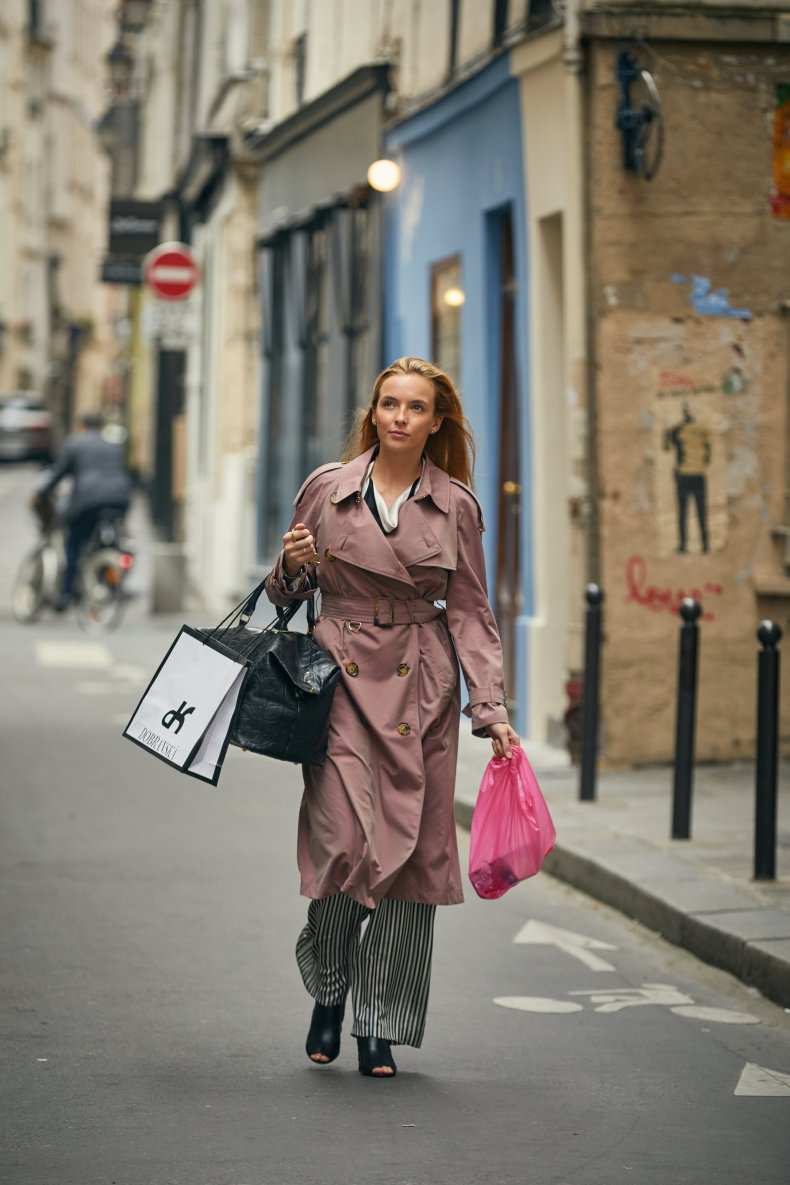 Back in London, Eve has interviewed and recorded the witness (kinda-sorta illegally), but the Polish translator isn't able to understand some of the slang. With the help of her Polish-speaking husband and an adolescent family friend named Dom, we learn the witness described the killer as "a flat-chested psycho," adding fuel to Eve's suspicion the assassin is a woman.
Villanelle arrives in Tuscany, nimbly infiltrating a mafioso's estate while a large outdoor party takes place. After a nifty little hide-and-seek session, she enlists the target's chubby grandson in a "trick" to pay the old man back for some good-natured grandfatherly teasing. When the man arrives upstairs, she flirts a little, asks where he bought his duvet cover, then stabs the old man in the eye and heads back to Paris. There, she's met by her employer, who promptly sends her to London to take out the Polish witness.
Determined to take another swing at illegally questioning this same witness, Eve brings Dom along to pose as a concerned relative. "Is this legal?" he asks. "It's fine," Eve responds unconvincingly, excusing herself to the bathroom, where she bumbles right into the assassin before taking a phone call from Bill while on the toilet. Grudgingly conceding she was right all along, he urges her to keep the witness safe: someone's been manipulating information about the crime scene to keep the killer's identity a secret.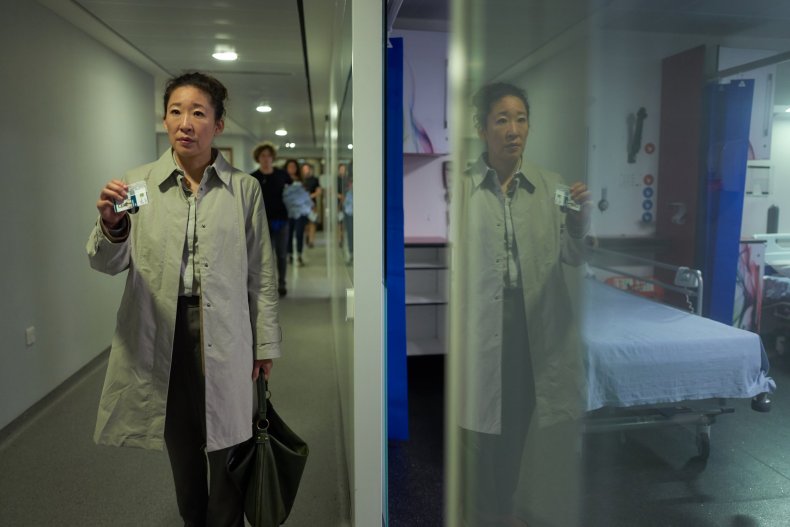 Eve might have a keen investigative instinct, but she's plainly not James Bond or Jason Bourne. Not yet, anyway. While she's on the pot with her pants down, Villanelle kills the nurse, two armed guards and the witness (but thankfully not ickle Dom, who had the dumb luck to hunt for a vending machine during the bloodletting).
Called before their superiors for what promises to be a weapons-grade bollocking, Bill warns Eve, "Just don't tell them everything, you'll sound like a nutter." She promptly does exactly that, getting them both fired.
But Caroline of MI6 seems pretty intrigued by what Eve knows, later showing up at her door as she mopes on the sofa. She drags Eve out into the drizzle to a poky corner shop on the pretense of buying milk, where she all but recruits her to join the MI6 investigation.
The episode draws to a close as Villanelle gets ready for bed back in Paris, the warm golden glow of her chic apartment seemingly a universe away from the lousy lighting and clinging damp of London. As she unfurls the same expensive linens enjoyed by her victim back in Tuscany, it's clear that, as Martens tells Eve, Villanelle is "starting to show off."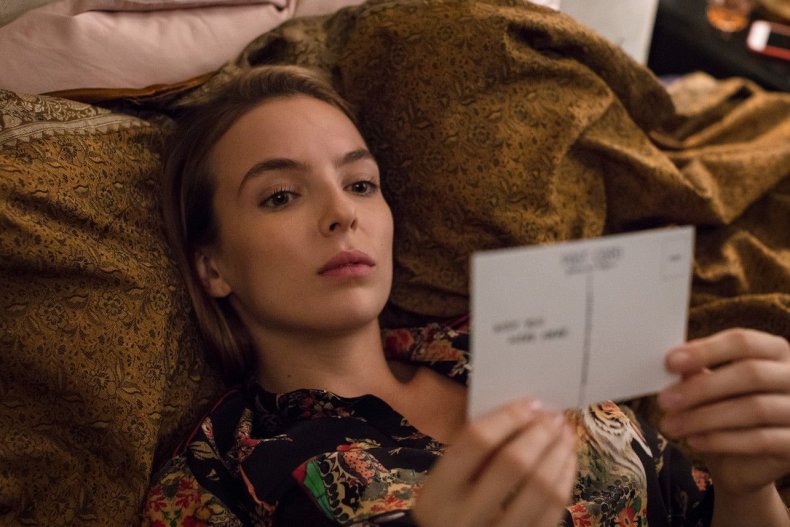 What kind of role will Eve play in Martens' investigation? Who will Villanelle target next? We can't wait to find out.
With such a doozy of a premiere, it's not surprising BBC America has already renewed the show for a second season. New episodes of Killing Eve air Sundays at 8 p.m. EDT on BBC America.