'Killing Eve' Recap: What Happened in the Last Season of the Show?
Killing Eve Season 2 acted in some ways as a mirror image of the first set of episodes. Where the first season of the AMC and BBC America show ended with Villanelle (played by Jodie Comer) with a knife to the gut, the second batch of episodes saw Eve Polastri (Sandra Oh) left for dead in a cliffhanger that the upcoming Season 3 is certain to tie up.
To understand exactly how Eve ended up with a bullet wound, however, we must look at what happened throughout the whole of Season 2.
What happened in Killing Eve Season 2?
The first season of Killing Eve set up a love-hate, cat-mouse relationship between Eve and Villanelle. Though Eve wants to catch Villanelle, she also becomes obsessed with her, while Villanelle likes the attention of Eve tracking her down.
This led to a confrontation between them in the Season 1 finale in Paris where Eve manages to stab Villanelle when they are in bed together, but does not kill her. Villanelle escapes and much of the start of Season 2 saw her trying to find her way back to London to find Eve, who has been called back by MI6.
As Villanelle travels from France to Britain, Eve is trying to solve a new series of assassinations. She deduces that as these killings were committed subtly, they could not have been committed by the attention-seeking Villanelle. As such, Eve and her new team, which includes Hugo (Edward Bluemel) and Elena (Kirby Howell-Baptiste), know they are looking for a new super-assassin, who they name The Ghost.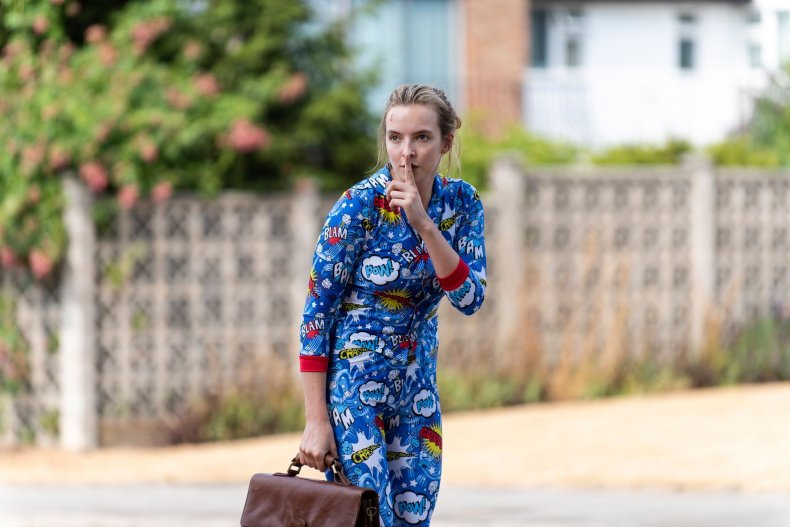 On her way to London, Villanelle ends up in nearby Basildon, where a man called Julian (Julian Barratt) takes her in. When he turns sinister, Villanelle kills him. Soon after his death, Villanelle meets the handler The Twelve has given her, Raymond (Adrian Scarborough). Meanwhile, her former handler Konstantin (Kim Bodnia) is working with Eve's boss Carolyn Martens (Fiona Shaw).
Then, the hunt for The Ghost got more complicated on Killing Eve Season 2. Eve's team discover that the killings are all linked to bad billionaire Aaron Peel (Henry Lloyd-Hughes), who is trying to sell a dangerous weapon. To make matters more confusing, Villanelle is then ordered to perform a covert Ghost-style kill. However, she cannot resist leaving a message for Eve after she becomes frustrated that Eve is paying more attention on the Ghost than her. This also leads to things breaking down between Villanelle and Raymond.
To contact Villanelle, Eve orders a hit on herself. This leads Villanelle to work with Eve and MI6 and get involved in the hunt for The Ghost. Disguising herself as vapid heiress Amber, she manages to infiltrate Peel's life. After nearly ruining the operation by getting into an argument with him, he eventually asks her to come to Rome with him.
In Rome, Villanelle learns the Pell is a producer of snuff films, in which he lures girls to Rome and kills them. Villanelle turns the tables on him and leaves him dead, but not before Eve barged in disguised as a cleaner after accidentally saying the safe word.
Soon after this, Eve learned that Carolyn's true plan was to get Villanelle to murder Peel. She banked on Villanelle being unable to resist murdering him. In going to save Villanelle, Eve leaves Hugo, who was shot by a mystery shooter and was bleeding out in the hotel. However, after Peel dies, Eve returns to the lobby and fines Hugo gone. At this point she realises that she has been tested by Carolyn, who wanted to see where her true loyalties lie, and has failed.
Carolyn, however, is not the only person who tricks Eve. Villanelle gets Eve to murder Raymond, as her psychopathic way of showing there is a bond between her an Eve.
Villanelle then declares her love to Eve, and after she spurns her, shoots her and leaves her for dead.
Killing Eve Season 3 starts on Sunday, April 12 on AMC and BBC America.
'Killing Eve' Recap: What Happened in the Last Season of the Show? | Culture