'Killing Eve' Season 2 Episode 1 Recap: All Kinds of Tummy Trouble
The Season 2 premiere of the BBC America hit Killing Eve—titled "Do You Know How to Dispose of a Body?"—is all about acute abdominal pain, congenial lies and poor bedside manner. Spoilers ahead.
If you've spent the last few months wondering what happened right after Eve (Sandra Oh) and Villanelle's (Jodie Comer) cozy bed confessions veered wildly off-course, wonder no more. "Do You Know How to Dispose of a Body?" picks up just thirty seconds from where things left off.
Eve immediately regrets what she's done, and attempts to venture back to the bedoom to help her nemesis-crush. But Villanelle is already gone, and the paramedics are on their way up the stairs. Eve, still white-knuckle clutching the bloody knife, clatters down the stairs, all amazing hair and bottomless panic. They knock on the door of Villanelle's old biddy neighbor—the one she so memorably sparred with and called an "a**hole back in Season. Turns out they're not paramedics at all, but "cleaners" for The Twelve, the shadowy organization that employed Villanelle and Konstantin (Kim Bodnia). Unfortunately, it's the end of the line for the sassy old bird; they shoot her when she answers the door.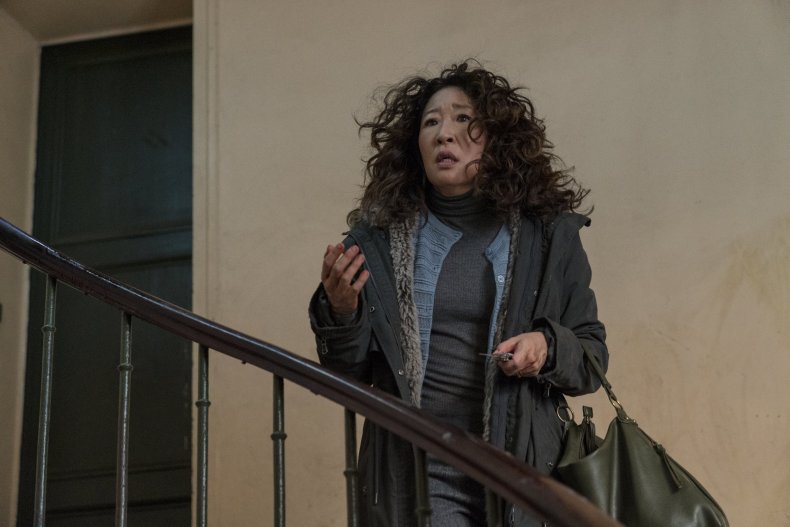 Finally picking up a call from Carolyn (Fiona Shaw) after several attempts, Eve manages to ruin a oh-so basic couple's Insta-worthy Paris engagement by blurting out that she kinda, sorta, maaaaybe killed Villanelle. Sorry kids. She then makes her way to Gare du Nord to catch the train back to London, stocking up on some candy for the journey. In a fun little nod to Villanelle's very first scene back in Season 1, Eve glares at a nosy kid who's taken a sudden interest in her eating habits.
Somewhere nearby, Villanelle is decidedly worse for wear. She's covered in blood, sweating, pale and stumbling. She finds a sleepy wino, snatches his booze, and pours it on her stab wound. Clearly, she needs medical attention, and fast.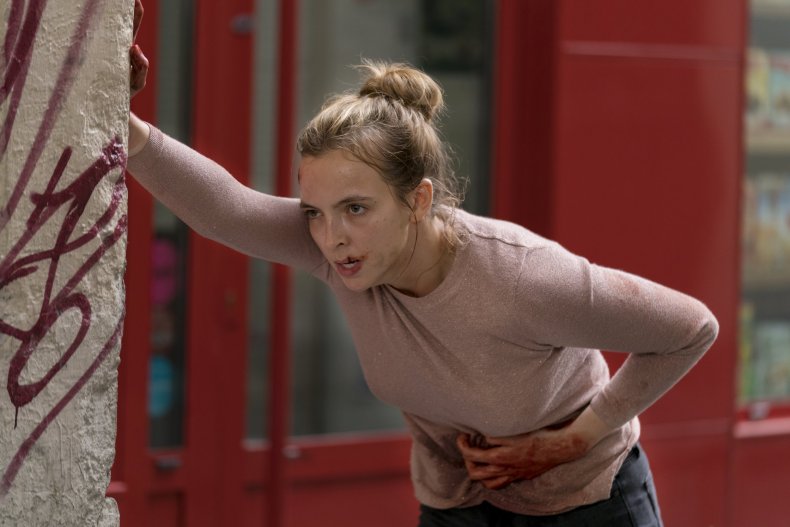 Back at Gare du Nord, Eve realizes she still has the knife in her pocket as she's about to go through the metal detector. (For all her fascination with assassins, it's clear Eve's complete lack of chill would make her a pretty terrible one.) Ignoring the the guard's shouts behind her, she ditches the line and hurries to the ladies' restroom, where she wipes the blade free of blood and fingerprints and chucks it into the bin for menstrual products. Returning to the security line, she tells the unimpressed guard she had a bad oyster, and he waves her through with a practiced stern glare. Killing Eve consistently nails these "feigned harmlessness" moments from its leads, and there's plenty of chuckle-worthy examples in "Dead Body."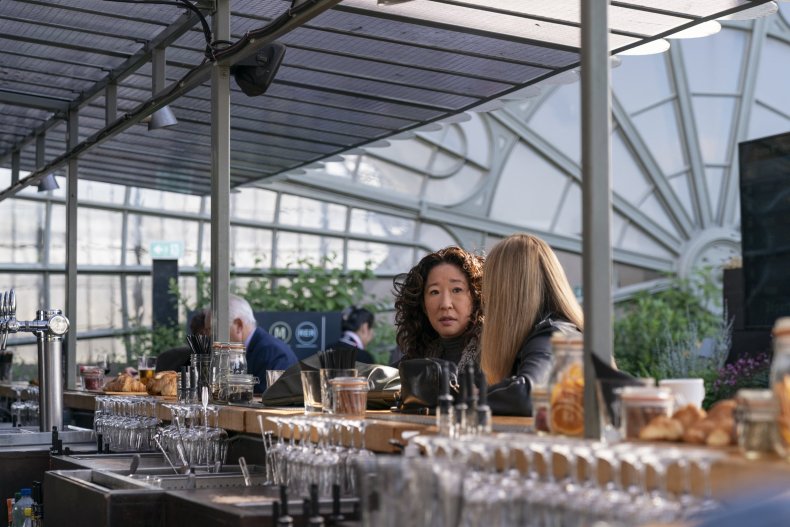 While Eve's jitters prompt a stranger to accuse her of being a junkie at the train station, Villanelle has become desperate enough to throw herself into the path of an oncoming car, seeing no other way to get herself to the hospital in time. "Do you know how to dispose of a body?" she asks the terrified cabbie. Her strength is clearly waning, but not her sarcasm. The driver ditches Villanelle in front of the emergency room shortly later.
On the train, Eve clearly regrets what she's done, watching the scenery flit by with a thousand-yard stare. When she arrives back in London, she immediately begins calling hospitals in Paris to find out if anyone matching Villanelle's description had been admitted. Turns out she has been admitted, and will recover without surgery. But Eve can't know that, since Villanelle begged the attending doctor to keep her name off the records, claiming her husband was an abusve detective.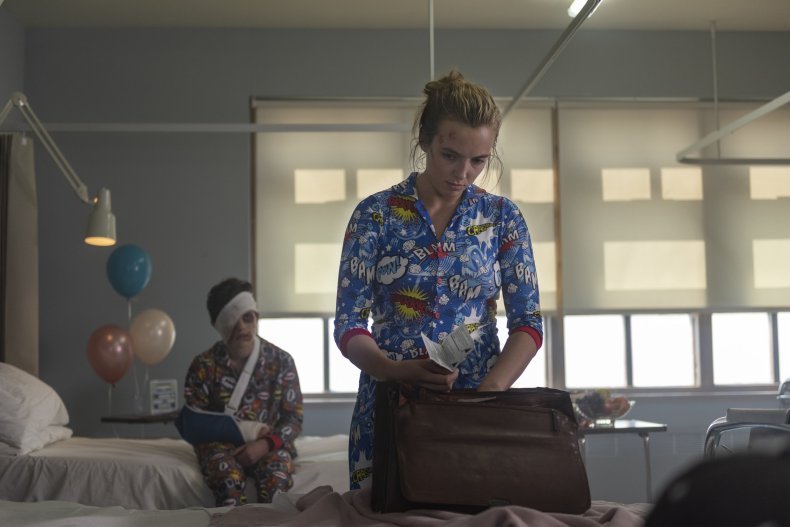 Feeling a little better now that she's stitched up and on painkillers, Villanelle "befriends" her new roommate, a boy named Gabriel, recently orphaned and severely injured in a car accident. For two utter strangers, they have some pretty top-notch banter. Case in point:
Gabriel: No way. A man stabbed you?
Villanelle: A woman stabbed me.
Gabriel: Women don't stab.
Villanelle: I know. It surprised me too. She did it to show me how much she cared about me. Sometimes when you love someone, you will do crazy things.
These candid exchanges in the hospital between two strangers, make for a fascinating contrast with the dissembling passive agression between Eve and Niko (Owen McDonnell). He wants to talk, she clearly doesn't. She's trying to be the good "normal" housewife, making Nigella's roast chicken recipe. Eve's whole "everything's fine" act fails to convince either Niko or herself, and she spends much of the evening in a sad little ball in the bathtub, and later rhaposically listening to a telemarketer's sales pitch, infinitely grateful for the slightest distraction from Niko or her own thoughts.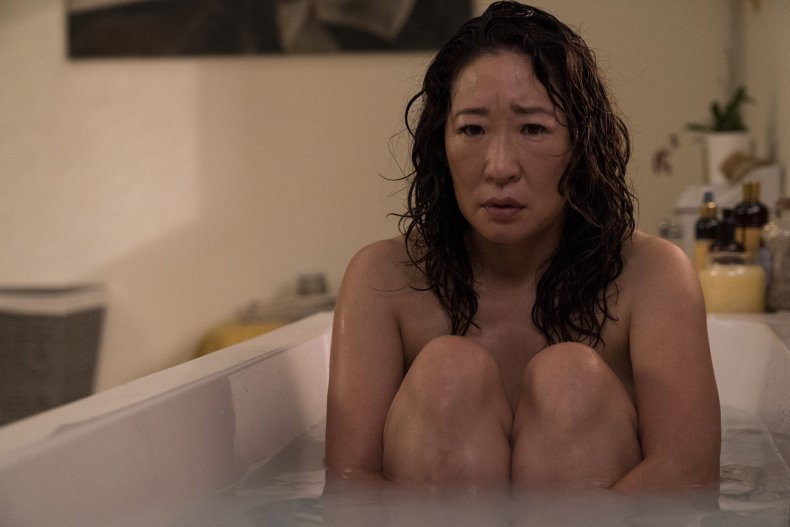 Back in Paris, Villanelle is feeling well enough to hatch an escape scheme. With Gabriel's help, she steals a doctor's coat and badge (and Crocs, quelle horreur), gets some supplies to keep her wound clean and scrounges around for cash. Gabriel asks her to tell him honestly about how he looks under the bandages. It's rough and she tells him so: "you look like a pizza." He says he doesn't want to live with his disfigurement and wishes he had died in the accident. Eve borrows his superhero pyjamas, then breaks his neck. It's party a mercy killing, but mostly just so he can't tell on her. Zipping down the hallway in a wheelchair, she escapes by telling the guard she's just recieved a terrible prognosis and needs some time alone. Next we see her, she's still clad in the dead tween's superhero jammies and hopping into the trunk of a family sedan at a rest stop, eventually making her way from Calais to Dover, going to find Eve.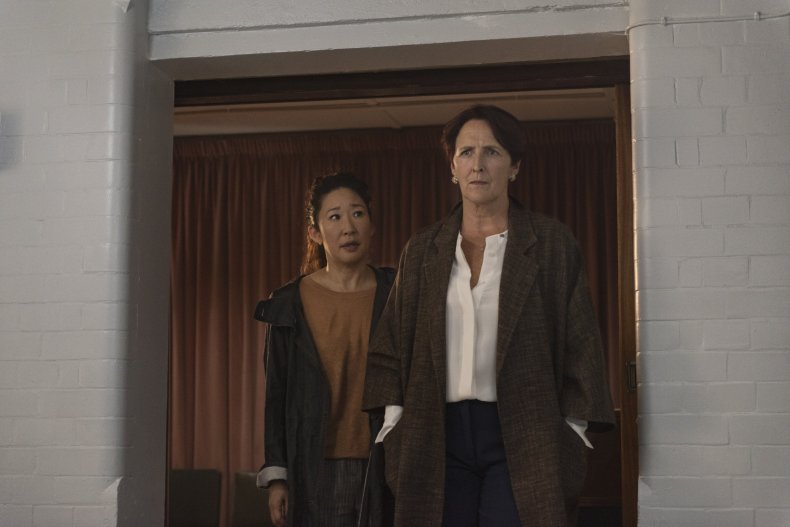 Eve finally connects with Carolyn, who's spent much of the episode attempting to reach her. Carolyn wants to know more about Paris, but Eve's not telling. Eve wants to know more about Konstantin and The Twelve, but Carolyn's not telling. Even so, the two bury the hatchet and Eve's rehired, and their conversation leads to a morgue, to examine the body of famous "tech guy" Alastair Peel. After some slab-side cocktails and burgers, we learn that Nadia—the former lover Villanelle killed in prison in Season 1—left behind a note to Eve referencing Peel. But why? Did Villanelle kill him too? Or is there a copycat female assassin on the loose?
As the hour draws to a close, Eve and Villanelle stare up at the cieling (in the latter's case, trunk lid), unable to sleep, each clearly thinking about the other. When will their paths cross next? Maybe we'll find out next Sunday.
Killing Eve airs Sundays at 8 on BBC America and AMC.