'Killing Eve' Season 3 Ending: What Happened in the Finale and What It Means for the Next Season
For the first time in Killing Eve history, the AMC and BBC America show aired a season finale that did not end with one of the two leads facing mortal wounds. That did not mean, however, that Season 3, Episode 8, titled "Are You Leading Or Am I?," did not have any blood, with two of the season's characters ending their lives as the season came to a close.
Those characters were Dasha (played by Harriet Walter), who died in her hospital bed just as Konstantin (Kim Bodnia) predicted she would, and Paul (Steve Pemberton), shot by Carolyn (Fiona Shaw) in a final confrontation.
After spending most of the season apart, the Killing Eve Season 3 finale brought together most of the major players in one room, with Eve (Sandra Oh), Villanelle (Jodie Comer), Carolyn, Paul and Konstantin meeting.
In this meeting, Carolyn initially put a gun to Konstantin's head, who revealed to her that he had been there at the death of her son Kenny (Sean Delaney). Konstantin said that he had gone to warn Kenny about his investigations of The Twelve, and Kenny had backed away from him and fell off the roof. After she also learned that Paul was working for The Twelve, she turned her gun towards her MI6 co-worker and killed him.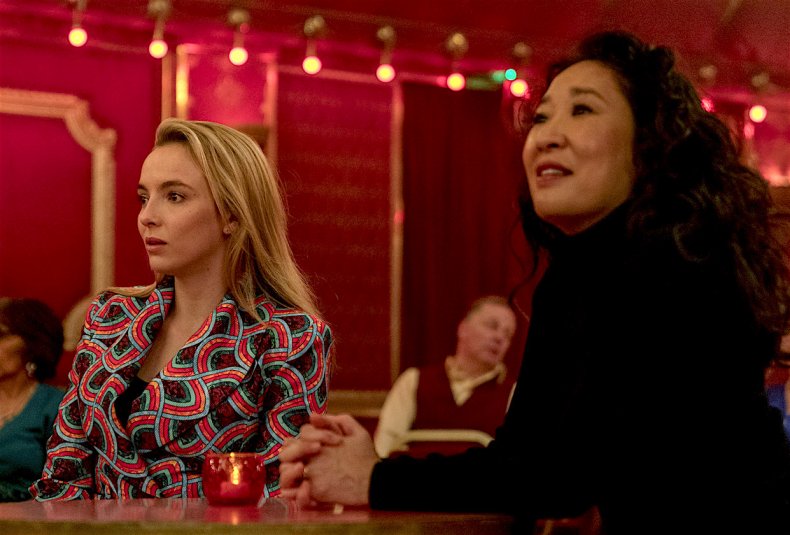 In an interview with TVLine, Sally Woodward Gentle hinted that the handler may have not been telling the truth. He said: "I don't think you should ever believe Konstantin about anything!"
This confrontation over, the Killing Eve Season 3 finale saw Eve and Villanelle meeting on London's Tower Bridge and trying to walk away from each other. However, both of them looked back, suggesting that they are not ready to leave each other's lives yet–which is handy, as the show has already been renewed for Season 4.
Gentle said of this to Entertainment Weekly, "I think that what was really appealing was for both of them to have an honest conversation, which we rarely see—particularly with the revelation in the earlier scene that they were both complicit in somebody else's death.
"They both did it together, and in a way that's a good jumping-off point for a discussion about where they are. [Laughs] And also, for Eve to say, 'You've got to release me. I can't stop thinking about you.' And for Villanelle to say, 'Well, it's really easy. You just walk away.' They walk away and Eve turns around with Villanelle, and I think what you see in her is she knows that Eve is going to turn around."
What this means for Season 4 is less certain, but the finale has some clues. Villanelle spent most of the episode having a personality crisis, trying and failing to get an intelligence role at MI6 and finding herself tired of killing. This could mean that the next season could see the killer trying to "go straight."
This is something departing showrunner Suzanne Heathcote hinted at in a TVLine interview. She said: "After she kills her mother [earlier in the season], we were saying it's almost as if every kill up until now, there was something in her trying to kill her mother. And then when she killed her mother, it's just that the desire for it has gone."
She added: "So who knows what happens in Season 4, whether she regains that thrill again? Maybe she does, or maybe she goes on a whole new journey."
Asked by EW what fans should expect from Season 4, Gentle said: "What do you do when you have to acknowledge to yourself that there's a darkness that you can't push down anymore? And that's very much an Eve thing...Change is possible."
Though Villanelle may have no more desire to kill, there are still those who might want to kill her in Season 4. After she murdered Helene's (Camille Cottin) new assassin Rhian (Alexandra Roach), The Twelve member is sure to be out for blood. As Gentle said: "Hélène is the highest that we've ever met in the Twelve, and the fact that Villanelle went against her and killed her pet protégé, the Twelve support for her just might wane a little bit."
Killing Eve Season 3 is streaming now on the AMC website and app.