'Killing Eve' Fans Savage Series Finale: 'The New 'Game of Thrones''
After four years, Killing Eve has come to an end. The finale saw Villanelle (played by Jodie Comer) and Eve (Sandra Oh) finally get together, much to fans' delight, only for tragedy to strike in the final minutes.
Everything was going so well. Villanelle had taken down all of the members of The Twelve, who were holding a secret meeting on board a luxury boat on the River Thames, with Eve surviving unscathed. Even better, Villanelle and Eve embraced on the top deck of the boat as it sailed towards towards Tower Bridge, the same bridge Eve and Villanelle turned their backs on one another on in the Season 3 finale.
In many fans' eyes, Killing Eve could have just ended there, with their favorite couple reunited under Tower Bridge, looking ahead to the future together. But no. Instead, Villanelle and Eve found themselves under attack from a sniper. Worse, Villanelle did not survive.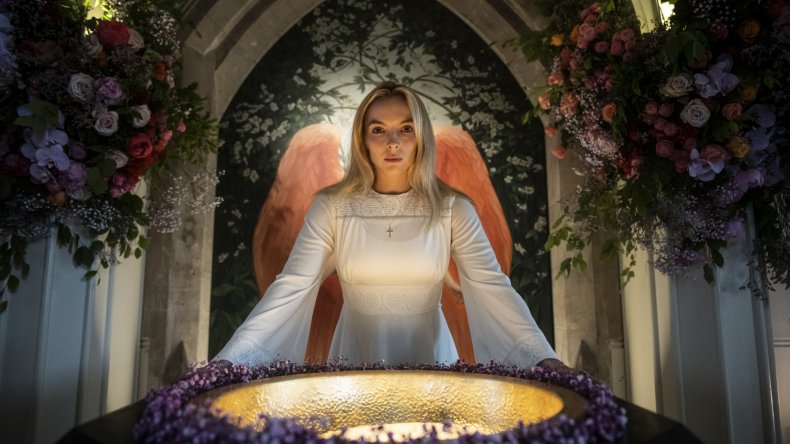 In a big twist, Carolyn (played by Fiona Shaw) was behind Villanelle's assassination, in order to make her way back into MI6.
Speaking to Newsweek, Killing Eve showrunner Laura Neal shared that "every conceivable" ending for the show was discussed among the writers.
She said: "We discussed the ending so much like I think we must have discussed every conceivable ending for the show and we wanted to make sure that we got it right, of course.
"Even at the script stage, I wrote several different versions of the ending and I think ultimately, we had to choose the one that felt truest to those extraordinary characters and I think I think the one we've gone with, I hope people will feel, you know, an emotion watching it as I did writing it."
Fans are not necessarily mad Villanelle died. There was always a big chance either Villanelle or Eve would not survive, but the general consensus amongst the Killing Eve fan community online is how Villanelle's death occurred.
Of course, ending a TV show after four years was never going to please everybody but fans really do not seem happy at all.
Many fans are questioning why they never got to see Villanelle and Eve be happy together earlier in the series before Villanelle's life came to an unfortunate end.
For many fans, the moments of Eve and Villanelle hugging, kissing, singing in the car, and laughing over curly fires were a true highlight and quite frankly, there was not enough of it.
By limiting their screen time together only to have one of them killed off, many believe Killing Eve has fallen into the typical trope of killing off gay characters, such as the killing of Tara in Buffy the Vampire Slayer and Lexa in The 100.
Ultimately, many were frustrated at a queer female relationship on screen ending in tragedy.
One fan said: "Just gotta say, the argument isn't that it's "never" ok to kill a queer character. What's played out and tired as hell is withholding love from two queer women, then letting them experience it for all of 5 seconds before immediately killing one. TIIIIRED."
A second fan wrote: "Queer characters aren't & should never be treated as disposable. The writers of Killing Eve haven't done anything remarkable, just add another marker to the tired BYG trope. LGBTQ audiences deserve better representation. We only move forward with truly reflective diverse stories."
A third fan commented: "the most heartless finale ever. villanelle's death was a disrespect to the creator of the character and to the fans. how cruel do you have to be to give this queer character hope only to end it all in the most unnecessary death scene?
Some fans pointed to the happy ending Eve and Villanelle received in the original novels by Luke Jennings and questioned why Eve and Villanelle did not have a similar fate on screen.
"A genuinely friendly reminder that this is how the books end: them together, living their lives happily. villanelle doesn't die and gets a linguistics degree" one fan wrote.
Another added: "how embarrassing for the entire writing team that killing eve's book, written by a cishet MAN, had a much better ending than the show's finale written by a woman and a team which supposedly includes some queer people. that's a true L right there"
For others, the finale as a whole had gone against the entire premises of the show's origins. Eve and Villanelle are meant to be together. In the finale, Eve accepted her flaws and who she really was and Villanelle realized she was capable of loving and being loved.
Sadly, taking their future away from them went against the show's own narrative in many fans' eyes.
One fan wrote: "the most subversive thing they could have done would have been to end it with villanelle alive because this show has always been about turning the concept of morality on its head, and instead they just decided to do the easiest, most obvious, and least fulfilling thing."
A second fan added: "The last-minute of #KillingEve's finale is void of heart & uses a tired trope carelessly. It feels like a slap in the face & discards V & Eve's journey like it meant nothing. I'm disappointed, angry, & it hurts to know a show I loved is tainted for me now."
Overall, many fans just felt let down.
"I'm literally in shock. I cannot believe they wanted this for the show. I cannot believe they killed the woman who was celebrated for her freedom for 4 years. And they also did not have sex. It's a joke. Killing Eve's entire existence is a joke to me right now," one fan wrote.
A third fan added: "the way it took 2 minutes, a hundred and twenty seconds, for the killing eve writers to ruin everything they've built up for 4 years."
Additionally, fans were upset they never actually found out who The Twelve actually were after four seasons.
Yes, Villanelle did come face to face with them and epically kill them all, but audiences never got to see their faces or learn anything about who they were or, who was the top of the organization.
Another fan wrote: "The last 10 minutes of that episode was like the lowest of the low for killing eve...the way they were building up for this big twelve resolution and then copped out at the very end??"
Overall, many fans think Killing Eve has overtaken Game of Thrones as the worst ending to a TV show in some viewers' eyes, with many calling it "the new Game of Thrones." Ouch.
Killing Eve is streaming on Hulu, BBC America, and AMC Plus now.