Killing of Famed Yellowstone Grizzly Intensifies Protection Debate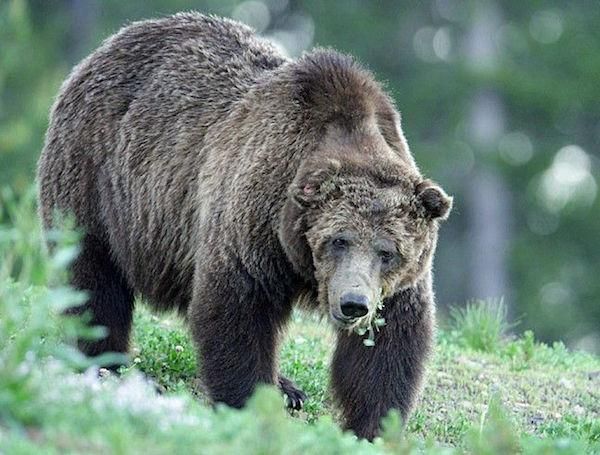 Grizzly bear No. 211, also known as Scarface, was the most well-known and widely beloved of the some 700 identified animals in and around Yellowstone National Park. That is, until he was shot in November by an unknown person near Gardiner, Montana, just north of the park. Montana's Department of Fish, Wildlife & Parks confirmed the killing in a statement and says it's investigating.
Scarface was already elderly, as Grizzly bears go, and by mid-2015 had lost nearly half of his weight, which in his prime came in at 600 pounds. But he did not die a natural death.
Grizzly bears found in Yellowstone often wander outside of the park's confines, which can lead to conflicts with people, especially ranchers.
The incident comes amid a fierce debate about whether to continue to protect grizzly bears. Since 1975, the animal has been listed as threatened under the Endangered Species Act. At that time, there were as few as 136 left in the greater Yellowstone ecosystem. Today, there are 700 or more.
In March, the Fish and Wildlife Service (FWS) announced plans to delist the animal, saying its numbers had recovered sufficiently in this population. This recovery "stands as one of America's great conservation successes—a testament to the value of the Endangered Species Act and the strong partnerships it drives," according to the statement.
Public comments have poured in, and will be accepted until May 10. Toward the end of the year, the agency will finalize its plan.
In the meantime, critics on both sides have piled on. Some argue that delisting isn't appropriate because populations of the bear are still fragile. David Mattson, a now-retired biologist who worked with the Interagency Grizzly Bear Committee (which studies the animals) for two decades, is prominent among these. He published a lengthy article May 9 for CounterPunch.org that makes the argument that the number of bears Yellowstone's ecosystem can support has declined in recent years, and that death rates have increased. Whitebark pines, the nuts of which are a favorite food, have declined due to climate change, and the number of prey animals like elk have dwindled, he argues. With less food, grizzlies are more likely to go searching for meat in the form of cattle, leading to conflicts with humans.
Other environmental groups feel similarly. The Sierra Club, for instance, said in a petition that the animals' "naturally slow reproductive rate, loss of key food sources to climate change, and state plans to reduce numbers through methods like trophy hunts, all spell disaster."
Those on the opposite side argue that delisting is appropriate because it would allow hunting, which they say is necessary to curb the animal's numbers. Outdoorsman and author Steven Rinella writes in The New York Times that delisting would actually help the credibility of the Endangered Species Act (and thus other animals that more urgently need its protections). He argues that by continuing to list a "recovered" animal, the FWS creates hostility toward the act.
For its part, the FWS says even if it delists grizzlies, it would continue to monitor the animal's numbers. "Even with this proposed delisting, the Service remains committed to the conservation of the Yellowstone grizzly bear, and will stay engaged to ensure that this incredible species remains recovered," director Dan Ashe said in a statement.
The FWS previously tried—and failed—to delist the bear in 2007. Environmental groups sued, saying the agency hadn't taken into account the decline of whitebark pine due to climate change, and a judge agreed with them, throwing out the delisting in 2009. Since that time, however, the grizzly bear study group has compiled information suggesting the animals have switched to other sources of food, such as insects and meat, according to the Bozeman Daily Chronicle.
Fans of Scarface, meanwhile, have taken to social media to express their grief. "Our emotions alternate between shock, sadness, anger and a profound sense of loss," a company called Ghost Bear Photography wrote on Facebook. "There is still so much that is unknown and we can only hope that a passionate citizenry and an inquisitive media will eventually find the answers we all seek. Those answers will undoubtedly lead to more questions, but, more importantly, we must demand that they also lead to changes."