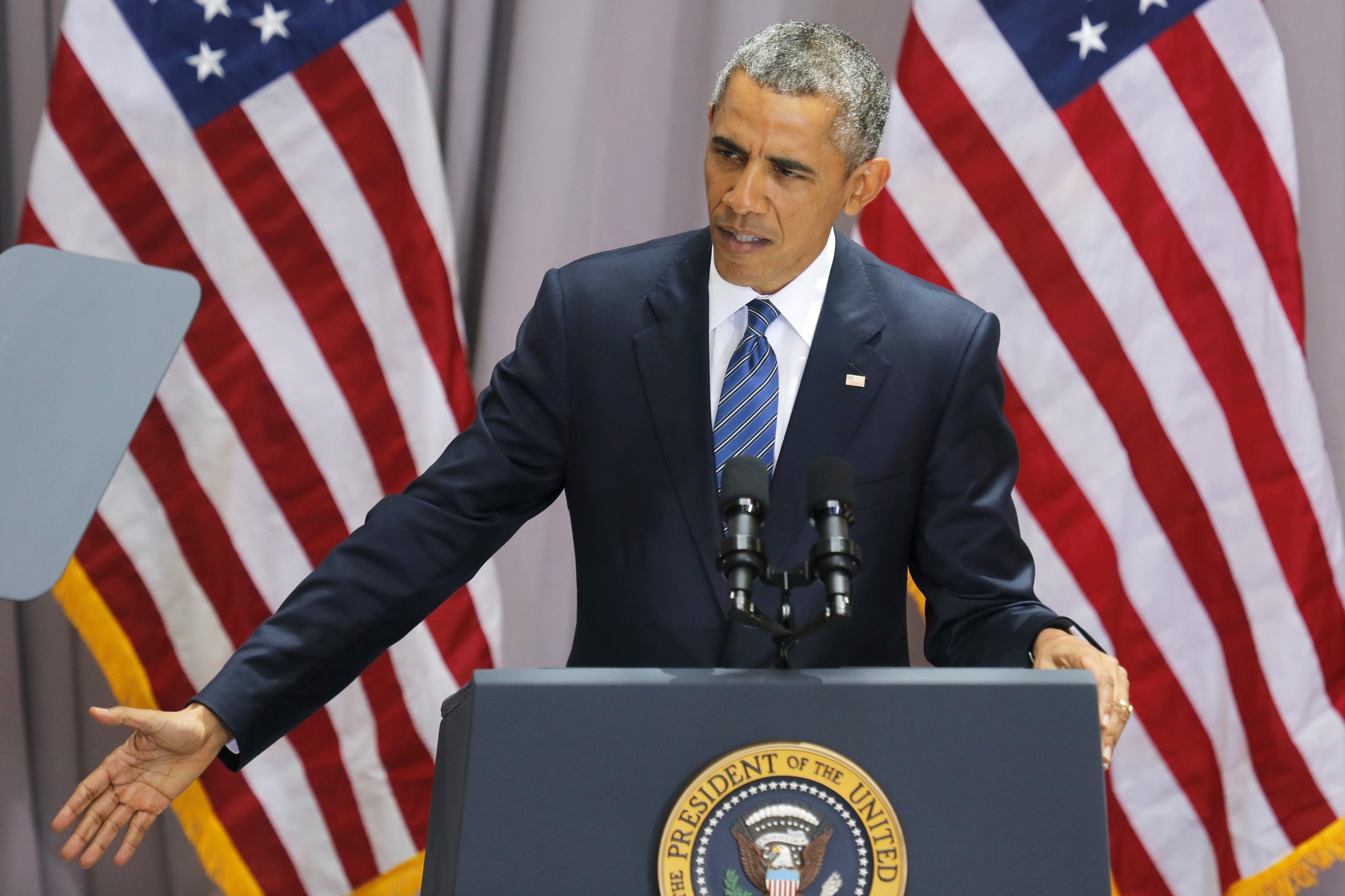 Critics of the Iran nuclear agreement have been asking for a better deal. On Wednesday morning, President Barack Obama gave them an answer.
"Walk away from this agreement, and you will get a better deal…for Iran," he said, arguing that if Congress blocked the deal, the United States would be isolated in trying to maintain sanctions against Iran. This would likely spell the end of multilateral sanctions on Iran's economy, benefiting the country without requiring it to take any steps to curtail its nuclear program.
In a speech at American University on Wednesday, the president presented a strongly worded defense of the Joint Comprehensive Plan of Action (JCPOA), the Iran nuclear agreement designed to prevent the nation from building a nuclear weapon.
During the speech, Obama likened arguments against the Iran deal to the rhetoric of those who argued for the Iraq War a decade ago.
"You are going to hear a lot of arguments against this deal backed by tens of millions of dollars in advertising," Obama said, as he urged constituents to contact their representatives in support of the deal. "And if the rhetoric in these ads...sounds familiar, it should, [because] many of the same people who argued for the war in Iraq are now making the case against the Iran nuclear deal." He went on to say that the most rhetorically incendiary parties in Iran—the sources of the "Death to America" chants alluded to by critical GOP lawmakers—are as virulently opposed to the new deal as members of Congress, and he joked that they have a "common cause with the Republican caucus."
Obama warned that if Congress kills the deal, Iran would speedily resume its nuclear weapons program.
"Without this deal, the scenarios that critics warn about happening in 15 years could happen six months from now. By killing this deal, Congress would not merely pave Iran's pathway to a bomb, it would accelerate it," Obama said.
At that point, war—whether in the form of airstrikes against facilities or full-on invasion—would be a strong possibility.
"Does anyone really doubt that the same voices raised against this deal will be demanding that whoever is president bomb those nuclear facilities?" said Obama.
The majority of the president's speech was taken up by a point-by-point rebuttal of several prominent criticisms of the deal. He acknowledged that Israeli Prime Minister Benjamin Netanyahu is opposed, but said, "I believe he is wrong. I believe the facts support this deal. I believe that they are in America's interest and Israel's interest." Between America's enhancement of Israel's conventional capabilities, and its promise to prevent a nuclear-armed Iran from becoming a reality, he argued that the United States remains committed to protecting its "friend and ally," Israel.
The president also said he is leaving all options on the table. If Iran backs out of the deal and continues to pursue a weapon, he said military force would almost certainly be necessary. He pointed to the success of an interim deal, struck between Iran and six world powers in 2013, as evidence that the new deal would prevent this from happening.
"When the interim deal was announced, critics, the same critics we're hearing from now, called it a historic mistake…. They warned that Iran would receive a windfall to support terrorism. The critics were wrong. The progress of Iran's nuclear program was halted, for the first time in a decade."
Under the terms of the current deal, Iran is permitted to develop a peaceful nuclear energy program. Any deal that sought to curtail civilian applications of nuclear energy, the president said, would be viewed in Iran "as a total surrender of their sovereignty."
According to Obama, the rhetoric surrounding this important detail has clouded the facts. For example, critics say that the Iran deal expires in 15 years, but in reality this is only the time at which the country can continue to develop its nuclear energy program, a program that Iran views as its right under the terms of the U.N. Non-Proliferation Treaty. Obama reiterated that the provisions of the new deal explicitly deny Iran the right to ever possess a nuclear weapon.
Addressing critics who argue for the continuation of sanctions, Obama pointed out that unilateral U.S. sanctions did not prevent Iran from developing a weapons program during the Bush presidency. During the Obama administration, the United States convinced the United Nations Security Council to impose multilateral sanctions. The new deal would relieve some of these sanctions as an incentive for Iran's cooperation. Some critics have said that this would amount to funding terrorism.
"Any negotiated agreement with Iran would involve sanctions relief," Obama said. It would be better, he said, for Iran to gain financially from sanctions relief, than for it to end up with a nuclear bomb. He also said that "nuclear sanctions" would be lifted, while sanctions pertaining to terrorism and human rights abuses would remain in place.
The mindset that America can be tough on Iran with greater sanctions (or some unspecified nonmilitary alternative to sanctions) misconstrues what sanctions are intended to do, the president argued. Sanctions were originally put in place in order to bring Iran to the negotiating table and create economic incentives for the nation to dismantle its military nuclear program.
Iran has already dismantled a significant amount of its nuclear infrastructure under the provisions of the 2013 interim agreement, he said, but sanctions alone would never pressure Iran into giving up its nuclear weapons program entirely.
The president also slammed critics for trying to argue over the technical details of nuclear physics with experts such as Energy Secretary Ernest Moniz. "Nuclear material isn't something you hide in the closet," he said, on Iran's ability to deceive the U.S. with subterfuge. However, he did not address the concern raised by Senator John McCain about the provision in the deal that gives the International Atomic Energy Agency the authority to oversee inspections, nor did he comment on Iran's statements last week that Americans would not be allowed to be among the inspectors, because Iran does not have diplomatic relations with the United States.
Obama's speech essentially repeated to the American University audience what Moniz and Secretary of State John Kerry have told Congress in several hearings as part of the administration's campaign to build support for the deal. Congress is expected to vote in September, and Obama needs Democrats to stand by him to avoid opponents of the deal getting enough votes to override a presidential veto.