'Killing Spree': Theologian Calls Out Catholic Participation in Death Penalty Cases
In light of Brandon Bernard's execution on Thursday night, a theologian is calling out the three-month "killing spree" overseen by Attorney General William Barr and the conservative Catholic members of the Supreme Court in the final months of the 2020 presidential campaign.
Jesuit Fr. James Keenan, Canisius Professor at Boston College where he serves as vice provost for global engagement and director of the Jesuit Institute, opposed this year's multiple executions. In a National Catholic Reporter essay co-written with William R. Montross Jr., a capital-defense attorney, Keenan discussed the role of Catholics in these executions, which have been carried out through Barr, a Catholic U.S. attorney general.
The authors noted that, prior to the Trump administration's resumption of federal executions after a 17-year hiatus, only three people had been executed by the government in the last 50 years. Meanwhile, there have been nine executions carried out so far in 2020, and four are planned to take place before President-elect Joe Biden's inauguration in January.
"Barr launched the killing spree without hesitation, and when the Catholic justices intervened and vacated preemptively the stays of execution, they effected these killings," Keenan and Montross wrote. "The active Catholic participation in this killing spree is remarkable, and of course, scandalous, especially in as much as they rush the nation to committing these actual executions."
In a statement announcing the resumption of federal executions in July, Barr justified the death penalty by stating that those sentenced to die had been convicted of "horrific crimes." However, Keenan and Montross argued that those people's actions, motives and past trauma need to be examined before making the fatal decision.
They highlighted the cases of three death row inmates: Bernard, who was executed on Thursday for a crime committed as a teenager; Lisa Montgomery, the first woman scheduled to be executed by the federal government in 60 years whose severely tragic life resulted in a horrific murder; and Cory Johnson, who is set to be killed less than a week before the Trump administration ends despite the jury or court refusing to hear evidence of his intellectual disability, according to a statement from Johnson's attorneys last month.
Keenan and Montross also pointed out that, of the six inmates scheduled to be executed since November, one of them is a white woman and five are Black men.
"Study after study demonstrates that the death penalty is infected with racial bias; the federal death penalty is no different," they wrote, citing a 1994 study that caused the congressional committee to conclude that minority defendants were almost exclusively those who were selected for a federal death penalty.
A September report by the Death Penalty Information Center found that, throughout the modern era, people of color have been overrepresented on death row. According to the study, 52 percent of death row inmates were Black in 2019. This year, that number dropped to 42 percent, while 60 percent of the U.S. population is white.
"We are witnessing this Advent a modern-day lynching," Keenan and Montross said.
"We must also recognize this killing spree as another moment of unparalleled violence in America, indeed a historically anomalous moment," they later added. "That in this spree, Black Lives Matter is grossly denied. That knowing Brandon Bernard, Lisa Montgomery and Cory Johnson ought to matter. That the merciless brutality of the federal executions significantly matches the merciless brutality of the murders themselves."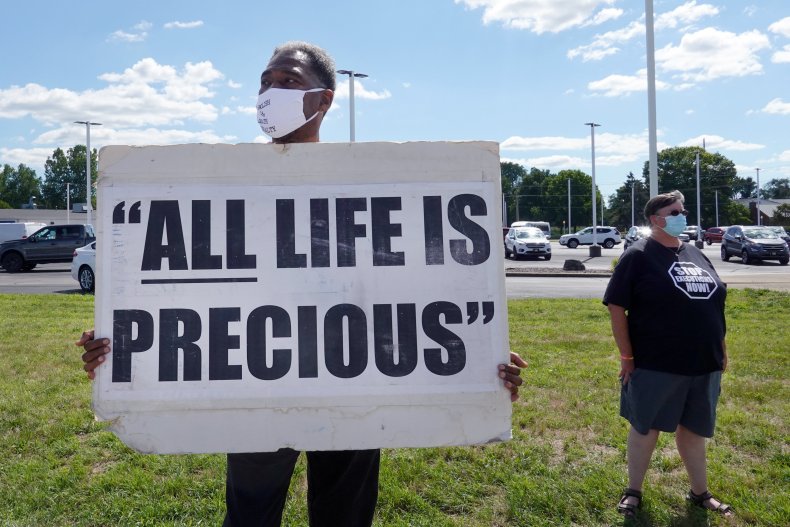 After the 17-year hiatus, a theme of lower courts attempting to halt executions and the Supreme Court allowing them to proceed has been prevalent since the first prisoner, Daniel Lewis Lee, was executed on July 14. With each issued stay, the Supreme Court decision looked relatively the same: Justices Sonia Sotomayor (a Catholic), Stephen Breyer, Elena Kagan and Ruth Bader Ginsburg dissented—while the remaining four Catholic justices (Chief Justice John Roberts and Justices Clarence Thomas, Samuel Alito and Brett Kavanaugh) and Neil Gorsuch voted for the executions to move forward.
The addition of Justice Amy Coney Barrett— whose devout Catholicism has gained attention since her nomination—in November following Ginsburg's death may further seal the position of the court's conservative wing on the death penalty issue. On November 19, Orlando Cordia Hall was executed after the Supreme Court permitted the execution to go forward. The death penalty case was Barrett's first on the high court, The Washington Post reported.
"Catholics in high offices have shown by their own extraordinary actions that they are among the most active participants in executing tragically vulnerable people," Keenan and Montross said.
The theologian and the attorney also criticized the National Catholic Prayer Breakfast for "senselessly validating" Catholic involvement in executions after the foundation awarded Barr with the Christifideles Laici Award in September— in between overseeing federal executions—to "help highlight these good works and those who serve the Church so well."
"As we recognize this killing spree, let us commit ourselves to make our country and our church in this country less a household of violence and more a kingdom of peace," Keenan and Montross concluded. "Indeed, there is more work to be done than we may realize."
Newsweek reached out to Keenan and Barr's office for comment, but did not receive a response in time for publication.