Fox News Host Claims Trump 'Wanted' To Be Booed at UFC 244 Event in New York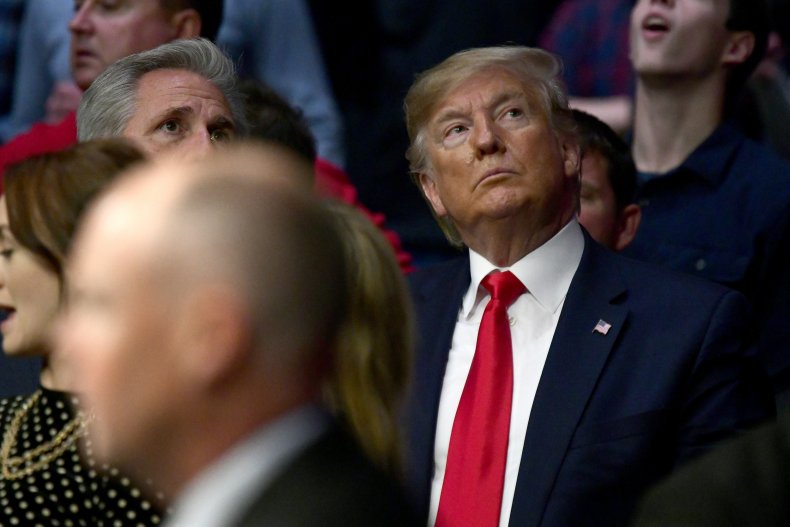 President Donald Trump was booed Saturday night as he arrived at Madison Square Garden in New York City to attend Ultimate Fighting Championship (UFC) 244, but one Fox News host believes that Trump wanted this response from the crowd.
A wide array of reactions greeted the president as he arrived at the famous sporting venue in his hometown, but many videos posted across social media captured a loud chorus of boos emanating from the crowd. Following his attendance at the MLB World Series at the end of October, this is the second time in less than a week that Trump received jeers from sports fans.
Donald Trump Jr. was the first to dispute the boos, citing UFC President Dana White who "said it was the most electrifying entrance he's seen in 25 years of doing this."
Fox & Friends co-host Brian Kilmeade took a different position on the negative reception Monday morning, saying Trump wanted this reaction to "prove he doesn't have thin skin." Kilmeade, a former sports radio host, said that he worked as a broadcaster for early UFC events and that the shouts from the crowd at the president's arrival were "not just cheering or booing, it's just loud noise that gives the crowd a sense of something big that is about to happen."
"That's what Trump wanted with that walk in," Kilmeade added. "It's just too simple to say boos or cheers."
The Fox & Friends hosts also invited former UFC fighter Tim Kennedy to weigh in. Kennedy responded to Kilmeade's comments with his own account of the atmosphere at Madison Square Garden when the president arrived. "Trump definitely brings out electricity in people, both good some bad," Kennedy said. "Far right, far left, middle, everybody gets excited when he's there. What that response looked like, you never know, but at the fight, it was electric."
During a press conference following the UFC event, Dana White expressed his appreciation of Trump's attendance. "It's amazing," he said. "It's like one of the big deals. It's like we made it."
White also added that Trump helped make the UFC what it is today by supporting the competition during its early years. "I would never say anything negative about Donald Trump because he was there when other people weren't," the UFC president said.
Prior to his main event fight, Jorge Masvidal also spoke about Trump's attendance at UFC 244. "No matter what your views are on Trump as a president, the guy's a bad motherf***er, man," Masvidal told reporters.