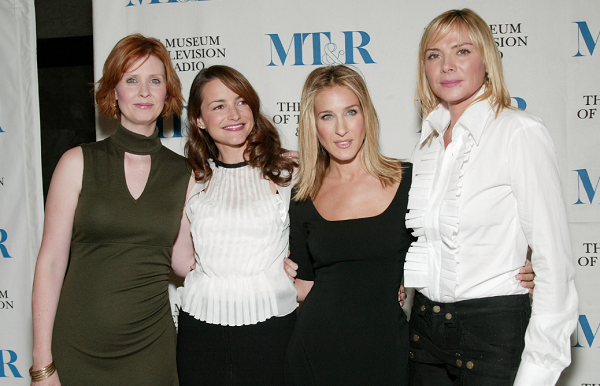 The final scenes of Sex and the City 2 left fans with happy images of the show's core quartet: Miranda Hobbes was adjusting to a new position at a law firm, Charlotte York realized she wouldn't have to worry about her marriage to Harry, Carrie Bradshaw and Big's relationship was renewed, and Samantha Jones—in true Samantha fashion—was living her best life, sleeping with her latest love interest on the hood of a jeep.
It was great to end the franchise by seeing all of the women thriving. However, with a potential Sex and the City 3 in the works, fans could see the characters' lives reimagined and possibly living without their staple sassy single, Samantha—or at least without the woman who breathed life into the role, Kim Cattrall.
Despite having a complete script and an ensemble of actors ready to revive their roles, Sex and the City 3 could be scuttled now that Cattrall has declined to do a third installment of the movie. Sarah Jessica Parker, Kristin Davis and Cynthia Nixon are willing to play Carrie, Charlotte and Miranda, respectively, but Cattrall's decision to turn down the part of Samantha has all but killed a third film.
In an interview with Piers Morgan released Monday, Cattrall gave a solution to all the controversy surrounding Sex and the City 3—she's been embroiled in a drama between production and cast members over her decision not to return—and suggested that someone else be cast for the role of Samantha.
"It's a great part. I played it past the finish line and then some, and I loved it," Cattrall said. "Another actress should play it. Maybe they could make it an African-American Samantha Jones or a Hispanic Samantha Jones."
Others have shared Cattrall's sentiments, including director Ryan Murphy.
"Look, I would be very devastated if I created something cultural like that and 90 percent of the team said, 'Let's do it,' but there was a hold on it," Murphy said at The New Yorker Festival on Saturday.
With a franchise extending back 20 years (the series first debuted on HBO in 1997, and the first film was released in 2004), recasting another actress as Samantha, or providing the original cast with a replacement friend, could tarnish the brand, considering how pivotal Samantha was to the group's friendship.
Samantha was notorious for her sexual freedom, powerhouse career moves and hilariously sharp commentary. The character served as Carrie's maid of honor in the first Sex and the City movie and was the least judgmental of the friends during Carrie and Big's many breakups.
Having someone new step in after following a character for more than two decades would feel like a cheap bid for ticket sales, especially considering Sex and the City 2'sunderwhelming box office and middling reviews.
Cattrall seemed to have no problem with a movie being made without her, telling Morgan that she wanted them to make the third film "if that's what they wanted to do." However, she knocked claims that she didn't want to be a part of the project due to unmet demands. The 61-year-old Cattrall said she had already decided that she wouldn't be reprising her role as Samantha long before she was approached by producers.
"I remember so clearly making that decision, and last December I got a phone call... and the answer was simply, 'Thank you, but no, I'm good,'" Cattrall said. "This isn't about more money, this is not about more scenes, it's not about any of those things. This is about a clear decision, an empowered decision in my life to end one chapter and start another. I'm 61. It's now."