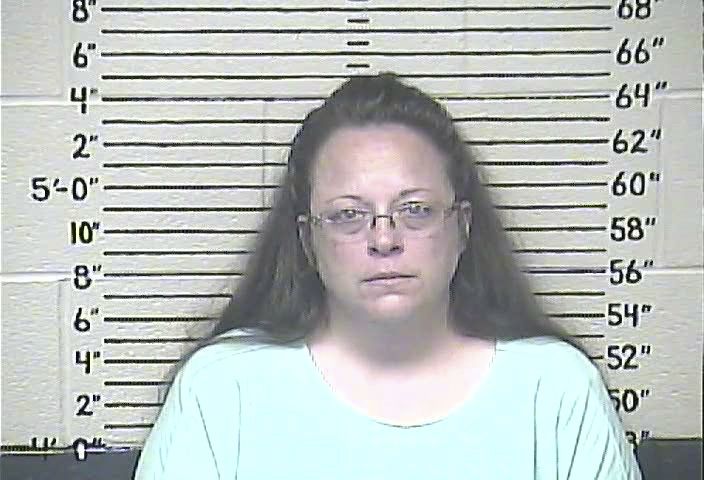 Kentucky clerk Kim Davis may be back in court again soon, as the American Civil Liberties Union of Kentucky filed a motion this week aiming to enforce previous court orders, which determined the Rowan County clerk must issue same-sex marriage licenses. The ACLU found Davis made four changes to marriage licenses since returning back to work after being jailed for six days for refusing to issue licenses to same-sex couples.
After Judge David Bunning released Davis from jail, marriage licenses in Rowan County were altered to remove her name and replace it with the county's name. Her deputy clerks began giving out marriage licenses in the county on September 4. "Plaintiffs have not alleged that the alterations affect the validity of the licenses," Bunning wrote at the time of her release. However, it is not the removal of Davis' name that caused the ACLU to file the motion.
After returning to work, Davis began to further alter the marriage licenses, according to a notice filed by deputy clerk Brian Mason. According to Mason, Davis created a third version of marriage license: the first was what the county used prior to the Supreme Court's decision to lift state-level gay marriage bans; the second removed her name from the license; and the third made four changes to the license. It is this third version the ACLU takes issue with. One such third license, with the personal information of the couple redacted, was provided to Newsweek: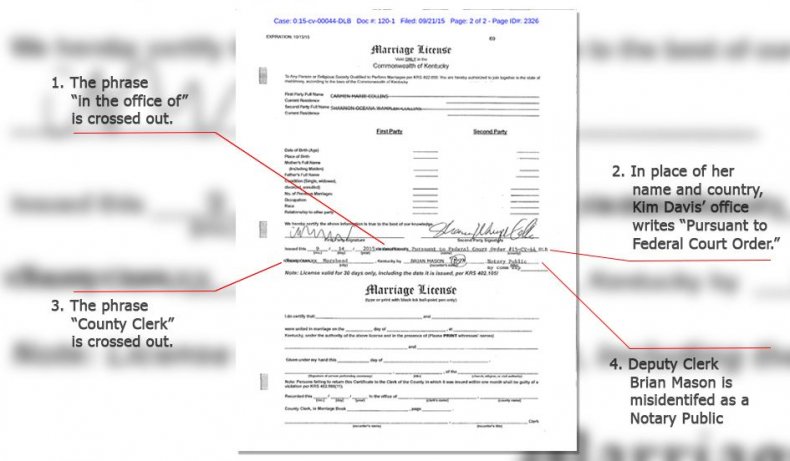 The changes to the license include removing the phrase "in the office of" and changing it to "Pursuant to Federal Court Order #15-CV-44-DLB," removing the phrase "County Clerk" and changing it to read "Morehead," and changing Mason's title from deputy clerk to notary public.
With all of these changes in place, it is possible this third version of the Rowan County marriage license is not actually valid. When Judge Bunning made his ruling, he was presented the second version of the license, with only one change, and determined such a license was legally binding. However, it remains unclear if this third version holds up and the ACLU argues it very well may not.
Despite this motion, Davis has repeatedly said she would not put her name on a license and said if need be, she will return back to jail.