Kim Davis Denied Me a Marriage License. And I'm Not Gay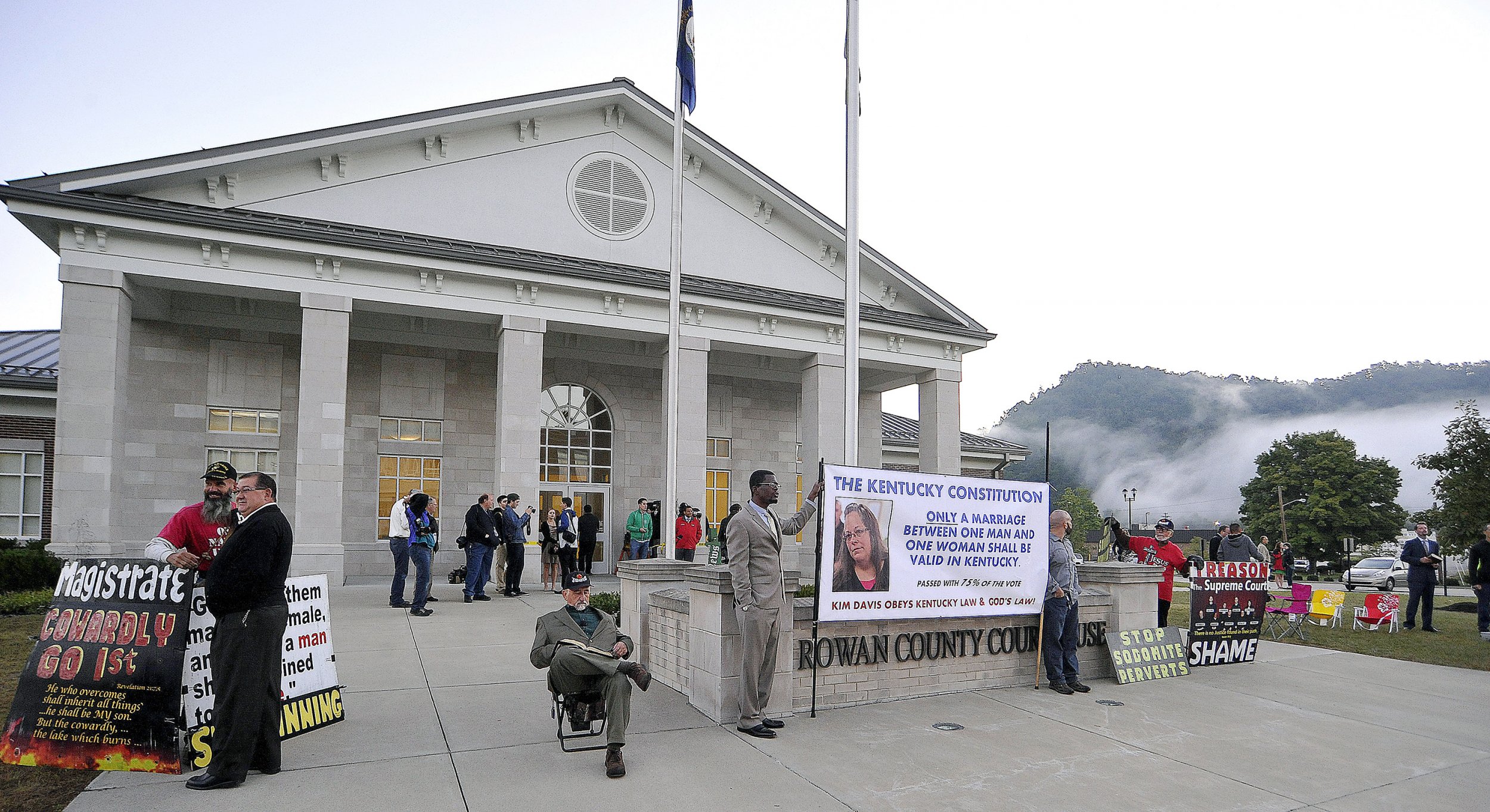 Our small community in Rowan County, Kentucky holds a holiday dinner every year, a tradition that goes back nearly a quarter century. Most of our elected officials participate and over 100 people donate their time.
When my fiancé Kevin and I went this year, Kim Davis served the green beans. She looked right at me and wished me a Merry Christmas.
This is the same woman who wouldn't serve me a marriage license. She had no clue who I was. The woman who ruined my wedding and caused my life to become a circus doesn't even recognize me.
Marriage is a big deal to me and something I don't take lightly. So when I decided to marry my long-term boyfriend, Kevin, it was a serious decision that I made with him several years into our relationship.
There are many concerns that cross your mind when you're considering getting married. Are you making the right decision? What it will mean for your identity and your family? You think about the binding agreement you're entering into under the law and the seriousness of that.
But the one thing I didn't think about was the fact that our county clerk might block us from getting our marriage licenses.
I can't blame myself for not knowing that. I mean, how could I? No one could have guessed Kim Davis would refuse to do her job as a public official and turn us away from our legal right to wed.
The surprising part is that I'm not gay. Kevin and I are as straight as an arrow, but because she didn't want same-sex couples to get married, she denied everyone their right to do so.
I am a 58-year-old mother of two and grandmother of three. I'm also an associate professor of middle school education at Morehead State University in Rowan County.
I moved to Morehead in 2008 from Florida because it was midpoint for me to visit my family in Ohio and in Tennessee. We liked the welcoming and friendly people. Kevin moved with me even though he had no job here.
We bought our house in town because it allowed us to easily get everywhere. I walk to work. We walk to the grocery store, the courthouse, the library, to restaurants, for haircuts and to church. We are Christian and were raised Lutheran. In fact my grandfather was a Lutheran minister, as was my cousin.
Kevin has never been married, although he is 55, because he does not take the bonds of marriage lightly. He served in the Marines.
He served the county for jury duty last year. In Rowan County, jury duty lasts an entire year. Members are required to call in every Wednesday night to see if they need to come to court the next morning to possibly be selected. This is a significant time commitment that most people try to avoid. Kevin was proud to fulfill his duty.
We're also active in our community and with charitable causes. We foster animals for the local animal rescue group and donate time and money to the homeless and at risk children in our area. We care about being good members of Morehead and Rowan County and play by the rules.
Our original wedding date was selected to honor my father's birthday on July 1. My father passed away from Alzheimer's just months after Kevin and I became a couple. He and Kevin never had the chance to meet. We selected July 1 in memory of him and as a means of making that date a happy occasion rather than a day I previously dread. We intended to have a quiet wedding and celebrate our love. Unfortunately, that was at the time Kim Davis was refusing to issue any marriage licenses out of the Rowan County Clerk's Office.
Our wedding date came and went, and the whole thing became crazy through no fault of our own.
After the Rowan County Clerk's office resumed issuing marriage licenses on September 4, Kevin and I went to the Rowan County Clerk's office on September 8. We obtained a license from Deputy Clerk Brian Mason but the marriage license issued to us appeared to be altered by the Rowan County Clerk's office by filling in the space for Kim Davis's name with the words "Rowan County."
The marriage licenses have been changed even further since then and do not contain the signature of the clerk or deputy clerk issuing the license, instead stating that they are issued by a "notary public." Our license and others like it are different from the ones being issued in other counties in Kentucky, and I am uncertain whether a marriage based on an altered marriage license would be valid. We didn't proceed with getting married at that time.
Kevin is a liver transplant survivor, and I am a breast cancer survivor. Marriage will provide us with certain rights to health care and decisions that we currently do not have. Marriage will also afford us important tax and retirement benefits. These are being denied because of one person who decided to take the law into her own hands.
We have received threats simply because we are a man and a woman who want to get married. We are no different from anyone else. We could be your grandparents. We simply want the same access as anyone else when it comes to legal rights and recognitions. We continue to wait for the day when we can finally marry.