The Kim Davis Same-Sex Marriage Saga Continues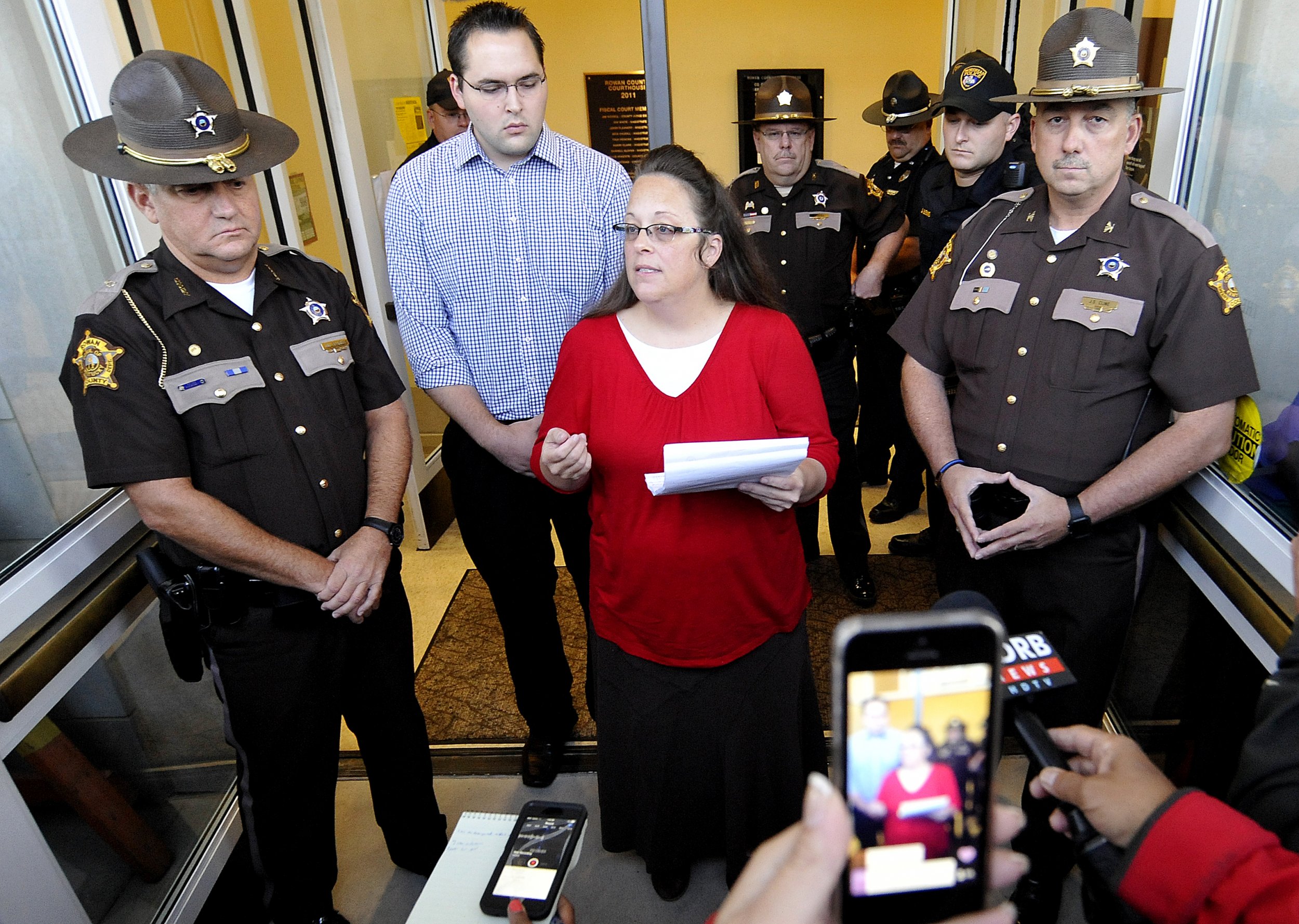 Kim Davis, the county clerk in Kentucky who recently served several days in jail for refusing to comply with a federal judge's ruling that she issue marriage licenses to same-sex couples, has returned to work, but the drama isn't yet done: On Friday, an attorney for one of Davis's employees said in a court filing that Davis has violated federal court orders once again.
The filing says Davis has been altering marriage license forms in a way that effectively takes her name out of equation altogether, and can potentially weaken their validity. Given this news, ACLU attorneys—working for several gay couples who sued Davis for her refusal to issue marriage licenses—are currently "exploring legal options," the New York Daily News reported, citing another Friday court filing.
Davis had been defying a June Supreme Court ruling that legalized same-sex marriage throughout the United States, citing her Apostolic Christian beliefs. She was held in jail for five days and then released on September 8, when she returned to her home to hundreds of "fan mail" letters thanking her for her refusal to issue the licenses.
She was released on the grounds that she not meddle with her fellow employees in issuing marriage licenses to same-sex couples in Kentucky, reports Associated Press.
Almost immediately upon returning to her post, Davis apparently began to alter marriage forms by taking her name off the forms and having Brian Mason, a deputy clerk, initial them, allowing the forms to be notarized. Richard Hughes, Mason's attorney, filed a report on Friday saying that Davis made changes "in some attempt to circumvent the court's orders and may have raised to the level of interference against the court's orders."
Mason, by all accounts, has enthusiastically continued to issue marriage licenses in Rowan County despite protests and the media attention given Davis's actions. In the past, he has said that he is the sole clerk in the office who doesn't personally object to issuing marriage licenses to same-sex couples.
According to NBC News, Mason worries that he is in fact "issuing licenses which had some remote questionable validity, but now with these changes may in fact have some substantial questions about validity," according to his attorney. He continued: "Mr. Mason's concern is he does not want to be the party that is issuing invalid marriage licenses and he is trying to follow the court's mandate as well as his superior ordering him to issue only these changed forms."
Davis's attorney, Mat Staver, said Kentucky Governor Steve Beshear has previously stated that the altered forms would indeed still be recognized, and would give Davis a "clear conscience."
Yet Davis has been quick to note that any marriage license issued, regardless of whether it bears her name, would not be valid unless she authorized it herself. Upon release from jail, though, Davis amended the forms to say they had been issued under federal court authority.
Kentucky state law mandates that the county clerk be the one who issues marriage licenses, while another officiant present to oversee the ceremony is the one to sign the license. The license is filed among county records by the clerk after the fact.
ACLU attorneys wrote in their filing that any changes on the marriage forms obligated Mason to issue the licenses himself as a "notary public," instead of as a deputy clerk serving the Rowan County Clerk's Office. The ACLU lawyers wrote—in a footnote to a motion pleading for the judge to identify case as a class action—that the alterations Davis had made "call into question the validity of the marriage licenses issued."
As the filing notes, these changes "do not comply" with the order issued by U.S. District Judge David Bunning, who had released Davis from jail on the condition that she wouldn't interfere with issuing the licenses. The governor and the attorney general stated separately that the licenses are indeed valid, and will continue to be recognized by the state of Kentucky.