Kim Davis, Known for Opposing SCOTUS Gay Marriage Decision, to Attend President Obama's Final State of the Union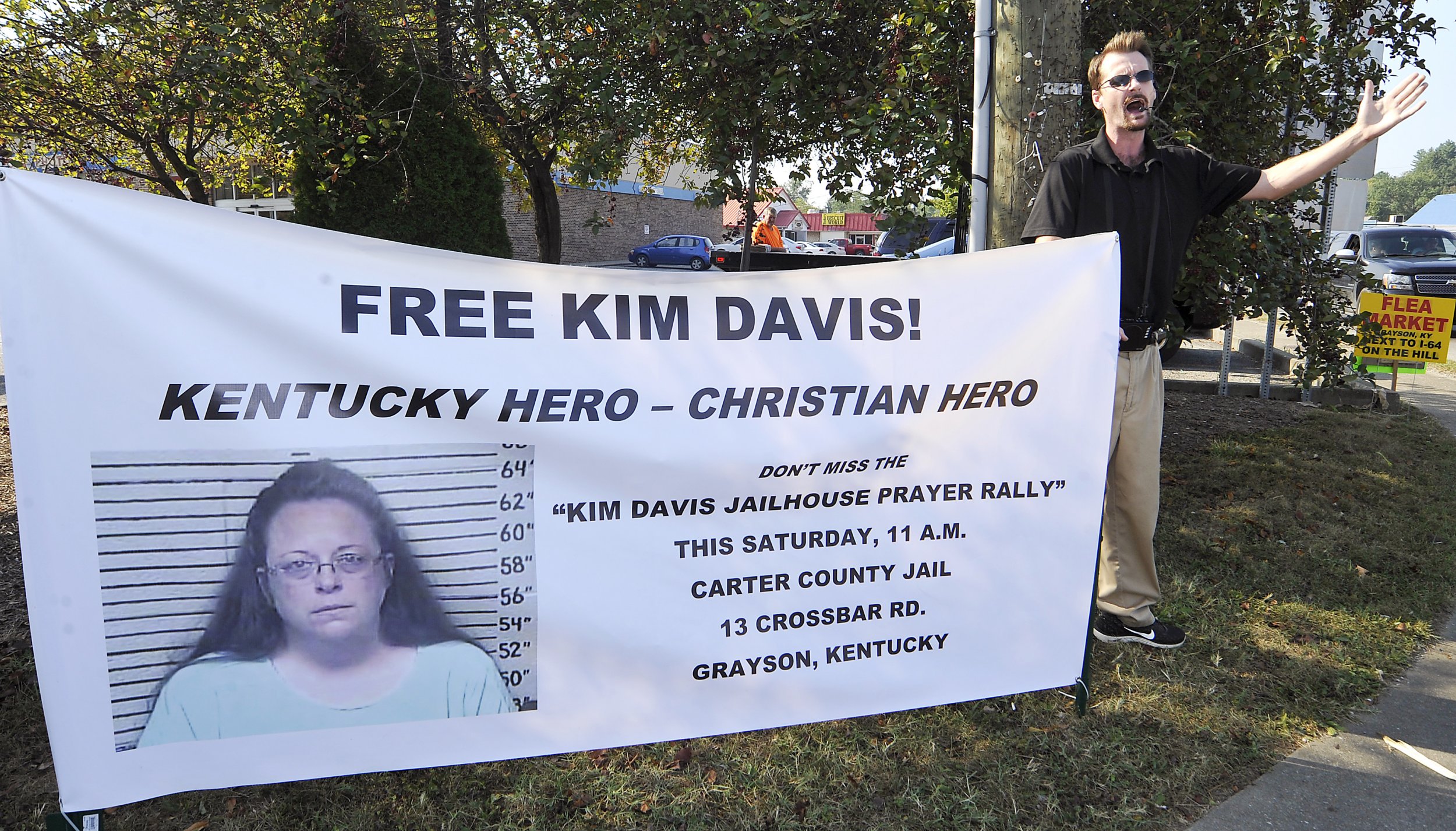 Updated | Kentucky clerk Kim Davis, best known for refusing to sign same-sex marriage licenses, will attend President Barack Obama's final State of the Union address on Tuesday evening, according to her attorney Mat Staver, who will also attend the event.
Davis, a clerk in Rowan County, first came into the national spotlight last summer after the Supreme Court legalized same-sex marriage in the Obergefell v. Hodges decision. Despite the court's decision, Davis refused to issue same-sex marriage licenses and argued against her name being used on such licenses, citing religious beliefs.
The legal system caught wind of Davis's refusal after the matter was brought to the American Civil Liberties Union (ACLU). In August, an appeals court ruled she must issue the licenses. Davis once again refused and the ACLU requested she be held in contempt and fined. Judge David Bunning agreed that Davis be held in contempt but opted to jail her rather than issue a fine, because he felt the punishment would not be strong enough and others were fundraising on her behalf. Davis spent six days in jail, during which time her deputy clerks began giving out marriage licenses that were altered to remove her name.
Some came to view Davis as a martyr for the religious freedom movement and she was visited by presidential hopefuls Ted Cruz and Mike Huckabee. She is attending the State of the Union address as "a visual reminder of religious freedom," her attorney told Newsweek.
Davis and Staver were invited to the State of the Union by a member of Congress last week, but the attorney declined to specify which Congressman or woman invited the pair. Later on Tuesday, House Freedom Caucus Chairman Jim Jordan of Ohio told the Huffington Post his camp provided a ticket to the Family Research Council, who gave it to Davis.
"When there [was] more information about the fact that President Obama was going to be going over what he called his past accomplishments of the past seven years, with respect to that, the decision was made to invite Kim Davis to be sort of a reminder that his litany of events that he's going to tick off has not encompassed the benefit of all people, particularly with respect to religious freedom," Staver explained. "[Davis is attending] just to be a visible reminder that his policies have not included all of America."
Despite disagreeing with the Supreme Court's decision and President Obama's support of it, Staver said Davis is excited to attend the event. "She is not so much looking forward to going so much because of what President Obama has to say, she doesn't have much interest in that, as much as just to be there, to be a visible counterweight," Staver told Newsweek.
Davis arrived in Washington, D.C., on Monday and plans to leave on Wednesday morning. She has no other events planned, though Staver said she would be taking questions after the State of the Union on Tuesday evening. South Carolina Governor Nikki Haley will speak on behalf of the Republican party to deliver a rebuttal to the president's address.
As a contrast to Davis, Jim Obergefell, the plaintiff in the lawsuit that led to marriage equality, will also attend. Obergefell was invited by first lady Michelle Obama and will be seated in the first lady box on Tuesday, along with Syrian refugee Refaai Hamo, Seattle Police Chief Kathleen O'Toole and an empty seat, which is meant to represent victims of gun violence.
This story has been updated with new information about who invited Davis to the address.