Kim Davis Voted Out As Kentucky County Clerk 3 Years After Being Jailed for Refusing to Issue Same-Sex Marriage Licenses
Notorious Kentucky county clerk Kim Davis was voted out on Tuesday three years after she was jailed for refusing to issue marriage licenses to same-sex couples. Davis, a Republican, lost to Democrat Elwood Caudill Jr in the race for Rowan County Clerk.
Davis lost to Caudill by some 700 votes, according to the Kentucky Herald-Leader. Caudill received 4,210 votes to Davis's 3,566 with all 19 precincts accounted for, the Herald-Leader reported.
Davis rose to notoriety after spending five days behind bars for refusing to issue same-sex marriage licenses in 2015. She cited her religious beliefs at the time, and would not issue the licenses even after a judge ordered her to. Davis was jailed for contempt, but went back to her post upon being released from jail.
After securing the win on Tuesday, Caudill called the night "awesome."
"I believe that as a community we must continue to work together toward a more prosperous and cohesive Rowan County," said Caudill. "Tonight was awesome."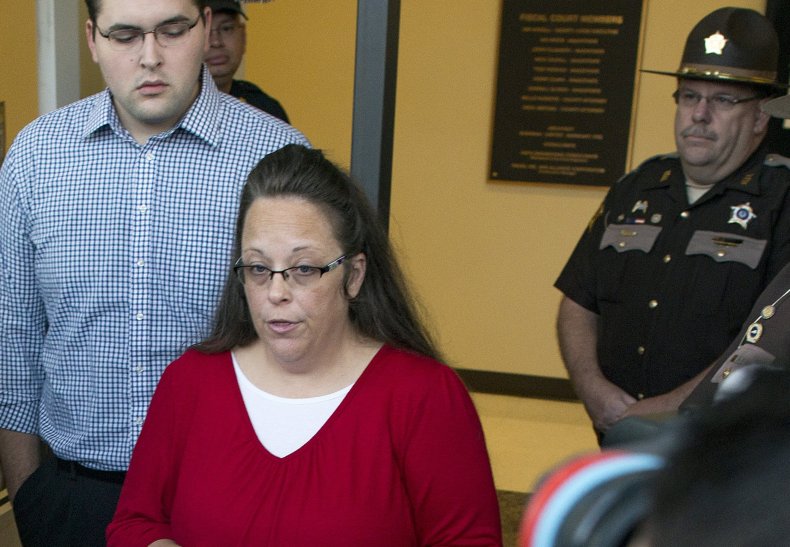 In the Democratic primary, Caudill ran against a man whose marriage license Davis refused to sign. David Ermold, however, later accused Caudill himself of being anti-gay.
"I just want him to lose," Ermold told the Associated Press."I would rather Kim Davis win. At least Kim Davis has the integrity to stand up for what she believes in. Elwood Caudill is a liar."