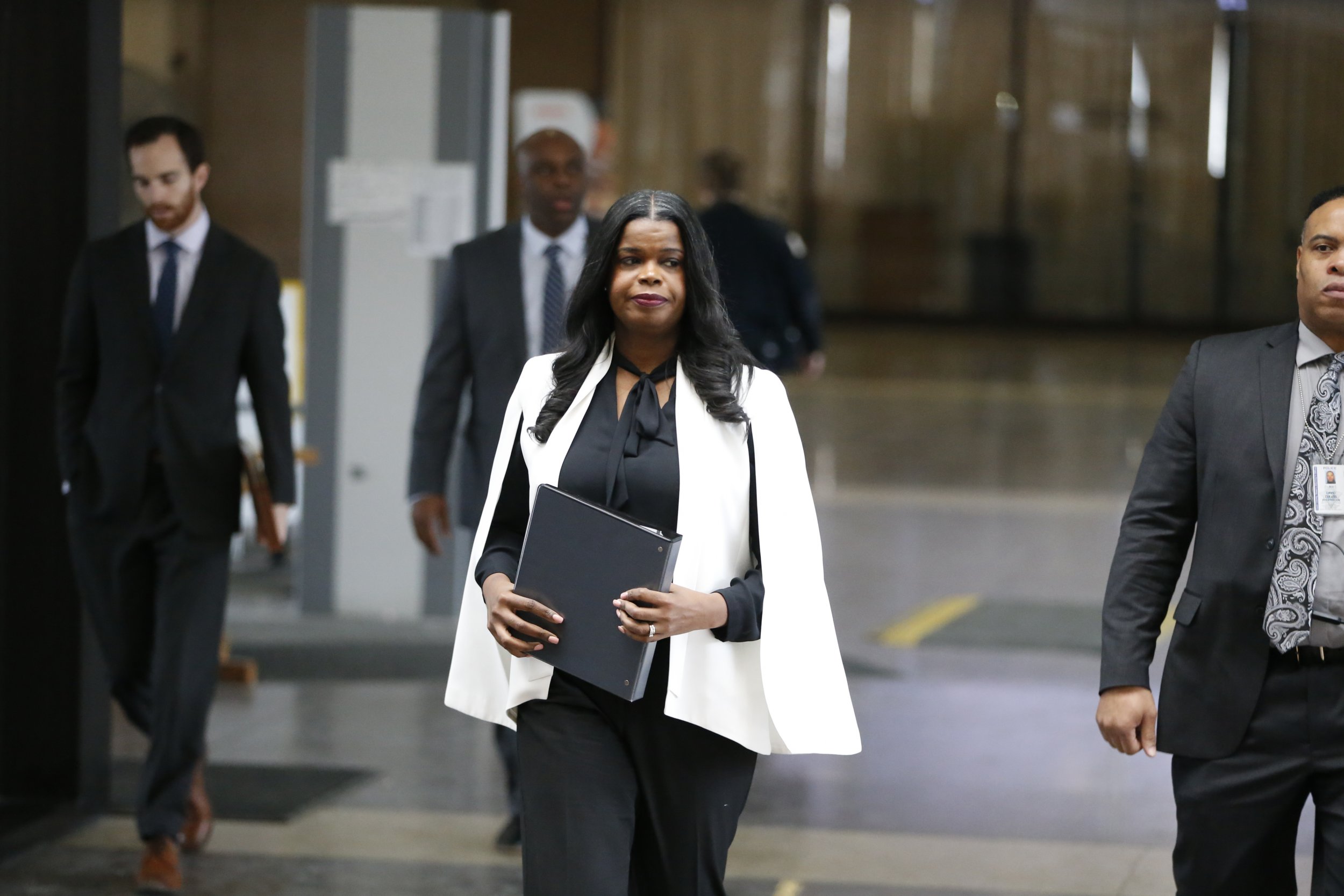 A set of texts sent by Chicago State's Attorney Kim Foxx claim musician R. Kelly should have more criminal counts against him in the Chicago courts than formerly-charged Empire actor Jussie Smollett. In the set of texts, obtained by Chicago's WLS-TV​via a Freedom of Information Act, Foxx compared the two Chicago-based celebrities and their standing in the courts.
One text read: "Pedophile with 4 victims and 10 counts," in reference to Kelly. It continued, calling Smollett a "washed up celeb". "Washed up celeb who lied to cops, 16."
The text also explained how the charges could look bad for Foxx's office. "On a case eligible for deferred prosecution I think it's indicative of something we should be looking at generally," Foxx wrote, according to ABC News. "Just because we can charge something doesn't mean we should… it's not who we want to be."
The text messages were publicly released on Wednesday morning. Foxx did not immediately respond to Newsweek's request for comment on the digital exchange.
Foxx dismissed all charges against Smollett in March, a decision that was met with heavy backlash from the Chicago police force and Mayor Rahm Emanuel.
Smollett was originally charged with felony disorderly conduct for allegedly faking a hate crime against himself. In January, the actor claimed two men attacked him on the street, put a noose around his neck and doused him in a chemical substance he claimed was bleach. At the same time, Smollett said the men yelled hate speech.
Because Foxx dismissed all charges against Smollett, and also expunged his entire arrest record, Smollett will not be tried in court for allegedly staging a hate crime against himself. Kelly, however, will face a trial for 10 counts of sexual abuse against four different women. Three of the women were said to be underage at the time of their interactions with Kelly.
Both Smollett and Kelly have maintained their innocence throughout accusations against them. Kelly has been denying rumors of sexual abuse since 2017.
In light of Foxx's texts, it appears she claimed her own office had overcharged Smollett. Another text explained her thought process. "Sooo…...I'm recused, but when people accuse us of overcharging cases...16 counts on a class 4 (felony) becomes exhibit A," she wrote.
Michael Avenatti, who represents six parties against Kelly, told Newsweek he's not concerned with Foxx's ability to prosecute the musician. "I think Kim Foxx and her office have done an exceptional job on the R. Kelly case and I fully expect them to succeed in their prosecution of him as a serial sexual abuser," he said on Wednesday.
Newsweek reached out to Foxx, Kelly's lawyer Steven Greenberg, Kelly and Smollett for this article, but did not receive an immediate response from any of the above.
Greenberg previously explained Smollett's dropped charges could make his client's trial more difficult, in a stance that Kelly is innocent. "I think it makes it more difficult for a friendly disposition because they're going to be extremely reluctant to admit they brought these cases with scant evidence or that there are any other problems," he told TMZ on April 1.