Kim Jong Un and I: Dennis Rodman Shares Memories of Horseback Riding, Skiing and Singing Karaoke with North Korea's Ruler
Former NBA star player Dennis Rodman appeared on British television on Wednesday to discuss his controversial visits to North Korea and his relationship to his ruler, Kim Jong Un.
The basketball player, who has visited the country on five separate occasions, most recently in June, shared memories of his time "hanging out" with Kim, a man Rodman described as "always smiling."
"I basically hang out with him all the time, we laugh, we sing karaoke, we do a lot of cool things together. We ride horses, we hang out, we go skiing, we hardly ever talk politics and that's the good thing about that," the former Chicago Bull player—Kim's favorite NBA team—told Good Morning Britain show hosts Piers Morgan and Susanna Reid.
Reminded of North Korea's appalling human rights record, Rodman distanced himself from the North Korean ruler, saying that all he wished to do was to create dialogue and bring peace as an "ambassador for sports."
"I'm not defending him, I'm not defending the fact that what he does as far as his country and his leadership. I think he has been passed a throne from his grandfather and his father. A lot of people say that the grandfather was worse than the father and the father is worse than the marshal today. I've got to hope," he said, adding "I don't love him. I just want to try to straighten things out for everyone to get along together, that's it."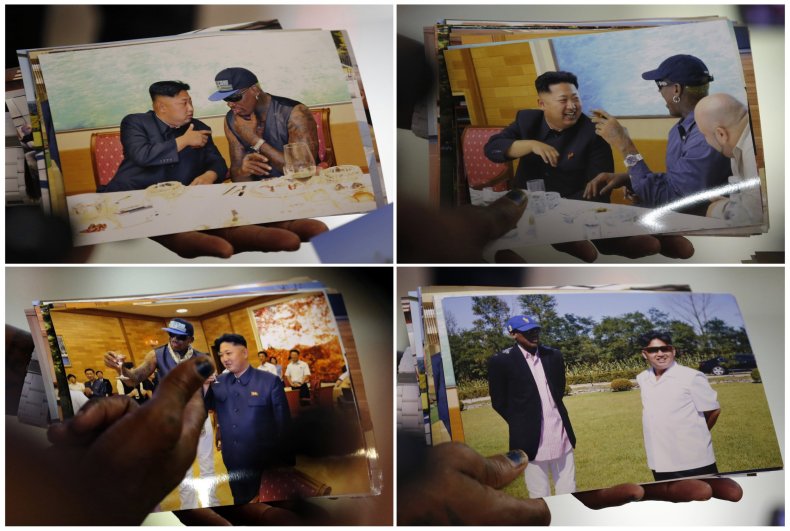 Rodman however said he "loved" President Donald Trump, to whom he was grateful for giving him the opportunity to appear on his show, Celebrity Apprentice, in 2013, around the time of his first trip to North Korea.
"Our wild man Dennis Rodman, big in the news re North Korea, will be on and watching Celebrity Apprentice on Sunday night!" Trump wrote at the time, advertizing TV show on Twitter.
Back then North Korea was threatening a nuclear strike against the U.S and Trump scolded President Barack Obama for not taking a tougher stance against it.
"The only American who has met with the North Korean man child is Dennis Rodman. Isn't that frightening and sad?," Trump wrote in April 2013, adding "Where is the President? It is time for him to come on TV and show strength against the repeated threats from North Korea."
Rodman, who is in the perhaps unique position of having met both leaders, hopes that Trump will engage in talks with the North Korean regime despite the American president's recent statements on how talking is "not enough."
"Things can happen if Donald Trump, if they sit down, have some type of mutual conversation, they don't have to be like a friendship conversation, just a mutual conversation, saying: 'Hi, I would love to engage in some words and politics and over the history of your country and my country and just try to start some dialogue," Rodman said, "I think that'll open up maybe the door just a little bit."