North Korea's Kim Jong Un Gave South Korea's President Two Dogs, One Just Had Puppies
One of two dogs gifted to South Korean President Moon Jae-in by North Korean supreme leader Kim Jong Un has given birth to puppies, Moon announced Monday, expressing hope that it would be a positive sign for their ongoing peace efforts.
Kim and Moon met for the third time in September, only the fifth-ever such summit since the two Koreas were split after World War II and went to war themselves in the 1950s. This year has witnessed an unprecedented level of diplomacy between the Cold War-era foes, however, and Kim followed up on their latest meeting by sending two tons of pine mushrooms across the border, as well as two white North Korean Pungsan hunting dogs.
Moon revealed Monday on social media that one of the animals, Gomi, gave birth on Friday to six healthy puppies, three male and three female.
"As the pregnancy period of dogs is about two months, Gomi must have come to us pregnant," Moon tweeted, as translated by the official Yonhap News Agency. "As six were added to the two given as a gift, this is a great fortune. I hope inter-Korean affairs will be like this."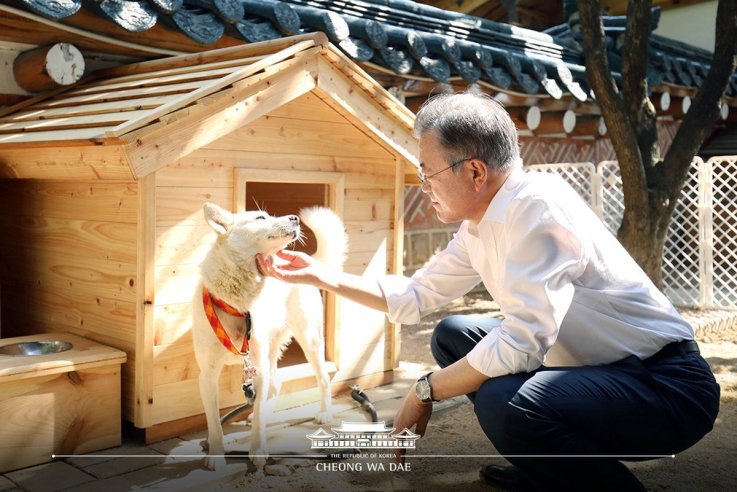 That same day, the Associated Press cited South Korea's Defense Ministry as saying that it sent military planes loaded with tangerines to the North Korean capital in return for the pine mushrooms sent after their summit and just ahead of the of Chuseok holiday, which is also known as Korean Thanksgiving. Known in Korean as songyi and in Japanese as matsutake, pine mushrooms are a regional delicacy and a highly-sought product abroad.
Moon announced shortly after receiving the gift that he would distribute it among 4,000 South Koreans who are separated from loved ones by the border dividing the two Koreas. Due to concerns about differing health standards between the two nations, however, the presidential Blue House was forced to reassure citizens that the food was safe to consume as it had been screened for heightened levels of radiation.
The dogs, named Gomi and Songgang, were delivered to the truce village of Panmunjom and came with nearly seven pounds of food. They joined other presidential pets in the Blue House, including rescue dog Tory and a cat called Jjing-Jjing.
Despite their strained ties, North Korea has a history of sending gifts to South Korea. Kim's late father gifted South Korean leaders with pine mushrooms after inter-Korean summits in 2000 and 2007. He also gave away two Pungsans after the first summit, a gesture to which South Korea responded by gifting him with two dogs of the local Jindo breed.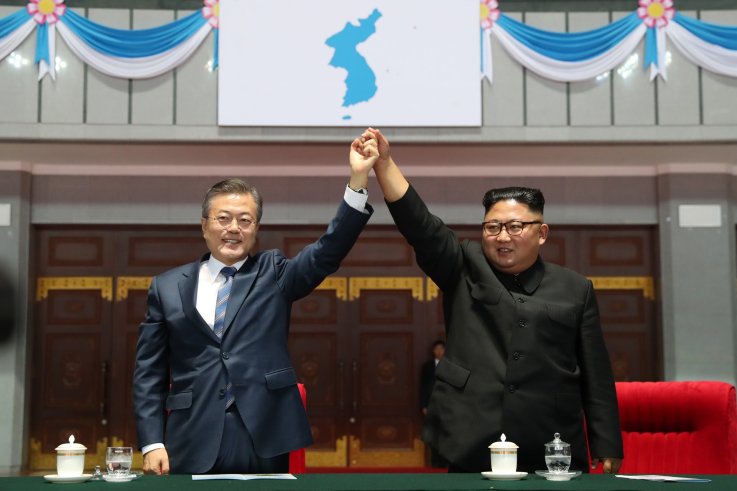 Moon and Kim, who were set to meet again in December, have overseen a number of joint measures intended to reduce hostilities between their nations. Alongside a United States-led United Nations Command, military personnel from both sides carried out the demining of the Joint Security Area where both Koreas meet and removed military posts and armed personnel.
While President Donald Trump has also engaged in a historic detente with Kim, the U.S. has approached the process with greater skepticism and caution than South Korea. The White House has argued that it would not lift sanctions on North Korea nor declare peace until Kim could demonstrate that he had permanently ended his nuclear weapons program.
With the Washington-led process appearing to stall, the U.S. has also reached out to China and Russia for support on a united regional position.
North Korea's Kim Jong Un Gave South Korea's President Two Dogs, One Just Had Puppies | World