Kim Jong Un Lookalike Is Detained at Singapore Airport
A Kim Jong Un impersonator says he was detained by security officers at Singapore's airport, ahead of the North Korean leader's summit with President Donald Trump in the city state.
The Hong Kong entertainer, who goes by the name of Howard X, said he was scheduled to make appearances with the Donald Trump impersonator Dennis Allen at several events.
He told Bloomberg News that he was detained by immigration officers at Changi Airport for two hours before being allowed to go. He was told not to go near summit venues.
"They asked me about what my political views were and if I had been involved with protests or riots in other countries. I feel they were trying to intimidate me, but if I got deported it would have been big news.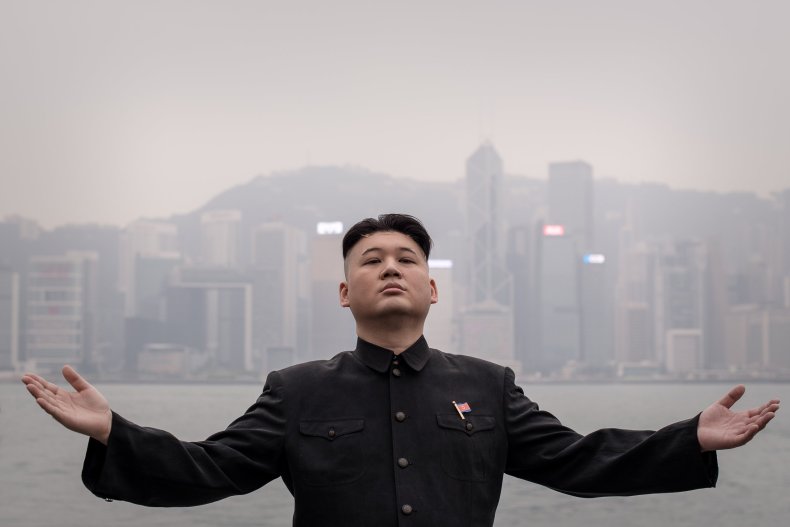 "The original goal was to come and enjoy the historic moment and get into character. I hope the first priority of the real meeting is to have Kim stop shooting off missiles and destabilizing the region," he added.
Earlier in the year, Howard X was dragged from an arena during the Winter Olympics in Pyeongchang, South Korea when he danced in front of North Korea's cheering squad.
The real North Korean leader has a number of other doppelgangers but they are all state approved. Footage emerged last year of Kim speaking with two lookalikes during a ballistic missile test launch, The Sun reported.
Security around Tuesday's summit is tight. Two journalists for South Korea's Korean Broadcasting System were arrested Thursday on claims they trespassed on the residence of North Korea's ambassador to the city state.
Meanwhile Trump hinted that if the summit during which they will discuss Pyongyang's nuclear weapons program goes well, he might invite Kim to Washington.
"Certainly if it goes well and I think it would be well received. I think he would look on it very favourably," Trump told reporters during a news conference with the Japanese Prime Minister Shinzo Abe.
"I hope the upcoming meeting in Singapore represents the beginning of a bright new future for North Korea and indeed a bright new future for the world," he said.