Kim Jong Un 'Won't Be Anywhere Much Longer' If He Doesn't Make a Deal with Donald Trump, Lindsey Graham Says
Senator Lindsey Graham has warned that North Korean supreme leader Kim Jong Un's days are numbered if he does not secure a peace deal with President Donald Trump.
The South Carolina Republican told the Conservative Political Action Conference in Maryland that the young North Korean ruler "knows Trump means business" after the two leaders failed to come to an agreement at their bilateral summit in the Vietnamese capital of Hanoi. Using a nickname coined by Trump to refer to Kim, Graham said that the 35-year-old owed his recent diplomatic success to the president.
"Speaking of Rocket Man, he couldn't be here, and if he doesn't get a deal with Trump he won't be anywhere much longer," Graham told the right-wing conference, according to The Hill.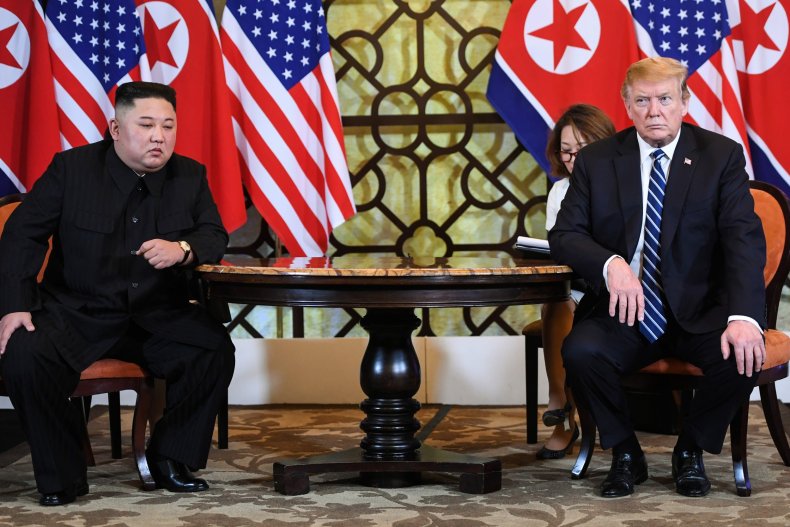 Trump first used the monicker—the title of a 1972 song by U.K. singer-pianist Elton John—amid flaring tensions between him and Kim in 2017. The following year, however, saw a major shift in their relationship, with the two men exchanging "love letters" and flowery expressions of praise leading up to and following a historic Singapore summit in June.
Those talks and months of quiet, closed-door meetings that have followed laid the groundwork for a second summit Wednesday and Thursday in Hanoi. The dialogue was widely expected to produce some sort of agreement, such as a declaration officially ending the technically-ongoing 1950s Korean War or limited sanctions relief in exchange for Kim taking steps to dismantle his nuclear weapons program.
Instead, Trump decided to "walk," blaming North Korea for wanting "sanctions lifted in their entirety." North Korean Foreign Minister Ri Yong Ho responded in an extremely rare midnight press conference in Hanoi, arguing that he and other officials had actually pushed for the removal of "partial" U.N. sanctions, namely parts of five resolutions that "impede the civilian economy and the livelihood of our people," as translated by North Korea News.
With no deal and conflicting accounts of what happened during their negotiations, concerns have been raised about the prospects of future diplomacy between the two longtime rivals, who have tried and failed to establish peace in previous talks.
Still, Trump referred to his latest meeting with Kim as "a productive time," while North Korean officials and state media have continued to carefully avoid attacking the president directly in their remarks. Neither side has commented on the next steps of their unprecedented peace process, by which Washington seeks to rid Pyongyang of the nuclear weapons it developed to deter a potential U.S. invasion.
Back in Washington, Graham's comments were accompanied by praise for Trump's approach to battling the Islamic State militant group (ISIS), securing peace between the Afghan government and the Taliban, abandoning the Iran nuclear deal and rebuilding the military. The senator has long been a vocal supporter of the president, but has turned on him on certain issues, including his decision to withdraw from Syria and his close relationship with Saudi Arabia in spite of claims that the kingdom ordered the killing of a journalist in its Istanbul consulate.