Who Are the American Prisoners in North Korea? Trump Says 'Good Chance' of Negotiating Release
Ahead of potential talks with Kim Jong Un, President Donald Trump referenced three U.S. prisoners currently in North Korea during a joint press conference with Japanese Prime Minister Shinzo Abe on Wednesday, and the U.S.'s attempts to get them out.
"We are likewise fighting very diligently to get the three American citizens back. I think there's a good chance of doing it. We're having very good dialogue," said Trump.
The prisoners were last seen by Joseph Yun, a State Department representative who dealt with North Korea last year when he helped handle the removal of another U.S. prisoner, Otto Warmbier. The former University of Virginia student was brought back to the U.S. in a coma, and he subsequently died.
The men still in custody were apprehended at various points over the last few years.
Kim Dong-chul, a former Virginia businessman, was detained in 2015 and sentenced to 10 years in prison for espionage crimes against North Korea. He was working in China near the North Korean border in a special economic zone.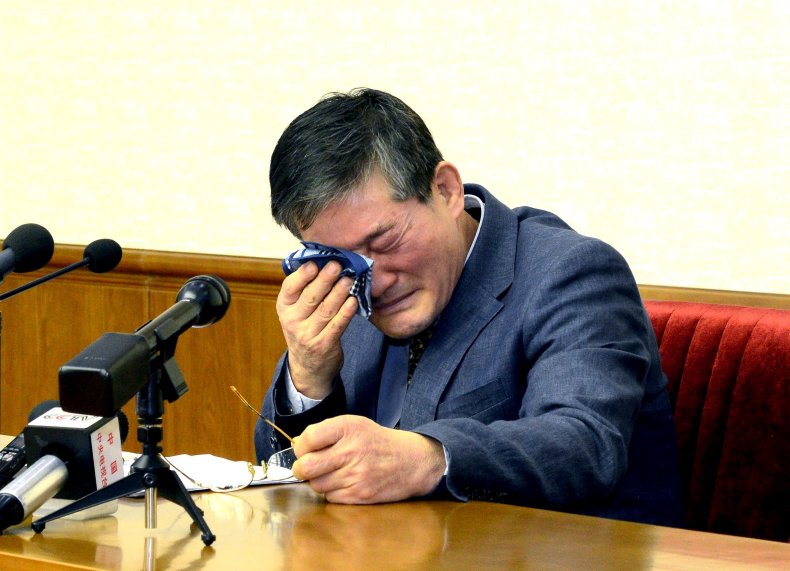 Two others, Tony Kim and Kim Hak-song, were taken into custody in 2017. Both men had been professors in North Korea at Pyongyang University of Science and Technology. It is unclear why they were taken into custody. Kim Hak-song came to the U.S. in the 1990s from China and then became a citizen, according to The New York Times.
"The safety and security of U.S. citizens overseas is one of our highest priorities. We are not going to comment on the details of private diplomatic conversations," said a Department of State spokesperson in a statement to Newsweek. "I can confirm that the United States and North Korea have been holding direct talks in preparation for a summit, and that North Korea has confirmed to us its willingness to talk about denuclearization."
While denuclearization has been the most talked about issue heading into potential talks, the issue of the prisoners has lingered in the background.
"The ultimate question is how the administration sees the status of the prisoners in the broader negotiations," said Abraham Denmark to Newsweek. Denmark is the director of the Asia Program at the Woodrow Wilson International Center for Scholars. "I can't see how we're negotiating with North Korea without the release of these three prisoners."
Trump has said that he would walk away from talks if they didn't appear "fruitful." Jenny Town, the managing editor of 38 North, a North Korea analysis site hosted by the U.S.-Korea Institute at Johns Hopkins University, told Newsweek it would be hard to call any meeting a victory if the prisoners remained in North Korean hands.
"The fate of the three American detainees in North Korea will be an important issue during the summit process," said Town. "It is hard to imagine a scenario where [President] Trump would be able to call the summit a success if their release isn't granted either before or during the summit itself, as this would be a critical obstacle to any attempts to try to normalize U.S.-[North Korea] relations."
Trump's message about the prisoners comes on heels of news this week that CIA Director Mike Pompeo had secretly traveled to North Korea to speak with Kim Jong Un.
The White House did not immediately respond to request for comment from Newsweek.