Kim Jong Un to North Korean Military: Be Ready to Use Nuclear Weapons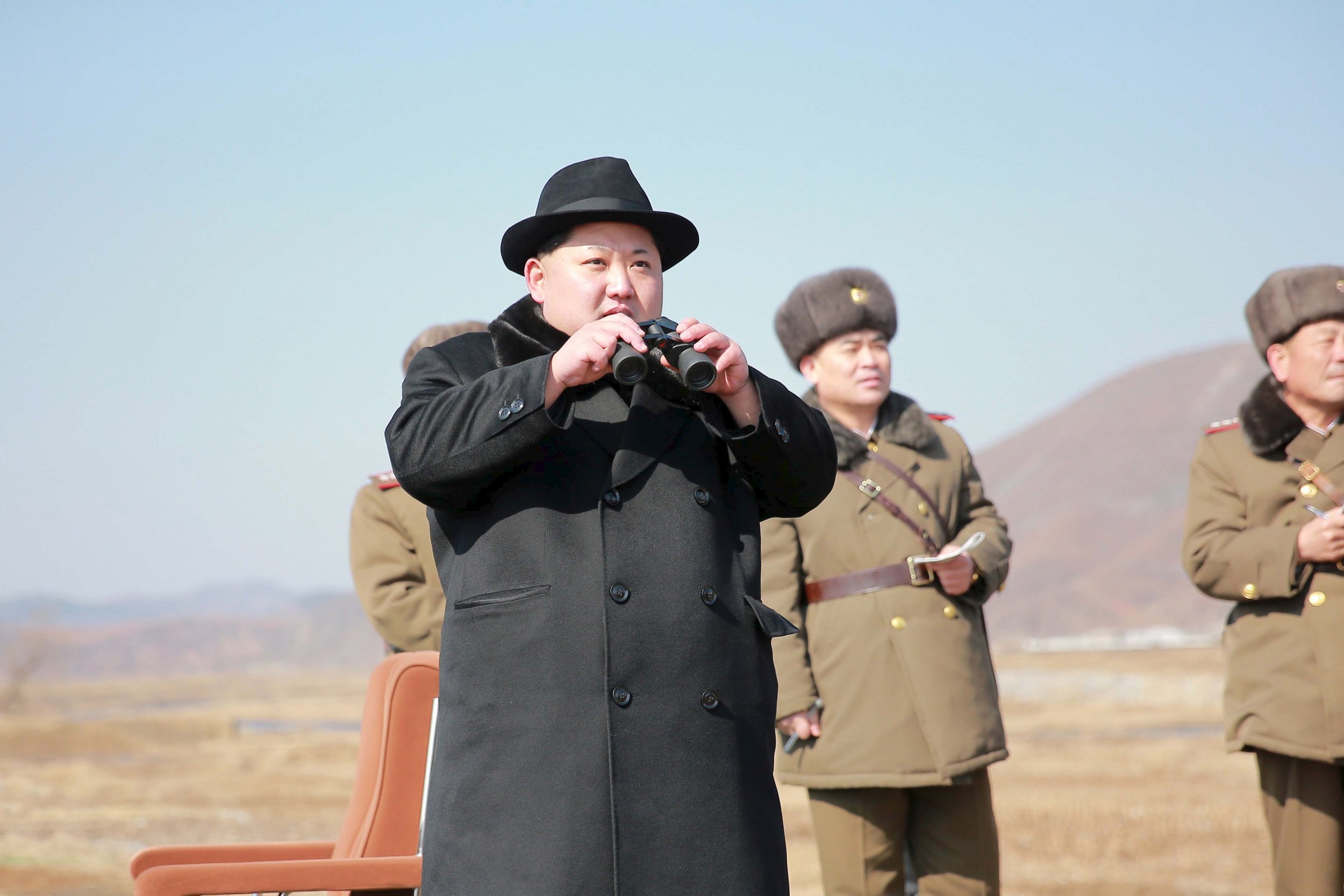 SEOUL (Reuters) - North Korean leader Kim Jong Un ordered his country to be ready to use its nuclear weapons at any time and the military to be in "pre-emptive attack" mode in the face of growing threats from its enemies, state media said on Friday.
The comments, carried by the North's official KCNA news agency, marked a further escalation of tension on the Korean peninsula after the U.N. Security Council imposed harsh new sanctions against the isolated state on Wednesday for its nuclear program.
North Korea, known for belligerent rhetoric, has previously threatened pre-emptive attacks on its enemies, including South Korea and the United States. Military experts doubt it has yet developed the capability to fire a long-range missile with a miniaturized warhead to deliver a nuclear weapon as far as the United States.
Kim made the comments as he supervised military exercises involving newly developed rocket launchers, KCNA reported. It did not mention the date of the drills but said the new weapons had South Korea within range.
South Korea's defense ministry said on Thursday North Korea launched several projectiles off its coast into the sea up to 150 kilometers (90 miles) away, an apparent response to the U.N. sanctions.
Kim said North Korea should "bolster up (its) nuclear force both in quality and quantity" and stressed "the need to get the nuclear warheads deployed for national defense always on standby so as to be fired any moment," KCNA quoted him as saying.
"Now is the time for us to convert our mode of military counteraction toward the enemies into a pre-emptive attack one in every aspect."
Kim criticized South Korean President Park Geun-hye in his first direct published mention of her by name for acting "in league with the U.S. scoundrels," adding, "her hysteria will precipitate only her ruin in the long run," KCNA said.
A spokesman for South Korea's Unification Ministry, which handles relations with the North, said Kim's comments were not helpful and may have been intended for the domestic audience to boost morale in the face of the new U.N. sanctions.
A U.S. Defense Department spokesman, Commander Bill Urban, said, responding to the report: "We urge North Korea to refrain from provocative actions that aggravate tensions and instead focus on fulfilling its international obligations and commitments."
The latest U.N. sanctions, drafted by the United States and China, the North's main ally, punish the isolated country following its fourth nuclear test, in January, as well as last month's satellite launch, which the United States and others say was really a test of ballistic missile technology.
POSSIBLE ENGINE TEST EYED
South Korea and the U.S. militaries are set to formally begin talks on Friday on deployment of the advanced anti-missile Terminal High Altitude Area Defense (THAAD) system with the U.S. military in the South.
China and Russia oppose the deployment of THAAD, which has powerful radar capable of penetrating deep into their countries, but South Korea and the United States have said it was needed in response to the heightened missile threat from the North.
Johns Hopkins University's 38 North project, which monitors North Korea, said recent commercial satellite imagery showed new activity in the isolated country including a convoy of trucks at its satellite launch station that could be preparations for a rocket-engine test.
"One possibility is that these vehicles are returning from a delivery of supplies, fuel, or even engine components for testing to the stand," the report said.
The site on the North's west coast is the upgraded rocket station where it launched a long-range rocket on Feb. 7 that put an object into space but was condemned by the Security Council as violation of past resolutions that ban the use of ballistic missile technology by the North.
On Thursday, South Korean President Park repeated a warning to the North to abandon its nuclear ambitions and said she would work to "end tyranny" by the North's leader. They were the toughest-ever comments against Pyongyang by Park, whose recent hard line against the North is a shift from her earlier policy of "trustpolitik" that focused on trying to engage in dialogue.
Last month, Seoul suspended the operation of a jointly run factory project with North Korea that had been the rivals' last remaining venue for regular interaction.
North Korea's Rodong Sinmun, the official daily newspaper of the ruling Workers' Party, on Friday carried three pages of a report and photographs of leader Kim supervising the rocket launch drills.
It also ran a full page commentary insulting Park as "a wicked woman who does everything evil against the compatriots in the North."