Kim Jong Un Paints Himself as a 'Demi-God' Who is Ready to Defy Trump, North Korea Expert Says
A North Korea expert says Kim Jong Un is preparing to defy President Donald Trump and the U.S. in a major way, after propaganda images depicting the dictator as a demi-god and a mythological hero were released on Wednesday.
The state-sponsored KCNA news agency released the images showing Kim galloping on horseback through snowy mountains on his way up to Mount Paektu.
The site is steeped with historic and symbolic significance, and trips from North Korean leaders past and present to the mount are often paired with major policy announcements.
Gary Sommerville, a research analyst specializing in North Korea at the Royal United Services Institute for Defence and Security Studies, a thinktank closely linked to the British military, told Newsweek no other leader has visited the site on a white horse before, however.
"The significance of him visiting Paektu now, particularly on a white horse, may represent the mythical horse called Chollima," Sommerville told Newsweek.
"For those not familiar with east Asian culture, Chollima is a winged horse—almost east Asia's version of Pegasus.
"The significance of it, according to legend, is that no mere mortal can ride Chollima because it's simply too swift and it cannot be tamed.
"So with these pictures of Kim riding a white horse, it helps create this myth for propaganda purposes in terms of how he now views himself—not only within North Korea but also on the international stage.
"It signals that he views himself as someone who has accomplished a seemingly impossible task or possibly, gives the impression of being a demi-God in front of a domestic audience, although I would personally be cautious of labelling him as that."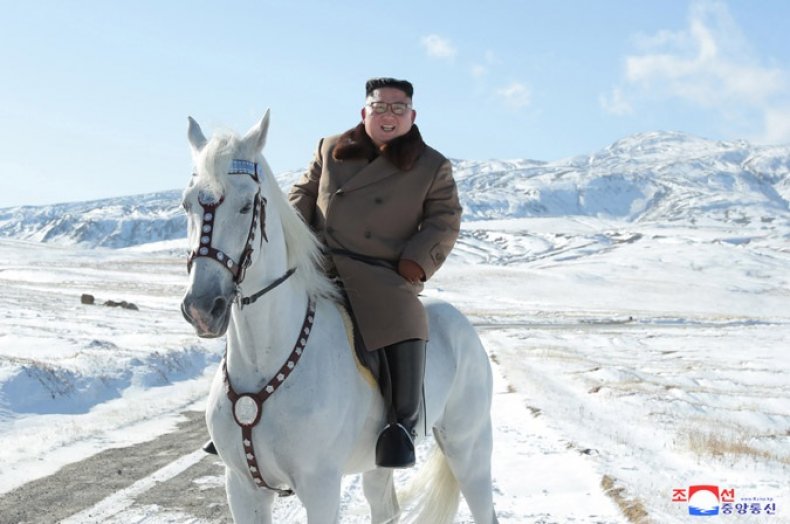 The propaganda images follow on from weeks of increasing tensions between North Korea and the U.S.
A meeting between diplomats from both countries in Stockholm this month also failed to move forward—each blaming the other side for the stall.
Pyongyang has also continued its testing of short-range ballistic missiles, while also unveiling ballistic missile launched from a submarine, described as a "time bomb" hanging over enemies' heads by state-sponsored news outlets.
According to the below Statista graphic, North Korea is on course to set a new record of successful annual missile tests.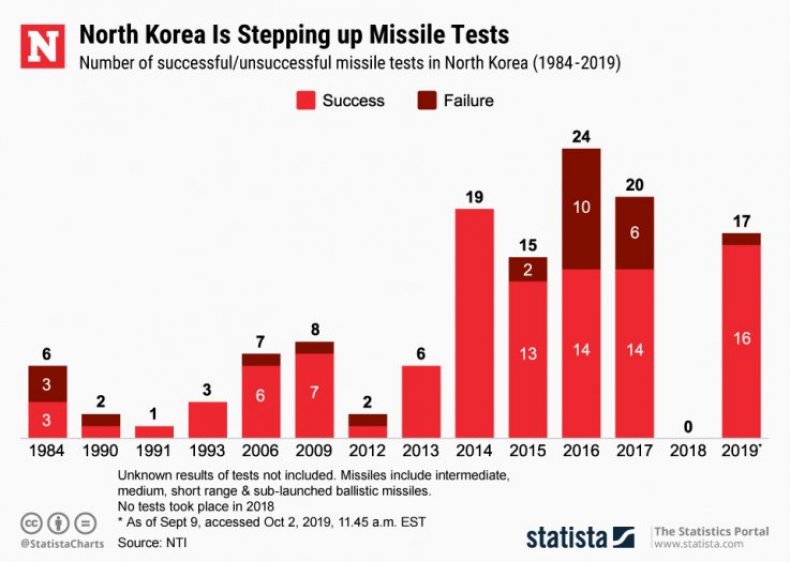 Despite the increasing number of missile tests, however, Sommerville believes North Korea's actions will take a different form.
"Other analysts say more intercontinental ballistic missile (IBCM) tests are coming, but I don't necessarily think that Kim would go down that route.
"That would certainly bring round a larger round of sanctions for North Korea and also upset China as well. Considering the recent improvements in relations with [Chinese President] Xi Jinping and his recent visit to North Korea earlier this year, IBCM tests would be very detrimental to the progress Kim has made on that.
"I think there are many options of what this could signify, it could be changes with regards to opening up the economy or a possible manned mission into space which would be a feather in his cap for showing North Korea's technological prowess, but whether any of those things will be carried through, it's difficult to say at present.
"Whatever Kim actually does as a result of this public signaling, however, I think the thing he will do is defy Trump and the U.S. This symbolism is a show of strength," Sommerville said.