Kim Jong Un Is Sending Trump a Message With Latest Nuclear Missile Test, Experts Say: 'It Is Not Routine'
North Korea conducted a significant missile test Tuesday, just one day after it announced it would resume denuclearization talks with the U.S. on Saturday.
North Korea has been testing short-range ballistic missiles relatively regularly over recent months while negotiations with the U.S. have been stalled. President Donald Trump has been willing to overlook the tests, describing such launches as "very standard."
But Tuesday's test was different. The South Korean Joint Chiefs of Staff believe that the missile was a submarine-launched ballistic missile, launched at sea off the country's east coast. The weapon is thought to be a type of Pukguksong missile, the Yonhap news agency reported.
If this analysis is accurate, this would be the first nuclear capable missile launch since the 2017 test of the Hwasong-15 ballistic missile, which occurred before Kim Jong Un's surprise rapprochement with the U.S.
According to the below Statista graphic, North Korea is on course to set a new record of successful annual missile tests. But Tuesday's test is not the same as the short-range missiles that Trump has—so far—been willing to ignore.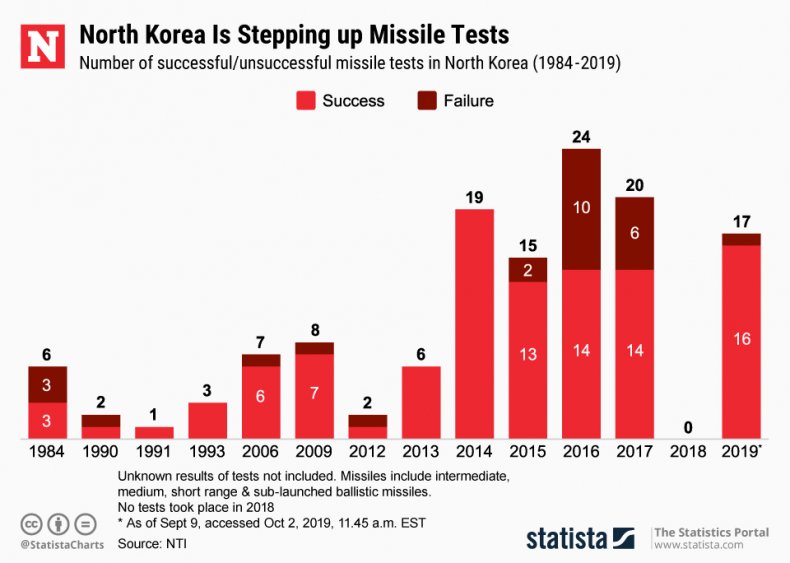 It would also represent the first submarine-launched ballistic missile test since August 2016, showing the maturation of the North's sea-based nuclear deterrent and greatly complicating any prospective pre-emptive U.S. strike aimed at taking out Pyongyang's nuclear capability ahead of a conflict.
Trump has touted a "new method" of negotiation ahead of the resumption of talks, which has been received warmly by North Korea representatives.
The dismissal of hawkish National Security Advisor John Bolton was also welcomed by the North Koreans, raising hopes that the two sides could achieve more than in past discussions. But Tuesday's launch threatens to throw all of this off kilter.
Ankit Panda, senior editor of The Diplomat, described Tuesday's test as "a big moment." He noted that the launch "unambiguously" used a nuclear capable missile.
"Trump said Kim's short-range missile tests were 'very standard,' Panda added. "Where I'm sitting, North Korean submarine-launched ballistic missile tests don't look very standard. At all."
Vipin Narang, an associate professor of political science at MIT, concurred. "Today's test was of an explicitly nuclear weapons system," he wrote on Twitter. "It was in the medium range category in all likelihood. It is not 'routine'."
Narang added that the purpose of the test may have been two-fold. "Kim got it in under the wire perhaps both for technical reasons but also as a reminder: I'm a nuclear weapons power, get used to it," he explained.
Harry Kazianis, the senior director of Korean studies at the National Interest, also suggested the launch was part of the North's strategy for the upcoming talks. "It seems North Korea wants to make its negotiating position quite clear before talks even begin," he said in an email to Newsweek.
Kazianis said the North "is eager to remind Washington of its military capabilities—especially as South Korea just recently displayed its new F-35 stealth fighter purchase."
"North Korea's message is clear: 'Our capacity to cause trouble is increasing by the day.' Pyongyang seems set to push Washington to back off from past demands of full denuclearization for what are only promises of sanctions relief."
This article has been updated to include a graphic from Statista.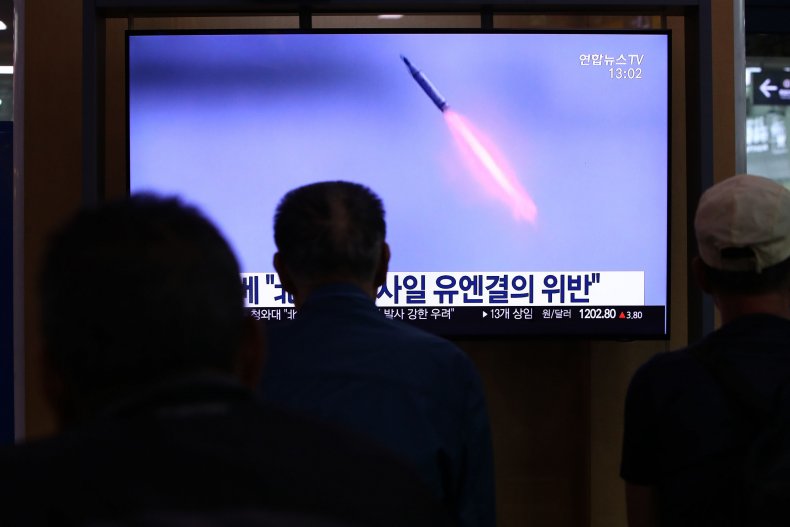 This article was updated to include an infographic.