North Korea's Kim Jong Un Sends Chinese President Birthday Letter And Flowers, State Media Says
North Korean leader Kim Jong Un reportedly sent a birthday note and flowers to his counterpart in China, President Xi Jinping.
Kim sent the congratulatory letter to Beijing as a friendly gesture on Friday, South Korean news agency Yonhap reported. According to the report, the move signals "restored" relations between the two Asian leaders. Although Kim has previously sent Xi birthday greetings, this marks the first time since 2013.
Although China has traditionally been an ally to North Korea as well as its biggest trading partner, the relationship has taken a downturn in recent years. In 2013, relations eroded quickly when Kim executed his uncle, the once powerful Jang Song Thaek who had close ties with Beijing. That same year, Pyongyang moved ahead with a nuclear test opposed by its northern ally.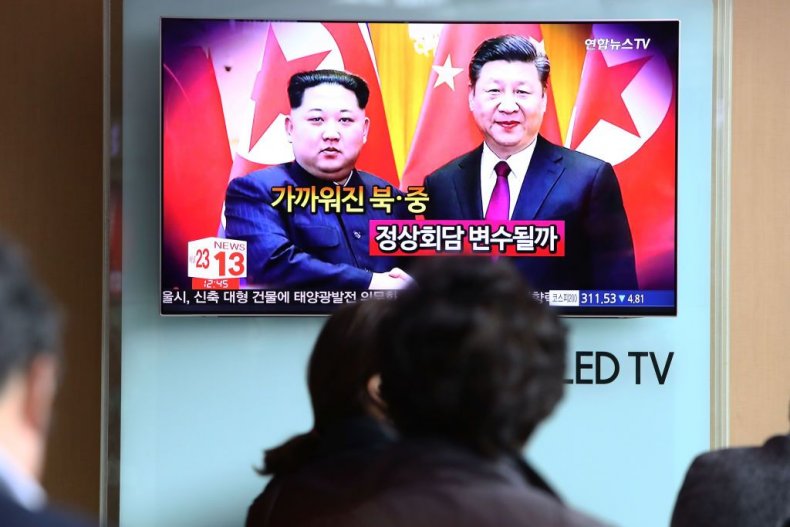 Since then, due to Kim's combative insistence to proceed with nuclear tests and increase tensions with the U.S., China has taken steps to isolate its ally. Last November, China temporarily closed its main road connection with North Korea, also known as the "Friendship Bridge." The move also followed Air China's decision to suspend flights between Beijing and Pyongyang.
In December, China joined all the other members of the U.N. Security Council in voting for new sanctions against North Korea. Chinese Foreign Ministry spokesperson Hua Chunying called on all countries to "exercise restraint and make proactive and constructive efforts to ease the tensions on the peninsula and appropriately resolve the issue," after the resolution passed, Reuters reported. She also called the move an appropriate response to North Korea's actions.
Despite the chilly relations, experts have suggested that China is very happy with the outcome of the landmark Singapore summit between President Donald Trump and Kim on June 12.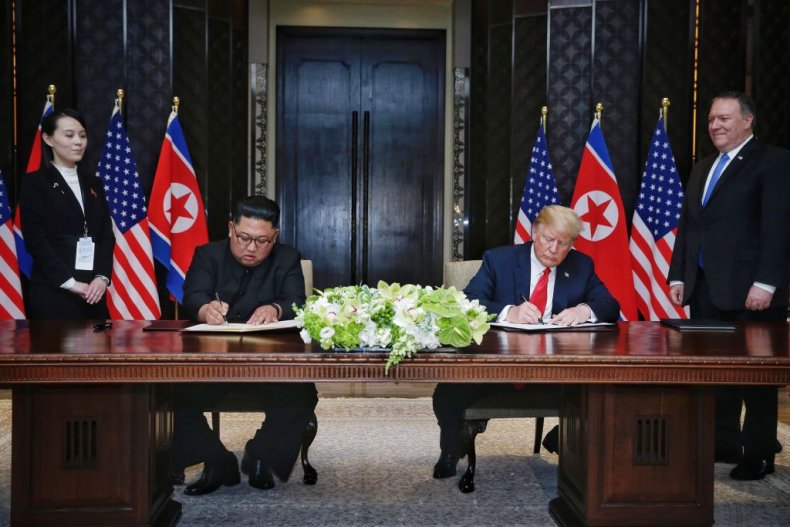 "China's very pleased with the outcome. It has achieved in the short term most of its goals. It appears that the broad deal between the United States and North Korea ... is what the Chinese have been advocating," Robert Daly, director of the Wilson Center's Kissinger Institute on China, told NPR after the meeting.
Daly added that China's happiness doesn't signal a loss for the U.S, however. "This is still the launch of a long diplomatic process. And for now, the process of North Korean testing of nuclear weapons and intercontinental ballistic missiles and American threats of a bloody nose strike or an attack on North Korea - that process seems to have stopped for now," he explained.
After Kim and Trump signed the agreement, China was quick to suggest sanctions against North Korea could soon be eased.
"If North Korea respects and acts in accordance with the resolutions, then sanction measures can be adjusted, including to pause or remove the relevant sanctions," foreign ministry spokesperson Geng Shuang said, according to CNBC.