North Korean Nights: Inside South Korean Singers' Alcohol-Fueled Partying in Pyongyang
South Korean musicians have returned home after performing in Pyongyang and meeting North Korean leader Kim Jong Un—drinking and partying their nights away.
The artists experienced a different side of the personalities known to them as enemies of their country. Kim Yong Chol, the North Korean general linked to the 2010 deadly shelling of Yeonpyeong island, was a controversial choice of envoy when he visited South Korea in February for the closing ceremony of the Pyeongchang Winter Olympics. However, he came across as a host eager to make his guests welcome—and inebriated—at the banquet given in their honor on Tuesday, before they left North Korea.
One musician, a member of K-pop singer Cho Yong-pil's band, was impressed with the general's drinking habits. "He's a heavy drinker," Choi Tae-hwan said on Wednesday, quoted in the Chosun Ilbo newspaper. He recalled how Kim Yong Chol "frequently stressed the need for unity among the Korean people, and drank quite a lot." The alcohol was only identified as "Pyongyang liquor."
South Korea sent a group of about 160 musicians to North Korea, where they performed on April 1 and April 3. The concerts were meant to reciprocate the North Korean orchestra performances held in South Korea for the Winter Olympic Games in Pyeongchang. Those performances were part of a bilateral effort to establish dialogue between the two countries that technically remain at war, as the armistice that ended the 1950-1953 Korean conflict was never followed by a peace treaty.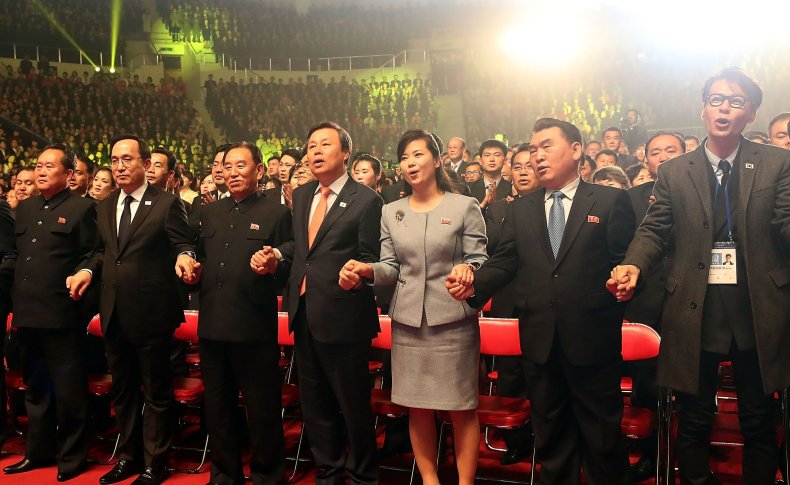 North Korea reportedly objected to the inclusion of one of South Korea's best-known stars, "Gangnam Style" singer Psy, and had a final say over the songs performed.
Singer Choi Jin-hee expected to perform her hit "Maze of Love" but instead was asked to perform a 1985 ballad called "Belated Regret," one of North Korea's favorite Southern songs, by brother-and-sister duo Hyeonee and Deokee, the South Korean delegation was told.
"I didn't even know that song and was baffled as to why I had to perform a title that wasn't mine," Choi said on Monday, quoted by Yonhap news agency.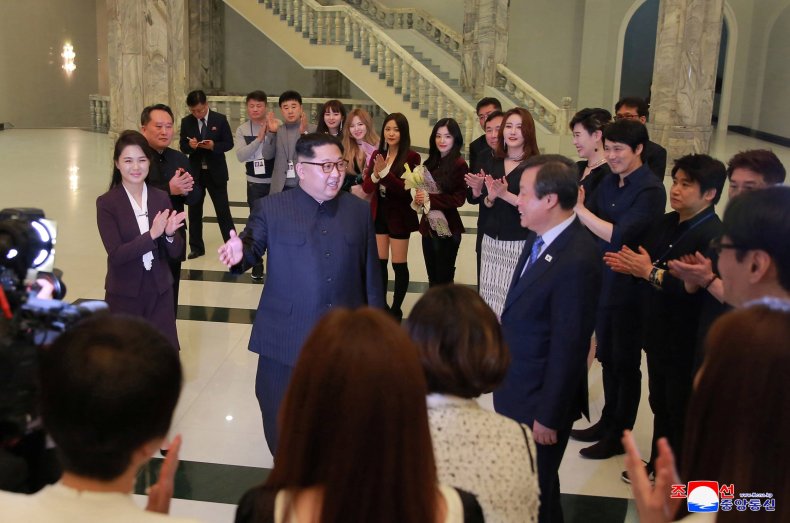 She realized the request came from Kim after the North Korean leader, who attended the April 1 concert, personally thanked her for her performance. "Later, Chairman Kim came down and shook my hand, then said, 'Thank you for singing that song.' I realized why the organizers asked me to sing 'Belated Regret,'" Choi said.
The song suddenly became popular again in South Korea, hitting number 1 on the charts for the first time in 33 years on Tuesday, South Korean newspaper Donga Ilbo reported.
Choi also boasted a friendly relationship with North Korean orchestra leader Hyon Song Wol. In an interview with KBS radio reported in South Korean media on Thursday, Choi recounted hugging Hyon and even squeezing her cheeks.
At the banquet, Hyon joined in the singing, duetting with Cho Yong-pil. Pictures published in South Korean media showed the singers posing together for photos. According to one dinner participant quoted in Yonhap, Kim Yong Chol asked for the pictures to be sent to him.
Do Jong Whan, the South Korean minister of culture, sports, and tourism who was part of the delegation that traveled to North Korea, said Kim Jong Un was eager to arrange another concert, this time in Seoul, in the fall.
But the next big event in the inter-Korean relations saga is scheduled for the end of this month, when Kim Jong Un is due to meet South Korean President Moon Jae-In at the truce border village of Panmunjom.