Kim Jong Un Surprised Trump with Prisoner Release: 'Frankly, We Didn't Think It Was Going to Happen'
North Korean leader Kim Jong Un's decision to release the three American citizens detained in the country came as a surprise to President Donald Trump.
Welcoming the former prisoners back on American soil at the Joint Base Andrews on Thursday morning, Trump told the press that the release happened earlier than expected. "It was sort of understood they'd be released during the meeting," Trump said, referring to the planned summit between him and Kim.
"Frankly we didn't think it was going to happen," Trump added, explaining the reticence displayed by Secretary of State Mike Pompeo, who arrived in Pyongyang on Wednesday but was tight-lipped about the chances of returning home with the three Americans.
Read more: Trump and Melania welcome U.S. prisoners freed from North Korea at Joint Base Andrews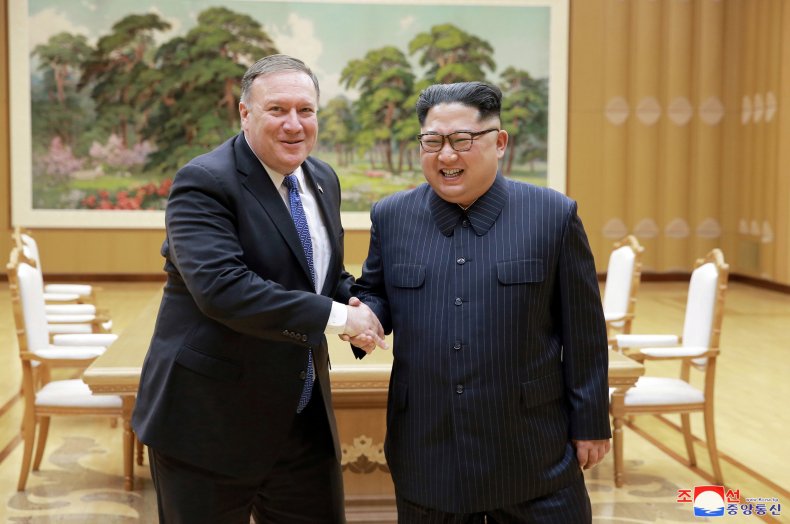 Trump congratulated Pompeo on doing "a fantastic job" in North Korea, where he met Kim and discussed logistical details of the planned summit between the U.S. and North Korean leaders—the first-ever meeting of its kind.
Neither the location nor the date have been officially confirmed as yet, although both CNN and Reuters reported that Singapore is now seen as the most likely location for the event. Trump said on Wednesday he will reveal the information in the next three days, and ruled out the possibility of holding the summit in the Demilitarized Zone (DMZ), the heavily-fortified border area between the two Koreas, a location he had previously suggested via Twitter.
Speaking to reporters on Thursday at the air base, Trump indicated the meeting was "a few weeks" away and that he was optimistic about its potential outcome. "I think we have a very good chance of doing something meaningful. A lot of very good things have happened," he said.
"I think he did this, because I really think he wants to do something—bring that country into the real world," he added, referring to Kim. "I think that we're going to have a success. I think this will be a very big success."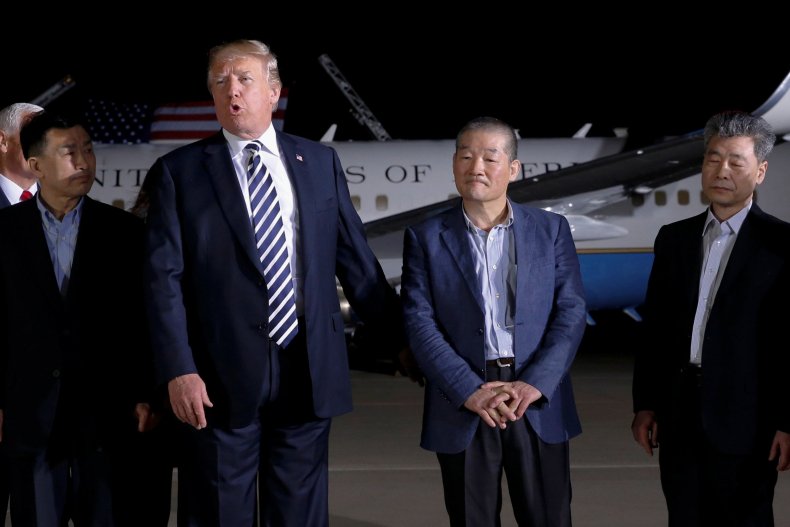 North Korea's state-controlled media said Kim had "accepted an official suggestion of the U.S. president" with regards to the prisoners' release.
"We very much appreciate he allowed them to go," Trump said, referring to Kim. The president said that he felt "very honored" to have played a role in their release, but that his final goal remains denuclearization of the Korean peninsula. "The true honor is going to be if we have a victory in getting rid of nuclear weapons," he said.