Kim Jong Un Wants to Turn One of His Favorite Missile Launch Locations into a Tourist Hot Spot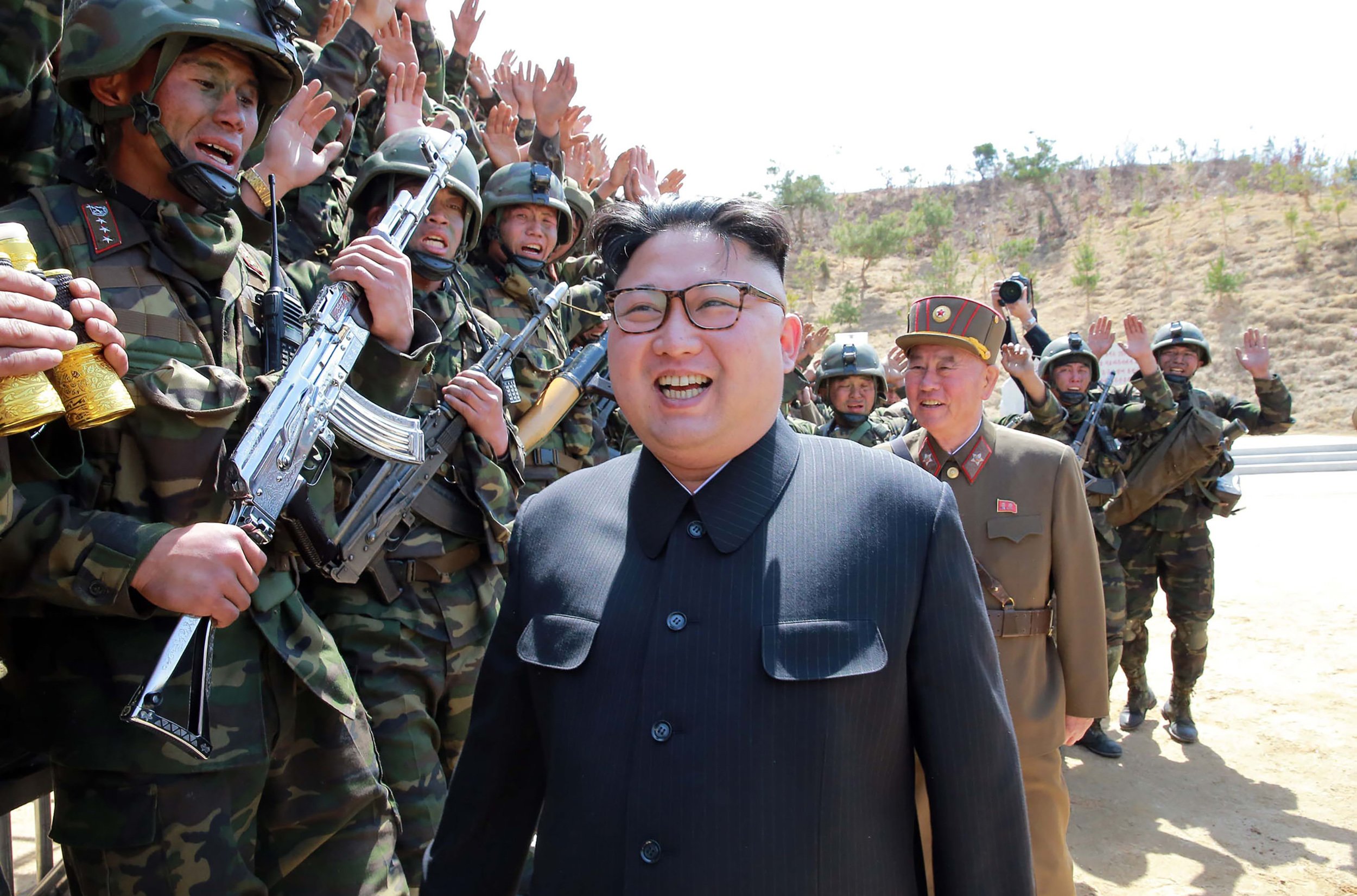 Nothing says vacation like a little sunshine and the prospect of nuclear war.
North Korean leader Kim Jong Un wants to build a tourist hot spot by the sea in the city of Wonsan, where he's also conducted roughly 40 missile launches as part of the country's efforts to enhance its nuclear program, Reuters reports.
Officially, North Korea is a state-run economy. However, off the books, approximately seven out of 10 North Koreans reportedly rely on private trade to survive. Kim's authority is mainly derived from being the leader of North Korea's military and developing the country's nuclear program. But he'd reportedly like to be seen as playing a bigger role in North Korea's economy and apparently believes increasing tourism will help accomplish this. At the moment, tourism accounts for less than 1 percent of North Korea's total gross domestic product, according to Reuters.
Kim is hoping to turn Wonsan into a major tourist location and reportedly has already built an airport and a ski resort there. Tourism is one of the only areas not affected by U.N.-imposed economic sanctions on North Korea. But Kim has reportedly struggled to capture the interest of foreign investors. Also, Americans won't be visiting anytime soon, as the Trump administration recently banned travel to North Korea.
But even as Kim has moved to make Wonsan a tourist haven, it's also remained one of his favorite places to test missiles. Large-scale artillery drills, which essentially involved blowing up a small island near Wonsan, were conducted on the beach near the new airport back in April.
Wonsan, home to roughly 360,000 people, has long been a summer resort for Kim. Until 2014, when he decided he wanted to bring tourism to Wonsan, it served as his private playground, complete with a yacht with a water slide, Jet Skis, motor boats and a fleet of Mercedes-Benz cars.
Dennis Rodman, the former NBA player and a friend of Kim's, has been to Wonsan. "It's like going to Hawaii or Ibiza," Rodman told The Sun in April. "But he's the only one that lives there. He's got 50 to 60 people around him all the time—just normal people, drinking cocktails and laughing the whole time. If you drink a bottle of tequila, it's the best tequila. Everything you want, he has the best."
The city holds a place of historic significance for North Korea. It was the place where Kim Jong Un's grandfather, Kim Il Sung, first landed when he came with the Soviets to take over the country in 1945. Some also believe North Korea's current supreme leader was born there, though his official place of birth isn't recorded.
Michael Spavor, a Canadian consultant who has spent private time with Kim, told Reuters the North Korean leader is particularly fond of Wonsan and is seriously interested in "redeveloping and improving the whole city for the people and...attracting international tourists and businessmen to the area."