Kim Jong Un Watches K-pop Stars Perform in Pyongyang
North Korean leader Kim Jing Un and his wife watched K-pop stars from South Korea perform in Pyongyang.
The groups are the first musical delegation to visit North Korea for more than a decade, as the countries prepare for a landmark summit.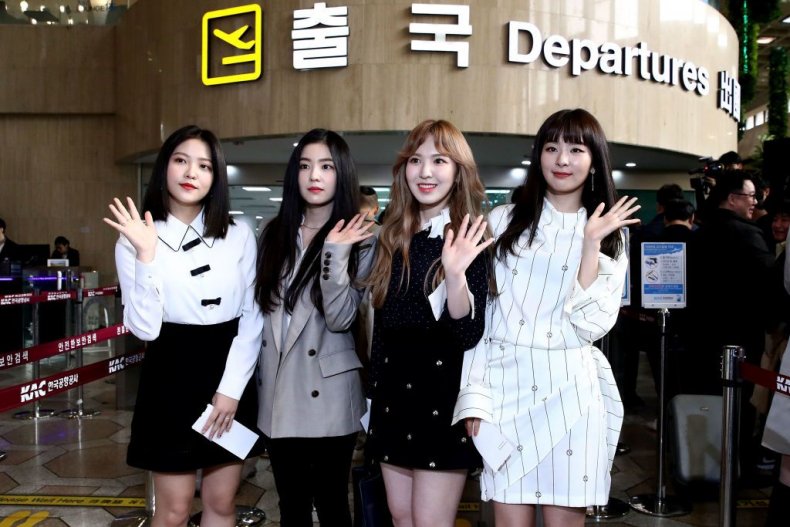 The concert took place on Sunday evening local time at the East Pyongyang Grand Theatre, reported the BBC. The audience included close members of Kim's family, including his sister Kim Yo Jong, and senior members of the regime.
It is the first of two concerts by 11 South Korean music groups to take place this week.
Among the performers was South Korean K-pop group Red Velvet, and singer Seohyun.
North Korean and South Korean Taekwondo teams were also expected to perform together at Sunday's performance, France 24 reported.
In recent months there has been a thawing of tensions between North Korea and South Korea.
The visit from the musicians and singers from South Korea follows the attendance of a delegation of North Korean dancers at the Winter Olympics in Pyeongchang, South Korea, in March.
"The whole purpose of cultural exchange is to open the gates for better relations between the North and the South, which have been strained for a decade," Kang Dong-wan, a professor at Dong-a University and a leader of the Busan Hana Center, an institute that helps North Korean defectors in the South Korean port city of Busan, told Bloomberg. "There is a strong political motive to boost the mood ahead of the summit."
Despite strict restrictions on the music North Koreans can listen to, K-pop has become increasingly popular in recent years from flash drives smuggled across the Chinese border, according to AFP.
On April 27, Kim is to meet South Korean President Moon Jae-in for bilateral talks between the countries. U.S. President Donald Trump has also agreed to meet Kim for discussions, though no date for the meeting has been set.
Kim met Chinese president Xi Jinping in Beijing last week on his first overseas trip.
In another sign of reduced tensions, the U.S. and South Korea will only hold scaled-down military exercises this week, which will not involve strategic weapons such as a nuclear-powered aircraft carrier.
The U.S. and its allies want North Korea to give up its nuclear weapons, but North Korea has refused to downgrade its military arsenal.