Kim Jong Un Will Probably Keep Nukes Despite Trump Talks, Says Russian Senator
North Korean leader Kim Jong Un is unlikely to give up his nuclear arms, despite pledging to do so at a summit with President Donald Trump, a Russian senator has said.
Speaking after Trump and Kim signed a vaguely worded statement at a much promoted first meeting, Russian Senator Vladimir Dzhabarov cast doubt around Pyongyang's true intentions.
Despite the U.S. president's enthusiasm, the agreement signed by Trump and Kim contains no specific example of how the two sides will achieve the stated aim of "complete denuclearization." That could be because Pyongyang has no intentionof fully abandoning its nuclear arms, the Russian senator told state news agency Itar-Tass.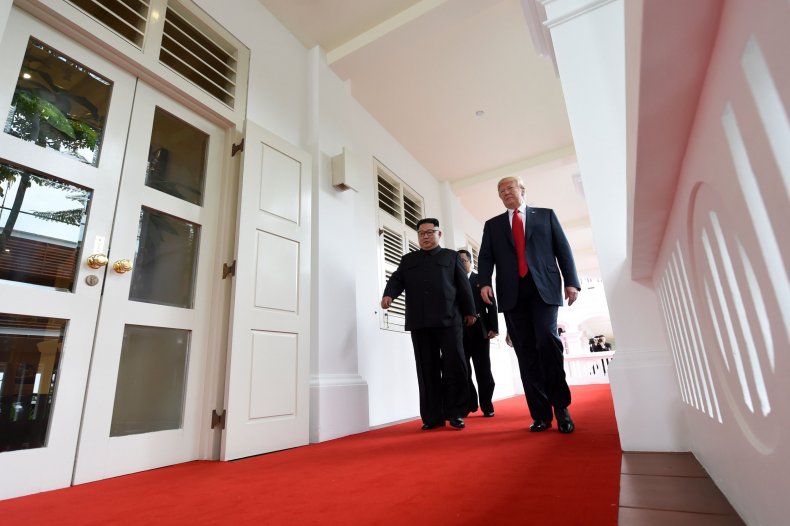 Read more: Trump says Kim Jong Un meeting went "better than anybody could have expected"
"The matter of denuclearization probably will not stand after all because Kim Jong Un remembers all too well what happened with [Muammar] Gaddafi, with [Saddam] Hussein and other heads of state," Dzhabarov said, referring to the deposed ex-leaders of Libya and Iraq, respectively.
Both ex-leaders have become a cautionary tale for autocrats with nuclear ambitions, as they both surrendered their countries' weapons of mass destruction programs, only to be eventually deposed with U.S. help.
Trump's latest National Security Adviser John Bolton himself used Gaddafi as a positive example for the course North Korea should take earlier this year—remarks which were met with scorn from Kim Jong Un's regime.
Gaddafi pledged to end Libya's chemical, biological and nuclear weapons programs in 2003, under pressure from Western governments, only for a national rebelion to rise against him in 2011 and topple him with the help of the U.S.-led NATO alliance, so Kim is unlikely to want to follow in his footsteps.
The North Korean government have already brushed off the comparisons, arguing that Pyongyang has surpassed Libya in its pursuit of nuclear weapons and is now "a nuclear weapons state"—unlike either Libya or Iraq, Kim Kye Gwan, the first vice-minister of Foreign Affairs for North Korea said in May.
"For him, nuclear weapons are a guarantee of his safety," Dzhabarov said of Kim. "More likely he will not pursue a total destruction of atomic weapons."
In Pictures: Key Moments in North Korea-U.S. Relations
In Saddam Hussein's case, unconfirmed suspicions that he was still harboring weapons of mass destruction prompted the U.S.-led intervention that removed him from power in 2003.