Kim Jung Gi Dies at 47: Comic Book World Mourns Famed Cartoonist
Revered comic artist Kim Jung Gi died this week at age 47, according to a statement posted early Wednesday on his social media accounts. Members of the comic book world have since flooded social media with tributes to him and his legacy.
"Kim Jung Gi passed away quite suddenly at 47 years old. If you're unfamiliar with his work, you literally should take time to experience his genius. May his memory be a blessing," cartoonist Judd Winick wrote on Twitter.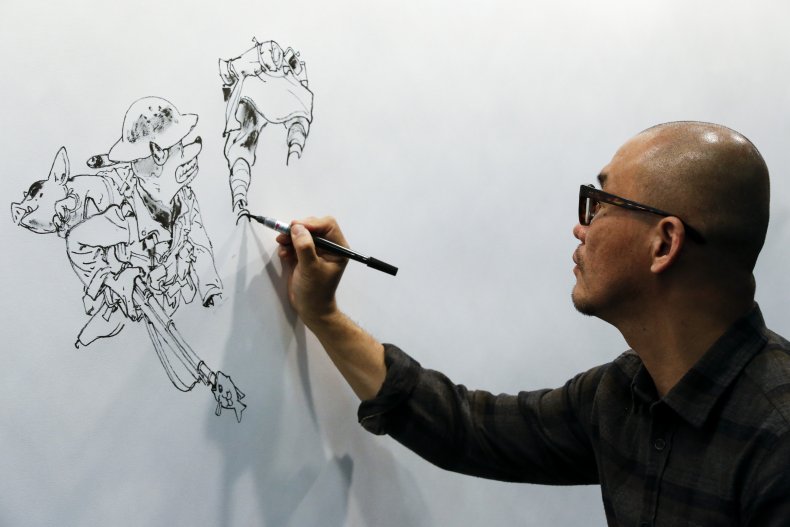 "After having done so much for us, you can now put down your brushes. Thank you Jung Gi," frequent collaborator Hyun Jin Kim wrote.
Kim was born in South Korea and served two years in the Republic of Korea Army before embarking on a celebrated career that saw him work on projects for both Marvel and DC Comics. His work was known for its complex imagery, and some of his most famous projects include the illustrations for the Tiger the Long Tail by writer Seung-Jin Park, drawings for Morvan's SpyGames comics and various covers for Marvel's Civil War II.
The statement announcing his death said Kim had been in Europe before he was scheduled to fly to New York Comic Con. At the airport, he experienced chest pains and died at a hospital a short time later.
C.B. Cebulski, editor-in-chief of Marvel Comics, tweeted: "Woke up to the tragic news of Kim Jung Gi's passing. Still sitting here stunned. There was no one quite like him."
"Kim Jung Gi is a legend. Horribly sad day," Alex Pardee, a comics creator who has also illustrated movie posters and album covers, wrote on Twitter.
"The world has lost an immense talent in Kim Jung Gi. It was an honor and a pleasure to work with him. Sincere condolences to his loved ones and friends," the official account for Dark Horse Comics tweeted.
Philippines-based illustrator Kerby Rosanes wrote in the comments of the Instagram announcement of Kim's death that the late artist "[w]ill forever be an inspiration."
"The GOAT has left us," Bosnian artist Adi Granov wrote on Facebook. "Kim Jung Gi, once in a lifetime talent who reshaped our world. His ability reduced grown people to tears and his humility and humour were a joy."
Greg Capullo, who has created art for such high-profile works at Batman and Spawn, tweeted, "What an incredible loss. Kim Jung Gi was...an artistic genius. This is stunningly sad news. R.I.P., King."
Newsweek reached out to the administrators of Kim's English-language website for comment.