Azerbaijan Threatens Missile Strike on Armenian Nuclear Power Plant
Azerbaijan has threatened to target Armenia's nuclear power plant following a sharp spike in hostilities in the border region between the Caucasus countries over the last week.
After months of deteriorating relations between Baku and Yerevan, days of clashes have seen both sides accusing the other of shelling military positions in the Tavush region in northeast Armenia, and the Tovuz district in Azerbaijan, the BBC reported.
The area is relatively far from from Nagorno-Karabakh, an enclave around 190 miles away, and internationally recognized as part of Azerbaijan but controlled by ethnic Armenians, and the source for two bloody conflicts since the break-up of the Soviet Union. More recently, there were hostilities between the countries in April 2016, known as the "four-day war."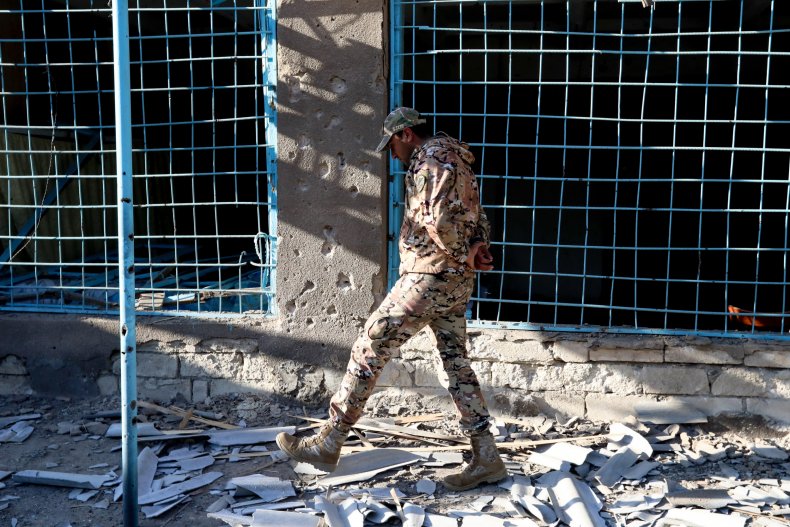 At least 16 soldiers from both sides have died since Sunday, Voice of America reported, and Armenia accuses Azerbaijan's army of moving positions and using people in one village as human shields, claims denied by Baku which has made similar accusations against Armenia.
In a considerable ramping up of rhetoric, Baku warned Yerevan it might attack an Armenian nuclear power station in retaliation for any targeting of Azerbaijan's strategic outlets.
Azerbaijan's defense ministry said in a statement that Yerevan "should keep in mind that our armed forces have advanced missile systems in service, capable of conducting high-precision strikes on the Metsamor Nuclear Power Plant, which may result in a huge disaster for Armenia," the news agency TASS reported.
Armenia's foreign ministry condemned the threat as showing an "absolute absence of responsibility."
It is not clear what one event sparked the rise in tensions, but Baku-based analyst for the International Crisis Group, Zaur Shiriyev, said while there had been an effective communication channel between the two countries it "lacks the capacity of preventative action."
He said it was likely to be due to a miscommunication between both sides doing engineering work on the border areas and that "sometimes one's side action is misunderstood by the other side," he told Newsweek, adding, "small incidents became an escalation."
"Unfortunately this escalated very quickly and they don't know how to stop this because the sides always look at who is going to win, but what constitutes victory in this case is unclear."
"This shows a lack of some elements of communication channels between the countries," he added.
The U.S., the European Union and Russia have called for a de-escalation in the region which is a corridor for pipelines that are a conduit for oil and gas from the Caspian Sea.
U.S. Secretary of State Mike Pompeo said he was "deeply concerned" by the violence, while Turkey's president Recep Tayyip Erdogan has been clear in his support of Azerbaijan.
Caucasus program director at the London-based think tank, Laurence Broers, said that the flare up was the first real test on the battlefield for Armenia's prime minister Nikol Pashinyan.
Broers also believes that Azerbaijani president, Ilham Aliyev, will feel that he needs to demonstrates his country's military capacity, which has been revived since the last hostilities of 2016.
"In this context, the domestic risks of backing down even from a minor incident are high, leading to an escalatory dynamic," Broers told Newsweek.
Thousands demonstrated in Baku on Wednesday calling for Azerbaijan's government to fully deploy its army in the dispute, the BBC reported.
"For all the talk of preparing populations for peace, no meaningful steps have been taken in this direction and decisions appear to have been taken to increase force posture along the frontline," Broers said.
"With regard to the threat to strike Metsamor, I'm not sure that this should be taken literally. Rather, it may be a way to attract attention to what is seen widely as a weak point in Armenia's political economy—a nuclear plant that is aging and by some assessments, obsolete to the point of danger."
"Bringing Metsamor into the media storm around this week's clashes reminds the world of these issues and fits an Azerbaijani narrative that Armenia is a source of threat and instability to the South Caucasus," Broers added.
Reality TV star Kim Kardashian West, who has Armenian heritage, lent her celebrity to increase awareness of the conflict which may be little known outside of the region.
Kardashian West told her 65 million Twitter followers and 179 million Instagram followers that she stood "with my fellow Armenians", writing, "civilian structures in Armenia have been targeted, and Azerbaijan has now threatened to bomb the nuclear power plant in Armenia."
"The international community needs to pay attention and intervene now with such diplomatic and political measures to prevent unnecessary escalation and loss of life," she added.
Armenia's most famous footballer Henrikh Mkhitaryan, also weighed in on the conflict, tweeting: "I want to express support to our brave soldiers who are defending our homeland at the cost of their lives."
Correction 7/18/20, 3:31 a.m. ET: This story has been updated to correct the spelling of Zaur Shiriyev.