Did Kim Kardashian Name Her New Baby After Louis Vuitton? Cryptic Photo Has Twitter Freaking Out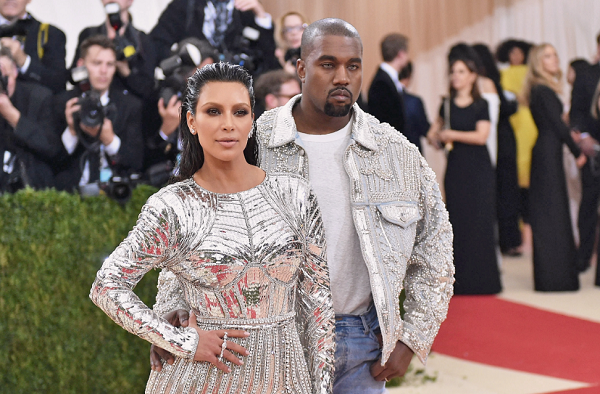 Kim Kardashian and Kanye West have yet to reveal the name of their new baby. The couple welcomed their daughter, via surrogate, on Monday.
On Wednesday, West, 40, told TMZ the couple was still considering names for their third child. But before heading into his Calabasas, California office, a photographer suggested that West name the latest member of his family after his mother, Donda West, who died of heart disease in 2007. West was devastated by her death, and he appeared to like the photographer's suggestion: "That's fire," he responded.
But some of Kardashian and West's fans think the Hollywood power couple might be going the luxury route, particularly after Kardashian posted a photo of a Louis Vuitton print on her Instagram on Wednesday. There was no accompanying message.
The photo sparked instant reactions. Some on social media suggested the baby's name might be Louis, Vuitton, Elle V West, LV, Ellevee, and other plays on the brand name.
The picture featured a close up of the fashion house's classic brown canvas covered in Vuitton's signature LV and flower pattern. Other commenters wondered if Kardashian and West might be considering Damier, the name of another of the brand's patters, a checker board-print. Ebene, the brown-colored Damier print, was also mentioned.
Of course, the photo might have nothing to do with the baby's name. It might hint at a new role Kardashian or the couple have with the label. On Wednesday, it was announced that Vuitton's Artistic Director of Men's Wear, Kim Jones, would be leaving the company following the fall 2018 fashion show in Paris. West, who has his own fashion label, Yeezy, has been a longtime Vuitton collaborator. He first worked with the brand on a line of shoes in 2009.
But no one would be surprised if the couple did give the baby a Vuitton-related name. West has referenced the designer in at least 19 of his hit songs. And the couple has been front and center at numerous Vuitton shows.
Kardashian and West, who married in 2014, are already parents to 4-year-old daughter North West and 2-year-old son Saint West.