Americans Care More About Kim Kardashian's Marble Table Than Trump's Russian Scandal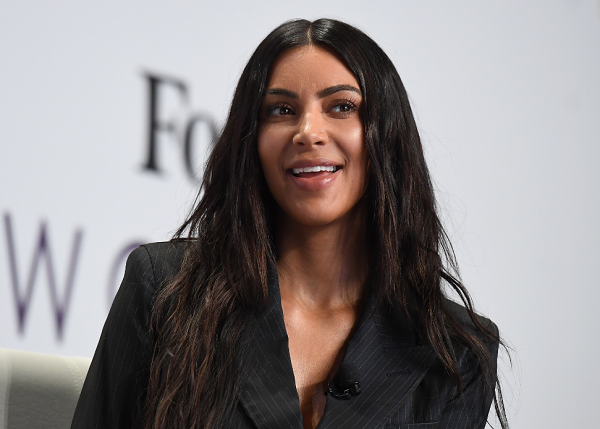 If there's anything Americans love, it's a good social media scandal. And this week, in particular, thousands of U.S. citizens snacked on their popcorn while watching drama unfold. But it wasn't the shocking string of emails tweeted out by President Donald Trump's son that had the most people freaking out on Twitter—It was Kim Kardashian's marble table.
It all started Monday when the reality TV star posted a Snapchat video highlighting some of the latest fashions from her Kardashian Kids collection. In the video, which was also uploaded to Twitter, Kardashian is seen standing adjacent to a black table that appeared to have white lines on it, prompting some fans to speculate that the white substance on the table was cocaine.
Kardashian immediately shot down assumptions that the area mysteriously covered in a white substance was drugs, writing in a tweet that the lines people were zeroing in on in the video were more than likely residue left behind from the candy she had purchased for her two children, four-year-old North West and Saint West, 19 months.
"I do not play with rumors like this so I'm gonna shut it down real quick. That's sugar from our candy mess from dylan's candy shop," Kardashian tweeted Tuesday.
Later that same day, though, Kardashian gave a table-gate update, informing fans that the white lines their eagle eyes spotted in the video turned out to be white streaks embedded in the black marble table in her New York City hotel room. In another video, Kardashian is seen holding a bag from Dylan's Candy Shop while telling her followers she initially thought that the substance was dust from the sweet treats, but after some investigation, she realized it was just a part of the table's design.
Kardashian walks over to the marble table during the video, zooms in and rubs her finger along the white streak to prove that the white area is, indeed, just a streak in the marble.
The video, which was posted on her Twitter Tuesday night, received nearly 122,000 likes and was retweeted 35,840 times as of Thursday.
Meanwhile on the same day, Donald Trump Jr. released a number of screenshots on Twitter of juicy email conversations that revealed he had been promised "incriminating" information about Democratic presidential nominee Hillary Clinton back when his father was on the campaign trail. Donald Trump Jr. was quoted responding, "I love it," to an email suggesting that he receive "very high level and sensitive information" about Clinton that was "part of Russia and its government's support for Mr. Trump."
The tweets sparked a media frenzy and a wave of outrage on Capitol Hill, but on Twitter, Donald Trump Jr.'s statement and full email chain only received a measly 33,000 likes and nearly 17,220 retweets as of Thursday.
It could be that Kardashian simply has more followers that resulted in more people losing their minds over her marble tables while the president's son basically confirmed he was aware of Russia's attempts to damage Clinton's chances of winning the election.
Some 54 million people follow the 36-year-old business mogul compared to 39-year-old Donald Trump Jr.'s 1.84 million followers. In fact, Kardashian has more followers on Twitter than the president, who only has 33.7 million.
Or it could be that people are just more interested in Kardashian, who has been entertaining millions of Americans on Keeping Up With the Kardashians since 2007, opposed to the spectacle that is U.S. politics right now.