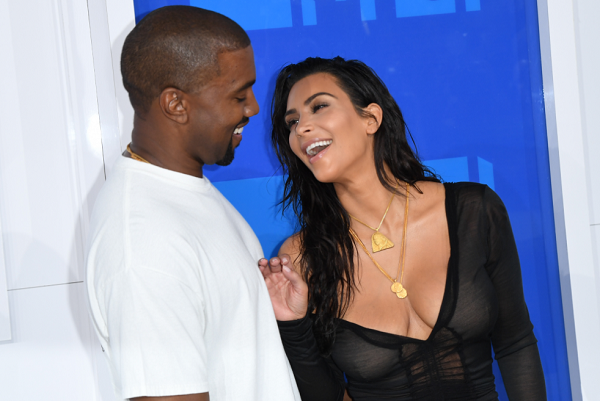 Kim Kardashian and Kanye West welcomed their third child, a girl, on Monday. The Keeping Up With the Kardashians star announced her new baby's arrival on her website.
No photos of the newest addition to the Kardashian West family have been released as of yet. In fact, the reality TV star and her rapper husband haven't even revealed their daughter's name.
But if the couple's former baby-naming is any indication, it's likely the newest little West won't have a moniker remotely similar to the most popular baby girl name of 2017: Sophia.
The name Sophia ranked highest on Baby Center's annual Top 100 Baby Names list for girls. The website dedicated to all things baby and pregnancy-related listed Jackson as the No. 1 boy name in 2017. Meanwhile, classic female names like Olivia, Emma, Ava and Isabella landed in the top five positions on the list. Liam, Noah, Aiden and Lucas rounded out the boys' top five.
Kardashian and West have a knack for straying away from traditional and popular baby names. They opted for more unique names for their first two children, 2-year-old son Saint West and their oldest daughter, North West, 4.
Back in 2014, Kardashian explained how she came up with the name North. She told British GQ magazine that music legend Pharrell Williams and Condé Nast Artistic Director Anna Wintour played a significant role in the couple's baby name decision.
"It was a rumor in the press, and we'd never really considered [using the name North], at all," she said. "Pharrell came over to us and said, 'Oh my God, are you guys really going to call your daughter North? That's the best name.' I said, 'No, we're not, that's just a rumor. Then a little while later, Anna Wintour came over and asked the same thing. She told us 'North is a genius name.' Kanye and I looked at one another and just laughed. I guess at that point it sort of stuck."
As for their son's name, friends of Kardashian and West told Us Weekly the couple went with Saint because they considered their second child a miracle baby. Kardashian experienced a high-risk pregnancy while carrying Saint after being diagnosed with pre-eclampsia, a serious condition of high blood pressure in pregnant women.
Kardashian's pregnancy issues led the couple to use a surrogate for their third child, who the multimillionaire noted arrived on Monday in great health.
"Kanye and I are happy to announce the arrival of our healthy, beautiful baby girl. We are incredibly grateful to our surrogate who made our dreams come true with the greatest gift one could give and to our wonderful doctors and nurses for their special care," she wrote.
Kardashian said her two older children were "especially thrilled to welcome their baby sister."