Kim Kardashian and Kanye West Reunite at Virgil Abloh Tribute
Estranged couple Kim Kardashian and Kanye West reunited on Tuesday to attend a tribute for their friend Virgil Abloh, the fashion designer who died on Sunday.
West, who has spoken publicly about his desire to save his marriage, was pictured with Kardashian and their 8-year-old daughter, North, at a posthumous presentation of Abloh's spring/summer 2022 menswear collection for Louis Vuitton.
The photo of the pair and their daughter, who were all wearing sunglasses, was shared on the Instagram Story of nightlife impresario Richie Akiva.
Kardashian also posted photos from the event on her own Instagram Story, sharing images of a large sand sculpture of Abloh and a giant red Louis Vuitton hot air balloon.
After Abloh's death, Louis Vuitton announced that his final menswear show, which was held at the Miami Marine Stadium, would "pay tribute to the life and legacy of a creative genius."
The Off-White founder and Louis Vuitton creative director died at the age of 41, two years after being diagnosed with cardiac angiosarcoma, a rare and aggressive form of cancer.
West, a longtime friend of Abloh, dedicated his Sunday service to the designer, which was livestreamed on dondalive.com.
On Tuesday, Kardashian posted a series of photos of Abloh on Instagram, adding the caption: "God doesn't make mistakes. I know that but I still can't help but ask why. Why Virgil?! Why him so soon? It's simply hard to understand why.
"I have a hard time understanding why so many pure souls were taken away so early. Virgil- you were always so gentle, kind and calm. You somehow made time for everyone. We also talked about your superpower of calmness often.
"You always gave so much of yourself to the world because you wanted it to be doper. This one is hard to process. I can't even believe I am writing this… We will miss you so much Virgil and love you so much.
"Also I would love to send so much love to his wife Shannon. Because you loved and supported Virgil the way that you did, he was able to give so much of himself [to] everyone else. So thank you truly for sharing him with us the way that you did. Virgil's legacy will live on forever through Shannon, Lowe and Grey."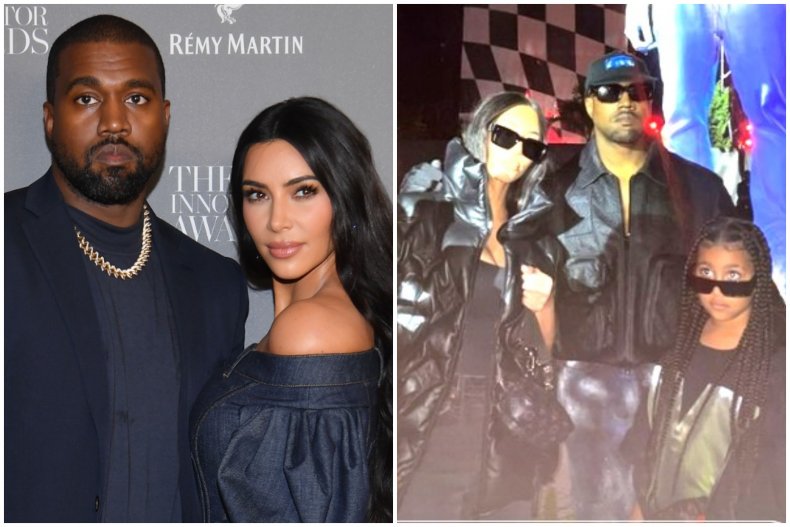 Kardashian's Miami outing with West marks the first time they have been photographed together since it was reported that she is dating Saturday Night Live comedian Pete Davidson. Kardashian filed for divorce from West in February.
When she hosted Saturday Night Live in October, Kardashian addressed the end of her marriage during her opening monologue, saying: "I've been very blessed in this life, and I'm grateful for everything. All the ups, all the downs. I married the best rapper of all time.
"Not only that, he's also the richest Black man in America. A talented legit genius who gave me four incredible kids. So, when I divorced him, you have to know it came down to just one thing—his personality."
Despite Kardashian apparently moving on, West said weeks later in an interview on Drink Champs that she was "still my wife."
"SNL making my wife say I divorced her on TV, 'cause they just wanted to get that bar off," he said. "And I ain't ever seen the papers. We're not even divorced. 'Cause that ain't no joke to me."
He added: "My kids want their parents to stay together. I want us to be together. But if you look at the media, that's not what they're promoting. They want it to be a new wedding, a new episode, a new TV show. And then they have people all around in my wife's ear. That publicist, I don't f*** with her."
West—whose four children with Kardashian are North, Saint, 5, Chicago, 3, and Psalm, 2—also spoke about his marriage during an appearance at Los Angeles Mission's Thanksgiving event on November 24.
The rapper and designer said: "If the enemy can separate Kimye, there's going to be millions of families that feel like that separation is OK.
"But when God brings Kimye together, there's going to be millions of families that are going to be influenced to see that they can overcome the work of the separation, of trauma the devil has used to capitalize to keep people in misery while people step over homeless people to go to the Gucci store."