Kim Kardashian, Kerry Washington and Other Celebs Plead for Julius Jones' Life to Be Spared
With Julius Jones scheduled to be executed by lethal injection on Thursday, a host of celebrities have added their voice the widespread call for clemency.
Jones, 41, was sentenced to death for the 1999 carjacking and killing of businessman Paul Howell, spending more than 20 years behind bars in Oklahoma as he awaits the final phase of his punishment.
Over the years, Jones has maintained that he did not murder Howell, claiming that he was framed by his high school friend and co-defendant Christopher Jordan, who earned a plea deal of 15 years in prison when he testified that Jones was the shooter.
Jordan is now free.
His story gained increased attention in the 2018 documentary series The Last Defense, on which Viola Davis served as one of the executive producers.
In the series, the filmmakers highlighted evidence that they reported the attorneys failed to present in court, which could have implicated Jordan.
Amid the attention the case has received, advocates have urged Oklahoma's Republican Governor Kevin Stitt to grant Jones clemency. This has also included a faction of celebrities, who have spoken out in interviews and on social media.
On Tuesday, Kardashian shared an update on Twitter, writing: "Julius, his family and everyone on his team are still hopeful Stitt will do the right thing. Today Julius' family and close friends received invites to his execution. I can't even imagine how they all must be feeling right now."
"I want to share with you what the process of the execution is like in Oklahoma," she went on. "#JuliusJones has been on death watch for more than 2 weeks. In preparation for his execution on Nov. 18, he is alone in his prison cell just feet away from the executioner's chamber."
After sharing further details of the execution process, Kardashian wrote: "This is the cold machinery of the Death Penalty in America. In just over two [days], an innocent man could be put to death. My heart breaks for Julius and so many others who have suffered from such tragic miscarriage of justice."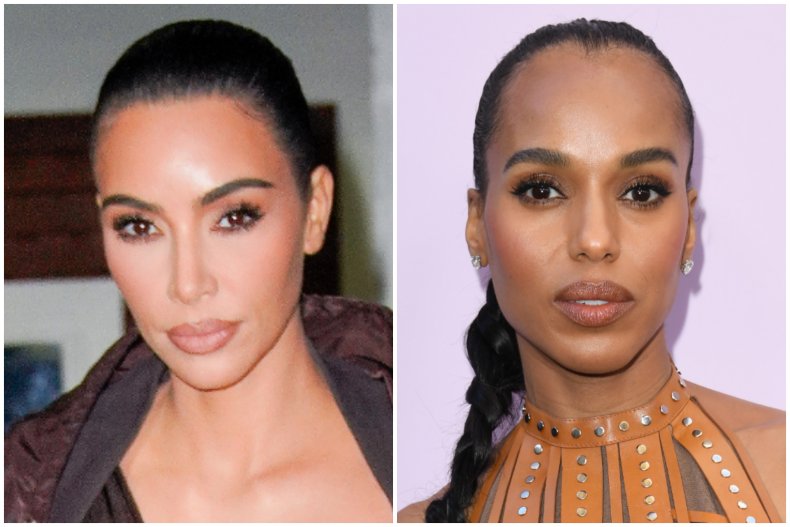 Scandal star Kerry Washington also took Twitter as Jones' life hangs in the balance, sharing link a link to a website showing how members of the public can get involved as she wrote: "Take action. Now is the time. #FreeJuliusJones."
Rapper J. Cole shared Kardashian's Twitter thread, adding in his own statement on Wednesday: "Read this please. Then share. oklahoma is a day away from executing a man. The evidence that this man is innocent is overwhelming.
"So much so that the state parole board recommended to the governor that he not be executed. with 1 day left of his life, the governor hasn't acted."
Killer Mike and fellow rapper T.I. appeared in a video together, in which they also urged that action be taken to stop the scheduled execution.
"Julius had a poor legal defense that didn't even present key evidence," said Killer Mike, real name Michael Santiago Render, who captioned the clip, adding that "we cannot allow racism and indifference to kill another innocent black man."
Comedian and TV personality W. Kamau Bell, shared a video of himself on Wednesday urging action, as he wrote: "Julius did not commit the crime he's accused of. WE HAVE TO MAKE OUR VOICES HEARD! Make videos. Share videos. Contact your folks in Oklahoma!"
Bishop T.D. Jakes also expressed his support for clemency, writing: "#JuliusJones awaits a decision that either saves his life or condemns it. If our courts are to be called a 'justice system,' then justice must be done. @GovStitt, there are many like me, including @KimKardashian, who seek complete and total clemency!"
NBA star Stephen Curry and Golden State Warriors head coach have also publicly expressed their support, with each sharing videos on the high profile case.
MSNBC host Joy Reid tweeted out a link to a change.org petition, as she told her followers: "For those asking how to help: this is the petition: Julius Jones is innocent. Don't let him be executed by the state of Oklahoma."
In another tweet, Reid wrote: "@GovStitt: please don't stand by and let this man be killed by your state's executioners. Listen to Julius Jones proclaim his innocence as multitudes push to stop his execution."
She then shared a link to a recent interview that Mara Schiavocampo had conduction Jones, who said of the late Howell's family: "I love them. I love them and I forgive them. They hate me and they don't really know why, but at the appointed moment they will know the truth.
"And one day I hope that they open up their eyes and see the truth, but at this point I hope they heal first. Out of all things, I hope they find healing. I've never had any ill will towards them. I don't wish them ill will. I pray for them constantly."
Schiavocampo also asked Jones if he had any messages for his mother, prompting him to respond: "I'm sorry I was a bad kid. I'm sorry I made mistakes... but you know, I'm not a killer. I'm not a murderer."
Oklahoma's Pardon and Parole Board voted 3-1 in favor of a recommendation to Governor Stitt asking he spare Jones' life and change his sentence to life in prison.
Oklahoma newspaper Enid News & Eagle has reported that Governor Stitt is "deep in prayer" as he comes to a decision.