Kim Kardashian and Pete Davidson Rumors Spark Wave of Memes
Pop culture fans are still living off the high of one Kardashian sister's whirlwind romance as Kourtney Kardashian and Travis Barker continue to share their love with the world following their engagement.
Now the reality star's older sister Kim Kardashian, 41, is grabbing romance rumor headlines after she was spotted holding hands with Saturday Night Live comedian Pete Davidson, 27, on a roller coaster during Halloween.
The photos of the pair were taken at Knott's Berry Farm in Buena Park, California, on Friday, October 29 and published by TMZ.
They appeared just weeks after Kim Kardashian hosted SNL for the first time, alongside cast member, Davidson.
Kim Kardashian has not been romantically linked with anyone since her divorce from Kanye West and Davidson has had a string of high-profile romances in recent years, becoming something of an unexpected heartthrob.
Newsweek has contacted representatives of both Kardashian and Davidson for comment.
Davidson and Kardashian have not confirmed if they are dating or if any romance is on the cards but unsurprisingly, the rumor mill is swirling with fans indulging in hundreds of memes to comment on the situation.
"is pete davidson the new warren beatty," joked writer Rachel Syme.
While another joked: "what if God came down to earth and just dated Pete Davidson."
"queen elizabeth spotted with pete davidson 6 months after husband's death," joked another.
Another person joked that the fictional socialite from Schitt's Creek would also date Davidson — "alexis rose would date pete davidson."
Comedian Hannah Dickinson added: "Pete Davidson needs do a masterclass on how to date up."
Davidson inspired further memes today thanks to a Twitter caption by Page Six to a story about Kardashian's return to New York, in which they referred to the city as "Pete Davidson's native NYC."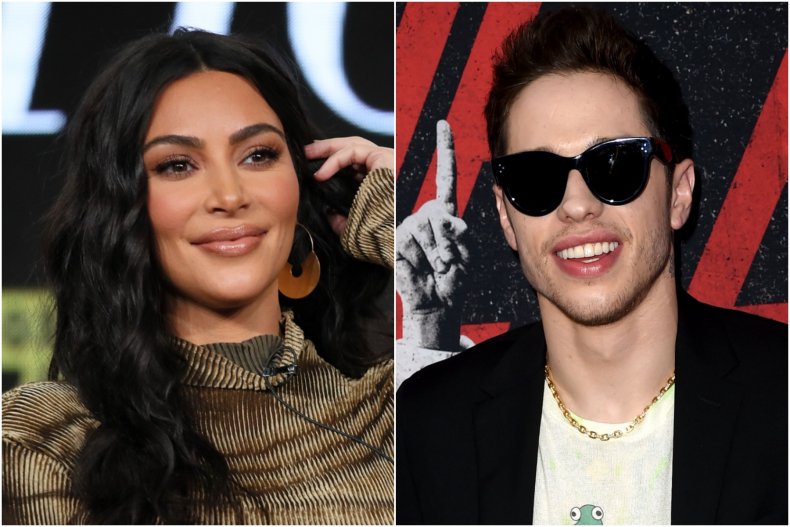 The comedian's dating history includes some of the biggest names in the entertainment world, including Bridgerton breakout star Phoebe Dynevor and pop superstar Ariana Grande.
Grande and Davidson were famously engaged in 2018 after a whirlwind romance which the singer referenced in her hit "Thank U, Next."
He also dated actress Kate Beckinsale in 2019 with their 20-year age gap drawing a lot of attention.
"Apparently people have a crazy fascination with our age difference," he said of their relationship on SNL.
"But it doesn't really bother us, but then again, I'm new to this, so if you have questions about relationships with a big age difference just ask Leonardo DiCaprio, Jason Statham, Michael Douglas, Richard Gere, Jeff Goldblum, Scott Disick, Dane Cook, Derek Jeter, Bruce Willis, Harrison Ford, Tommy Lee, Alec Baldwin, Sean Penn and whoever the president of France is, Mel Gibson, Billy Joel, Mick Jagger, Sylvester Stallone, Eddie Murphy, Kelsey Grammer, Larry King, Larry King, Larry King, Rod Stewart, and Donald Trump."
They split in 2019.