Where is Kim Kardashian's Private Island?
Kim Kardashian turning 40 has seen the reality television star skewered for posting about renting a private island in the middle of a pandemic.
The Keeping Up With the Kardashians star has left a sour taste among fans and the world in general for flaunting her extreme wealth and disregarding travel rules to fly her family and friends out to a tropical paradise—while the rest of the world live under harsh restrictions to prevent the coronavirus spreading, including no traveling and no permission to see family members in certain countries.
She said the pandemic had helped her and her guests appreciate the "simple luxury" of partying on a private island, while urging that everyone who attended the event had taken precautions to ensure they were virus-free.
"After 2 weeks of multiple health screens and asking everyone to quarantine, I surprised my closest inner circle with a trip to a private island where we could pretend things were normal just for a brief moment in time," Kardashian tweeted alongside a selection of photos from the trip, with not a mask in sight.
So where exactly is this idyllic private island that allowed Kardashian and her guests to "pretend things were normal"?
Kardashian herself did not disclose the location, merely referring to the place as where they "danced, rode bikes, swam near whales, kayaked, watched a movie on the beach and so much more."
Her younger sister Kendall Jenner posted her own snaps from the trip to Instagram with the caption: "locations a secret."
Well, the secret location is apparently, an island in Tahiti.
Tahiti is the largest island in French Polynesia, the South Pacific archipelago. It takes roughly eight-hours to fly there direct from California and there are
Grazia reports that Kardashian had her guests flown to Tahiti. A source told E! Some information about the secret birthday celebrations.
"She chartered the Crystal Luxury Jet to fly everyone privately and they left L.A. early Tuesday morning, the day before her actual birthday," they said. "They had multiple events to celebrate Kim turning 40. It was a mix of family, old friends and newer friends and they took over the entire private island for an incredible week of activities."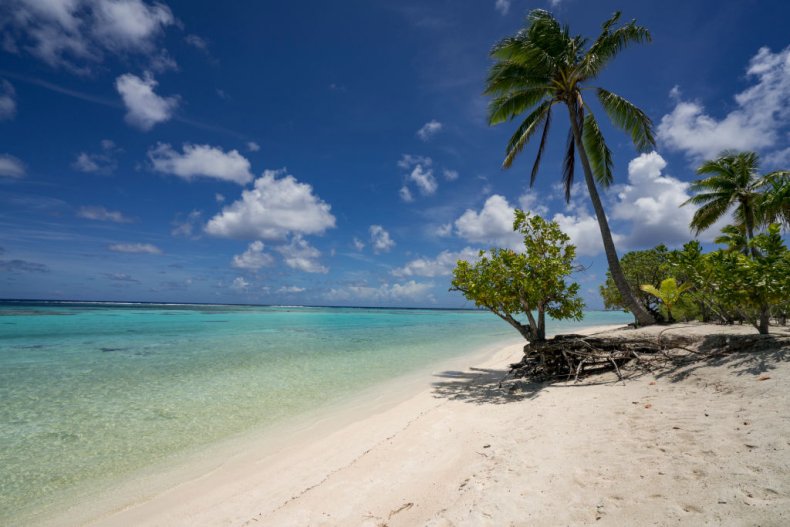 Per a Tahitian tourism site, Motu Teta, is a private island located in the South Pacific archipelago.
It is not known for sure whether this is the place that hosted the Kardashian clan but it boasts being a "distant retreat exists only for those in search of unparalleled privacy and seclusion."
Other private islands for rent in French Polynesia include Vahine Island, Le Taha'a, Tikehau and Tetiaroa—Marlon Brando's private island resort and location which he purchased after starring in Mutiny on the Bounty in 1966.