Kim Kardashian Shares Son Saint's Injury Photos, Admits She's 'Not OK'
Kim Kardashian has revealed that her five-year-old son, Saint, broke his arm "in a few places."
The mother-of-four took to her Instagram Story on Thursday to share an image of Saint being pushed along in a wheelchair with his injured limb wrapped and on an armrest.
Captioning the image, the former Keeping Up with the Kardashians star wrote: "Who do you think cried more today? My baby boy broke his arm in a few places today. I'm not ok."
In a follow-up post, Kardashian shared a closer photo of Saint's unbandaged arm as she wrote: "Poor baby," alongside a tearful emoji.
Kardashian, who didn't reveal the cause of the injury, had wished Saint's best friend, Koehen, a happy birthday in a previous Instagram Story post.
It was revealed earlier this year that Saint, who is the second of Kardashian's children with estranged husband Kanye West, had battled COVID.
Speaking during a May episode of her now-concluded reality show Keeping Up with the Kardashians, the SKIMS founder opened up about his diagnosis.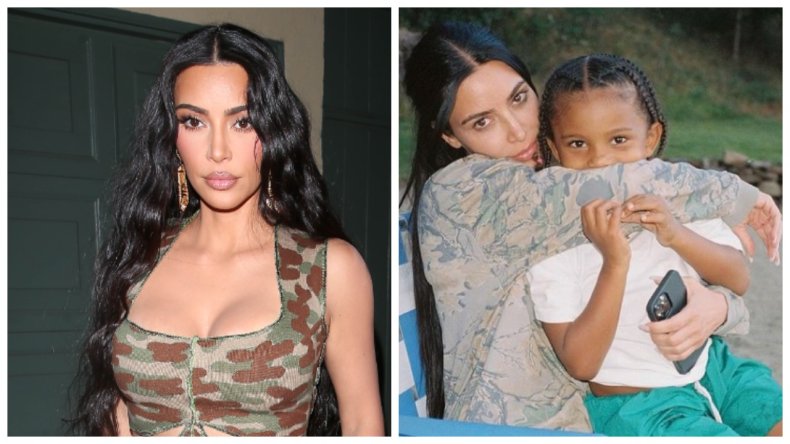 "Sainty just tested positive for COVID," Kim was shown saying during a phone conversation. "And [daughter] North is saying she's feeling sick."
"I'm trying not to freak anyone out, but I'm just really worried," Kardashian later said, as she spoke directly to the camera, per Entertainment Tonight.
Kardashian shares three other children with musician and designer West, including daughters North, 8, and Chicago, 3, and son Psalm, 2.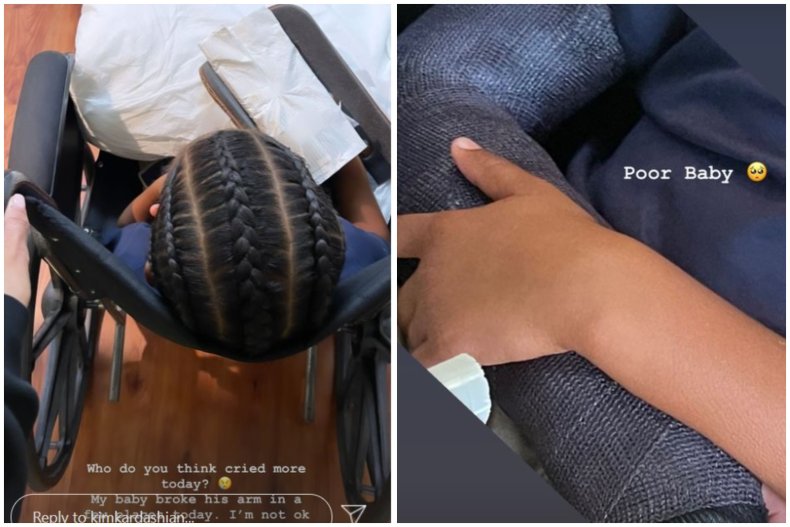 Last year, Kardashian revealed that she had cared for West throughout his battle with COVID in the earlier months of the pandemic.
"Kanye had it way at the beginning, when nobody really knew what was going on," she said in an interview with Grazia. "It was so scary and unknown."
Revealing that she had "no one else in the house to help" with West, she went on: "I had to go and change his sheets and help him get out of bed when he wasn't feeling good. It was a challenge because it was so unknown."
Amicable Relationship With West
"Changing his sheets with gloves and a face shield was really a scary time," she added.
Kardashian and West exchanged nuptials in a lavish ceremony in Florence, Italy, on May 24, 2014. A representative for Kardashian confirmed to Newsweek in February that the TV personality and entrepreneur Kardashian had filed for divorce.
Despite their split, the former couple enjoy an amicable relationship, with Kardashian attending events for West's recently released album, Donda.
In June, as West celebrated his 44th birthday, Kardashian took to Instagram to share a throwback photo of the exes aboard a private jet with their children, as she wrote: "Happy Birthday... Love U for Life!"