Kim Kardashian Struggling to Walk in ​​Balenciaga Caution Tape Viewed Over 4M Times
Kim Kardashian was arguably one of the most-photographed celebrities at Paris Fashion Week this season and images of her tightly wrapped in yellow caution tape have been flooding the internet.
The Keeping Up With the Kardashians star has become a muse for designer Demna Gvasalia of Balenciaga since last year and has been sporting the brand's looks everywhere from the Met Gala to paparazzi snaps and now at fashion week.
The 41-year-old officially became the new face of the luxury brand last month when she starred in their first ad campaign of the year.
This era of Balenciaga has seen the extreme catsuit championed with Kardashian pioneering the more drastic side of the trend—completely covering her face at the Met Gala—and now having to be quite literally taped into an outfit made of, well, tape.
The reality TV star attended Balenciaga's Fall/Winter 2022 Paris Fashion Week show in head-to-toe Balenciaga-branded caution tape on Sunday March 6 and documented the process of getting ready.
"Getting ready for @BALENCIAGA," she captioned a photo shared to Twitter that shows five dressers taping up the star complete with a bag and taped-up boots.
Of course, mobility proved to be an issue for Kardashian and while she looked amazing standing still, walking in such an ensemble proved so difficult that a clip showing her hobbling in the tightly wrapped tape has gone viral.
The clip, shared by Twitter user @mattexbardi, has amassed more than 4.6 million views at the time of publishing.
"The walk 😭 Kim was struggling," reads the caption with the post racking up thousands of comments, likes and retweets.
"Lmfao she was walking like the terminator," reads one tweet, while another joked: "Shorty walking around like C-3P0 From Star Wars."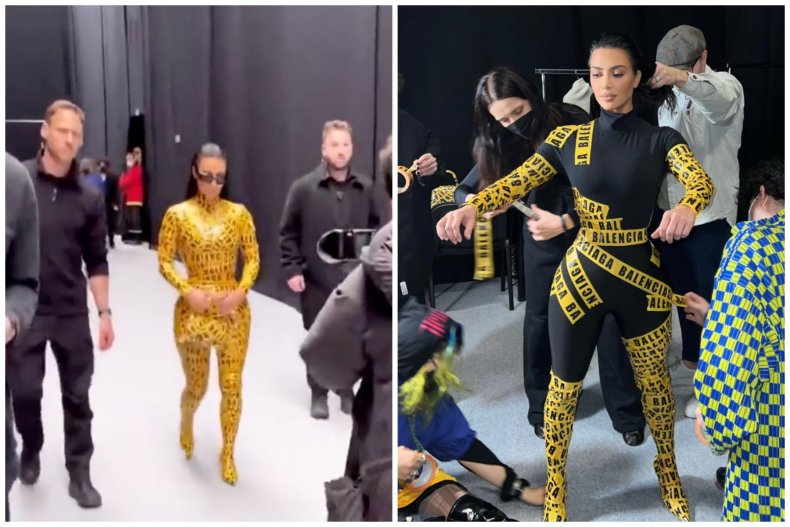 While Kardashian certainly took the spotlight at the Balenciaga show, the brand also took the opportunity to highlight the Russian invasion of Ukraine.
Demna Gvasalia posed with Kardashian at the show while wearing a blue and yellow oversized shirt to represent the Ukrainian flag as the designer reflected on his own experience as a refugee from the Georgian civil war.
"Fashion week feels like some kind of an absurdity. I thought for a moment about canceling the show that I and my team worked hard on and were all looking forward to," he said in a statement posted to Instagram.
"But then I realized that canceling this show would mean giving in, surrendering to the evil that has already hurt me so much for almost 30 years. I decided that I can no longer sacrifice parts of me to that senseless, heartless war of ego."