Kim Kardashian Wears $72,000 Outfit to Visit White House to Discuss Criminal Justice Reform
Kim Kardashian put aside her latex, athleisure and body-hugging dresses for a trip to the White House on Thursday, for a more professional look, though it certainly was not more economical.
The reality star turned businesswoman, 38, visited the White House on Thursday to announce the latest in her criminal justice reform agenda—a partnership with Lyft to hand out gift cards to reformed criminals, to help them get to and from job interviews.
For the briefing, she donned an oversized double-breasted blazer in forest green, which cost $925. She paired it with matching high-waisted virgin wool trousers for $1,210. The pair was designed by French luxury brand Vetements. She reportedly wore the brand during her first visit with Trump.
She added in some accessories, like a nude bodysuit, heels and sunglasses, but it was her very rare Hermès Kelly pochette bag, which really set the look over the age. With a retail price of $69,775, her luxury purse bumped the total price of her look to approximately $72,000.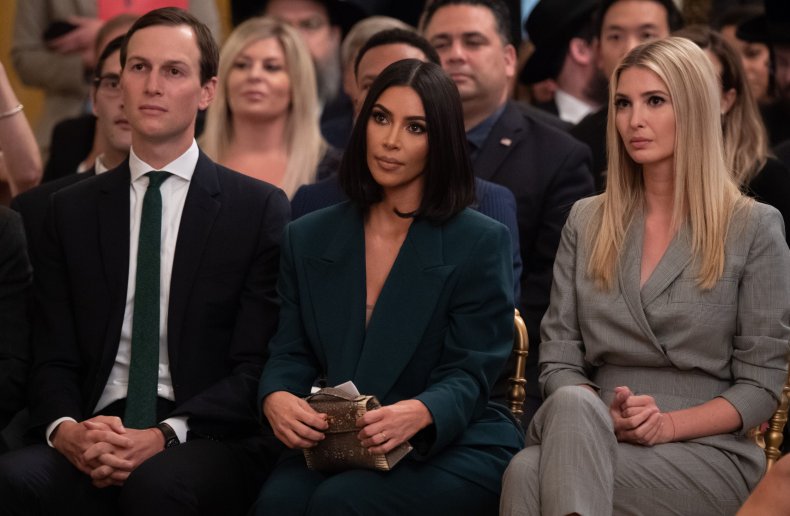 Kardashian took to the podium after several former inmates shared stories about facing hardship after their releases.
"After going to visit so many different prisons ... my heart just completely opened up and I wanted to do more. So, I started to study the law," said Kardashian. "I'm so happy to announce today that we have a ride-share partnership where formerly incarcerated people will be gifted gift cards so that they can get rides to and from job interviews ... jobs ... family members."
She added on Instagram: "While I have been able to offer support to some of the individuals I have met, the obstacles to success are an everyday struggle for thousands and more needs to be done. Today, I'm honored to be a part of the announcement that the administration and the private sector are stepping up to create opportunities for these men and women to succeed once home."
The gift cards are part of a partnership Kardashian coordinated with Lyft through the First Steps Act (a law passed earlier this year, which mitigates very punitive prison sentences at the federal level). They're working to give former inmates accessible transportation options so that they can go to job interviews.
In a profile published in Vogue in April, Kardashian spoke about working with attorney Van Jones, whose work inspired her to pursue law and criminal justice reform.
On her first visit to the White House last spring, she pleaded the case of 63-year-old Alice Marie Johnson, a one-time non-violent drug trafficking offender serving a life sentence. After the meeting, President Trump commuted Johnson's sentence, and she was released a week later.