Kim Kardashian West Sunglass Promotion Includes Shannade Clermont, 'Bad Girls Club' Twin With Pending Prison Sentence
Kim Kardashian West has been promoting her new sunglass collaboration with the help of some familiar, famous faces, but one sticks out among the crowd. Shannade Clermont, one half of the infamous Bad Girls Club twins, was seen on Kardashian West's Instagram story Tuesday, ahead of Clermont's pending prison sentence.
Clermont was sentenced to one year in prison on April 4 after she stole the credit card of a dead man who had hired her as a prostitute. The man met with Clermont in his apartment on January 31, 2017, and later died of a fentanyl overdose. Clermont was said to be with the man for three and a half hours, and did not call 911, The Associated Press reported on April 4. She left the apartment with his identification, and later used the card for over $200,000 worth of merchandise, rent and plane tickets.
Clermont was not charged with the man's death. She will owe just under $4,700 in restitution in addition to her prison time.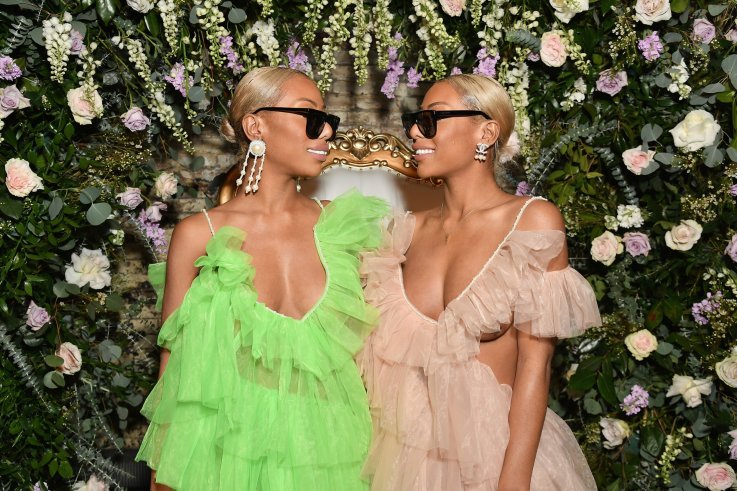 The famous twin was also told she must complete mental health and drug treatment after her year-long prison stay, The Blast reported on Sunday. The added sentencing required Clermont to agree to drug testing, as well as random searches of her property by law enforcement, even without a warrant.
After getting her start on Season 14 of the Oxygen reality series Bad Girls Club, both Clermont and her twin Shannon Clermont found success in modeling as well as became brand ambassadors for luxury and celebrity-endorsed companies. The pair have been collaborating with Kardashian West since early 2018, when they appeared as doubles of Kardashian West for a Yeezy promotion. Since, they've been staples in the Kanye West-led fashion brand's promotions.
The Tuesday post on Kardashian West's Instagram story featured the twins in chain-like, minimal clothing while sporting matching pairs of Kardashian West's sunglasses from her recent collaboration with deigned Carolina Lemke. The Clermonts joined a list of celebrities who publicized the accessory release, from Kardashian West's own sisters to Chrissy Tiegen and Miley Cyrus.
Kardashian West did not immediately respond to Newsweek's request for comment on her past and current business collaborations with Clermont and her upcoming prison sentence. The Clermont twins also did not immediately answer a request for comment.
At her sentencing, Clermont expressed regret for her actions. "I take responsibility for my shameful actions," Clermont said, according to The Associated Press. "Words can't explain the sorrow I have in my heart."
The deceased man's sister, who did not give her name, commented on Clermont's actions as well. "On January 31, 2017, my brother died and she went shopping."
Kim Kardashian West Sunglass Promotion Includes Shannade Clermont, 'Bad Girls Club' Twin With Pending Prison Sentence | Culture